FCC chairman Ajit Pai says he wants to help poor people. "I have often said that my highest priority as chairman is closing the digital divide–the gap between those who have access to next-generation technologies and those who don't," he told a Senate committee in September when talking about reforms to a subsidy program called Lifeline.
But critics say he's doing the opposite, including with that very program. Unlike in the net neutrality debate, critics of Pai's latest efforts are now coming from the left and the right. some are calling it "the FCC War On The Poor."
---
Related: The Next Battle Between States And The Feds Is Over Your Personal Data
---
They organized a briefing this week headlined by the two Democratic FCC commissioners, Mignon Clyburn and Jessica Rosenworcel, and representatives Maxine Waters and Gwen Moore. Pai's plan to cut waste and fraud in the government's Lifeline phone and internet subsidy program would restrict the $9.25 monthly discount to customers of major ISPs and phone companies, like Verizon and T-Mobile. That cuts out resellers like TracFone, which ride on top of the major carriers networks and are the most popular with Lifeline users.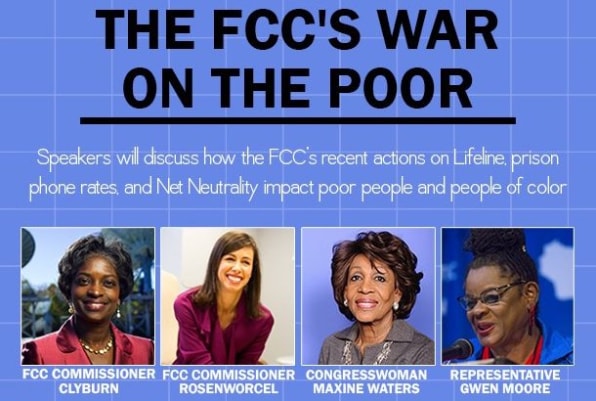 Pai says the goal is to promote infrastructure by directing more money to the companies that actually build the networks. But even conservatives are baffled.
"Lifeline has a different mission: to make sure that America's most vulnerable populations are not left on the wrong side of the digital divide. This proposal harms that mission," writes Daniel Lyons, a visiting fellow at the American Enterprise Institute and a vocal critic of Lifeline fraud.
Sprint (which leases a lot of its network to resellers) also opposes the plan, as does Pai's former employer, Verizon. Another glitch: The major phone carriers don't serve nearly as many states and localities with Lifeline offerings as the resellers do.