Women account for 49.9% of Fox News's online bylines, according to the annual Status of Women in the U.S. Media survey by the Women's Media Center. That puts Fox News above CNN, HuffPost, and the Daily Beast.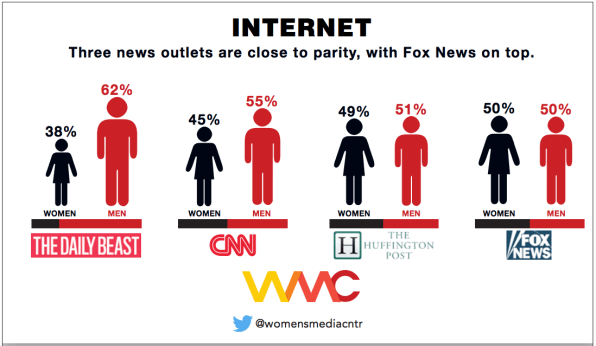 Of course, that statistic is just for the website and likely doesn't translate to Fox News's television programming, as even a casual viewer knows all too well. Women are woefully underrepresented in broadcast news–more so than in print and online news–and are responsible for just 25% of news reports, the report found. In print, meanwhile, the Washington Post and San Jose Mercury News rank highest for gender parity, with women responsible for 42.5% and 44.3% of bylines, respectively.
Across the board, women of color are sidelined the most, as you might expect. They represent less than 8% of print news staff, 12.6% in local TV news, and 6.2% in local radio. That's in part the result of hiring practices, as HuffPost's Washington bureau chief, Amanda Terkel, points out in the report. "So much of hiring in journalism is poaching from other news outlets, which is often a great way to get talent," she says. "But when you do that, you're often dipping from the same pool of people rather than bringing in new voices."
My takeaway from this report: Your best bet as a woman in this industry–and especially as a woman of color–is to go digital.