The day before the shooting at Sandy Hook Elementary School on December 14, 2012, Shannon Watts was a stay-at-home mom of five and former communications executive with around 75 friends on Facebook. The day after the tragedy, says Watts, she started a Facebook group from the computer in her kitchen, called One Million Moms for Gun Control. Watts wanted to have space for an online conversation with women and moms about gun violence prevention.
"It turned into an offline movement very shortly thereafter," she says. "Suddenly strangers were connecting me to other strangers all over the country because my information was available online, it was very easy to call me or email me," Watts explains. "I didn't even realize I had started an organization," she says. That is until former congresswoman Carolyn McCarthy told her to change the group's name immediately. "I didn't realize that One Million Moms was this group trying to get Ellen DeGeneres not to be the JC Penney spokeswoman."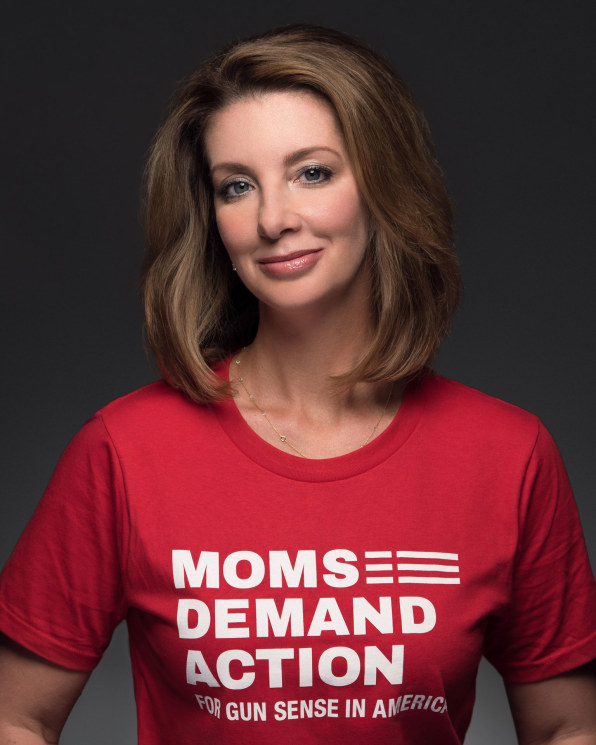 Shortly thereafter, Watts's Facebook group coalesced into Moms Demand Action, a grassroots movement fighting for public safety measures that respect the Second Amendment and protect people from gun violence.
Its ranks of supporters have swelled to millions, with more than 125,000 signing up to volunteer just after the Parkland shooting. There is a chapter in every state in the U.S., and the organization is part of Everytown for Gun Safety, the largest gun violence prevention organization in the country, with 4.5 million supporters (The NRA has between 3 and 5 million members) . Watts's effort is an object lesson in how something that begins as the idea of one passionate person can grow into a nationwide organization with the clout to change legislation.
The Moment She Knew She Was On To Something
Shortly after [changing the name] we got a call from the White House saying, "Look, we've been waiting for moms to organize around this issue, we want you to help us push background checks through Congress," she recalls.
Although the bipartisan Manchin-Toomey Amendment was defeated by a vote of 54 to 46, Watts said it was the organizing going on behind the scenes that she believes helped Moms Demand Action to become a more powerful force for future legislation. "That's not something one person can do by themselves," she contends. "You have to have enough people with the same amount of passion and conviction to carve that time out of their schedule, whether they have a family or a job, too."
The Strategy Behind Growing
Watts worked as a communications executive for 15 years before she started Moms Demand Action. When she was working for Fortune 500 companies, her job as the person who ran communications was often to manage people in satellite locations who are working toward the common goal of promoting the company. "That's exactly how we started Moms Demand Action," she says. Satellite groups had calls to talk about how best to work together for the common good of the organization. "I absolutely think my corporate experience was so beneficial in creating the structure and the brand," Watts says. "Once you go through black belt training at General Electric, you can kind of take over the world," she says.
Treating It Like A Startup
That career experience certainly helped inform the group's messaging strategy, but she maintains that she treats the organization like a startup. "From the very beginning, I put my heart and soul into it, even my own money and time," she says, echoing the sentiments of many a bootstrapping founder. "I am a volunteer, but it's not a hobby. It's a passion and a full-time job," she says, even though she doesn't draw a salary. (The organization has less than 200 paid staff across chapters.)
Watts is constantly thinking about the right balance of roles to fill the growing organization's needs. "That's why we do look different as an organization every three to six months, [we need] the ability to be malleable and grow," she says.
Watts says that she never expected to be able to do all this on her own. "I knew that I would have to let go and let God on a lot of this stuff because people were just as passionate and smarter than me and could perform the different roles in the organization better than I could." Picking the right people and trusting them to do their jobs is key, she says. It helps that Watts could see them in action before hiring them. Many staffers started out as volunteers, she notes. Additionally, she says, "We just hired the CEO of Mothers Against Drunk Driving to be our managing director."
Using Parenting As A Leadership Tool
When she started Moms Demand Action, her five children were in elementary, middle, high school, and college. "Now, I only have one still at home," she says, "He's a junior in high school." Watts says, "I think they appreciate and respect my passion for this, and they all happen to share the same viewpoint," adding that her youngest, who will turn 18 before the midterm election, is excited to be able  to vote on this issue. But most importantly, like raising children, growing the organization is an act of laying the foundation and letting go.
"The goal is to work yourself out of a job," Watts says, "I mean, if people aren't carrying the torch, then the organization won't succeed. And I do feel like I've done what I promised myself I would do, and that is to create this organization and help make it as successful, but also self-sustaining."
Wins And Momentum
Watts says that one achievement, in particular, the 93% track record of beating the NRA in state legislatures passing bills, is one she's most proud of.
"We passed bills in 25 states to disarm domestic abusers," she recounts. In Rhode Island recently, a law that Moms Demand Action had fought to support for two years was passed to disarm domestic abusers. "Initially, it was put forward by a woman legislator, and then Moms Demand Action advocated it, and then it was signed into law by a woman governor," Watts recalls, "It felt like a nice full-circle, all-woman effort." That, as well as helping changing corporate policies, simultaneously helps the organization grow and attract new people who take on new responsibilities.
Watts says that with these wins, she's always reminded that an average person can make a difference, and that has helped her grow from the kitchen table to a massive movement. "I think there's also something empowering about taking on not just one of the strongest lobbies in the country, but also that many of our [opposers] are [openly carrying guns] at rallies or events." Watts abides by the principle that if they lose children, there's really nothing left to lose. "We're not going to be silenced or intimidated by armed extremists."