Something is rotten in the state of Twitter's diversity report. A year ago, Twitter was 57% white. Now, the tech company claims it is just 43% white—a data point belied by the accompanying graphic: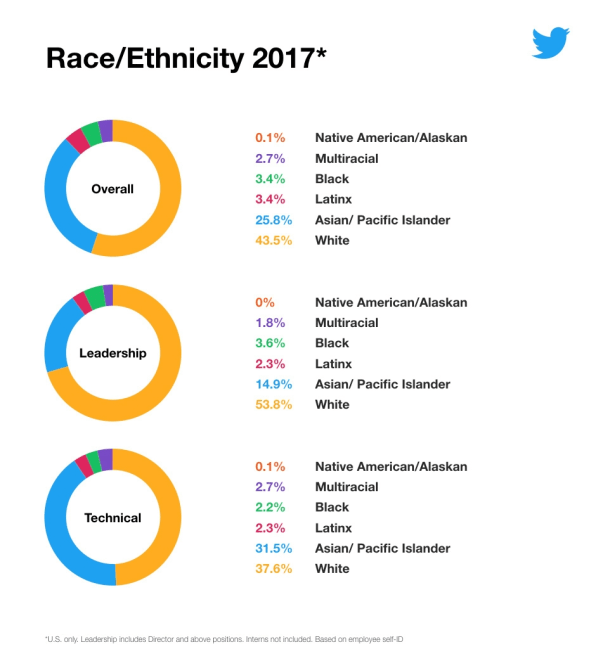 The same is true of the white percentages in Twitter's leadership and technical ranks, which are pegged at 53.8% and 37.6%, respectively; the corresponding numbers last year were 74% and 52%.
How is that possible? Turns out more than 20% of Twitter's workforce is being left out of its diversity breakdown—employees who either didn't fill out the company's survey or opted out of identifying their race or ethnicity. When I tallied the "overall" percentages in the chart above, the total amounted to less than 80%. But none of this is clear from the way Twitter has presented its diversity data.
Perhaps more egregiously, the numbers above don't match another chart Twitter had included (and has since deleted), which compared the company's percentage of underrepresented minorities in 2016 and 2017. By Twitter's definition, the overall percentage of underrepresented minorities—all non-white, non-Asian employees—should be no higher than 9.6%, the total I calculated from the race/ethnicity breakdown. But the underrepresented minorities chart cited an overall percentage of 12.5%: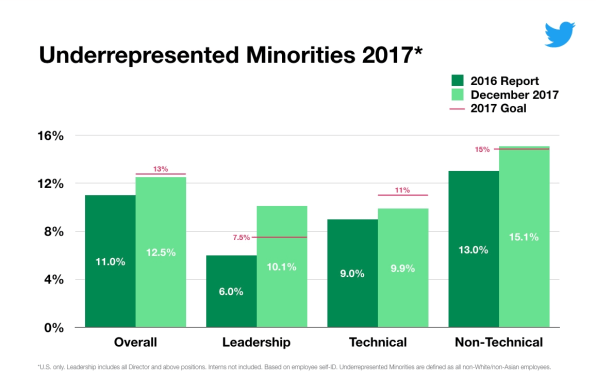 When I asked about the discrepancy between the two charts, Twitter offered the following statement:
As has been done in years past, the chart with the URM data included all employees who did not self identify as white or asian. This includes employees who declined to self-identify in our systems. The race/ethnicity breakdown is a more granular and transparent one and more reflective of the data we'll report moving forward. To eliminate any confusion and in the interest of transparency, we've removed the URM chart from our diversity report.
In other words, Twitter is counting employees who would not identify their race or ethnicity as underrepresented minorities—when those employees could very well be white or Asian. (For what it's worth, Twitter's numbers on female representation seem feasible and indicate incremental progress, especially in its leadership ranks, but again, it's hard to say when a portion of the workforce isn't being accounted for.)
This doesn't reflect well on Twitter, especially because it's fairly clear the company's white workforce has been underreported in this diversity report. It also calls into question Twitter's progress in 2017: Once you strip away the people who declined to identify their race or ethnicity, the overall percentage of underrepresented minorities (9.6%) is about the same as it was in 2016.
We can probably safely assume that a handful of the people who chose not to self-identify are not, in fact, white or Asian. But who do you think is more likely to skip that question? I imagine it would be employees who are hostile toward diversity efforts to begin with—someone like, say, former Google engineer James Damore.