Fitbit's earnings announcement was full of bad news, but on the conference call with investors executives hinted at a potential ray of sunshine–a new smartwatch is in the works–one with more "mass appeal" than its predecessor, the Ionic.
The Ionic got mainly positive reviews, but like the Fitbit Blaze before it, it sported a clunky hardware design, especially compared to the category's most popular product, the Apple Watch. The new watch is smaller and sports a rounded-square design.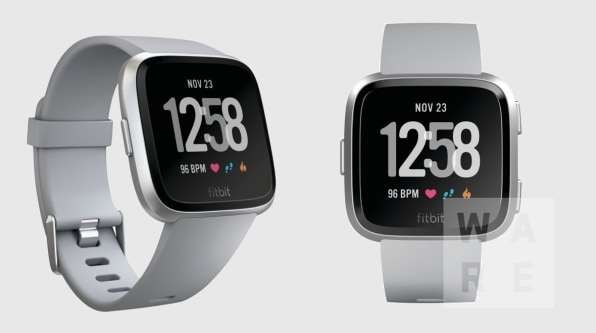 The website Wareable has obtained images of the new smartwatch, which it says will be released this spring and use the same operating system used in the Ionic. The new watch will come in black, silver, rose gold, and charcoal, and will lack a GPS radio, notes Wareable.
Wareable's source says Fitbit is trying for a more attractive design that will appeal to more women, and more consumers generally, than the Ionic, which has a large squarish design and comes in only one size.