Perhaps you saw a post this morning on your Facebook feed touting face recognition for "more features." According to the social network, this ability to analyze users' faces–which before only helped users tag photos–is becoming even more widespread.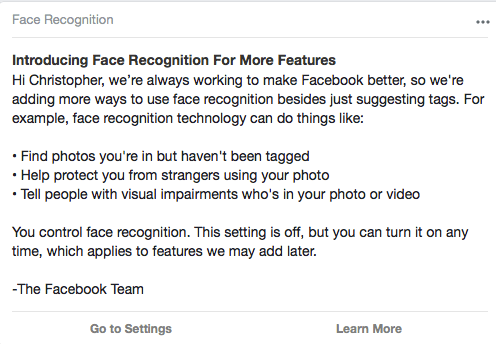 For background: Facebook has long analyzed biometric data in photographs to make it easier to tag people. In fact, this technology has been the subject of many lawsuits–most of which took place in states like Illinois, which restrict companies' ability to collect and store biometric data without consent. (Facebook did announce last year that it would update its privacy settings to better advertise its face recognition features.)
It seems the purpose of this new Facebook post isn't so much to herald new face-recognition features, but to disclose vital information–namely, that you can opt out of face recognition. After seeing the post, I was surprised to learn my face-recognition setting was on, so I turned it off. Others I talked to say their setting was already off. Either way, this looks an awful lot like Facebook gaining consent from its users to read their face data.
The timing is very interesting. Yesterday, for example, a federal judge ruled that Facebook will be subject to a class action lawsuit about its biometric gathering and storage program. The company had filed to dismiss the case, but the U.S. District judge ruled against it. Now the case is proceeding, and Facebook could be forced to change the way it handles collecting facial (and other bodily) data.
A source at Facebook says the court decision and these introduction posts are not related. Still, with the lawsuit full steam ahead, it at least seems that the company is beginning to change its tune on some of its more controversial features.