Ford's self-driving cars are heading south.
In order to better understand how its vehicles can deliver things like pizza and groceries directly to your curb, the automaker is launching a series of self-driving tests in Florida.
Ford's autonomous vehicles will not be driving humans–at least not yet. And they won't quite be self-driving. Ford will be running two eight-week pilots with Domino's Pizza and Postmates to make deliveries around the city using regular vehicles modified to look like self-driving vehicles. A human will be making all the deliveries. A spokesman for the company says Ford is trying to understand what the user experience will look like. Since a self-driving vehicle will follow all the rules of the road, he said, Ford's human drivers will need to figure out the best way to deliver a pizza without double parking. While these cars will have a human behind the wheel, don't expect them to get out of the car to deliver your pizza. They'll be busy pretending to be autonomous cars.
Who will get to interact with these faux self-driving cars? Ford says it will pick deliveries randomly from orders placed online. The Domino's pilot will be limited to the Brickell neighborhood.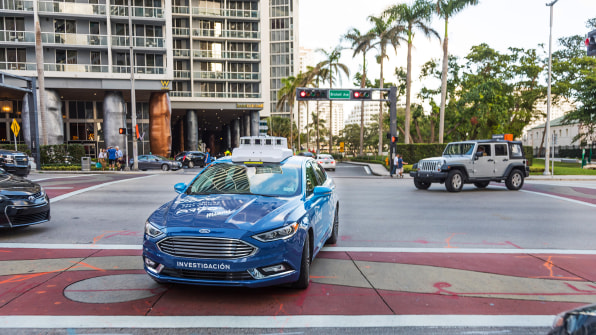 Ford will have self-driving cars on the road in Miami, both mapping streets and testing their capabilities–they just won't be making deliveries. The company will also experiment with maintenance infrastructure for its self-driving vehicles, setting up an operations terminal where cars can be inspected and cleaned. Ford will also tap its network of dealerships to make repairs.
Ford is just the latest company to host its initial self-driving tests in a U.S. city or state. Waymo is now operating in a self-driving ride-hail program in Arizona, while Uber has used both Pittsburgh and Arizona to try out it self-driving fleet on passengers. NuTonomy and Lyft launched self-driving ride hailing in Boston last year. Lyft also ran a pilot in Las Vegas with Aptiv for CES.
In Ford's case, the tests are meant to prepare the company for its self-imposed 2021 deadline. That is the date by which it wants to have self-driving cars ready for deployment, with the customer experience and business model nailed down.