A new virtual reality app that's designed to help kids suffering from conditions like Crohn's disease understand their maladies immerses those children in a cartoon-like virtual reality tour through their body.
Called HealthVoyager, the tool, a collaboration between Boston Children's Hospital and the health-tech company Klick Health, is being launched today at an event featuring former First Lady Michelle Obama.
A lot of kids are confused by doctors' intricate explanations of complex procedures like a colonoscopy, and they, and their families, can feel much more engaged, and satisfied, if they really understand what's going on. But that's been hard to do in a way that really works and doesn't get bogged down with a lot of meaningless jargon.
"I have to explain complicated diseases to kids and their families and hope they understand it," says Michael Docktor, the clinical director of innovation at Boston Children's Innovation and Digital Health Accelerator, and a co-developer of the tool. "Really, the tools [I've had] at my disposal [have been]things like drawing on an exam room table paper, or I'll draw on an anatomy app."
Those approaches leave a lot to be desired, Docktor says. And that's why he's been excited about collaborating with Klick on the new app–which is designed to give kids and their families a customized, immersive look at their exact medical situation, something that in turn allows them to explain what's going on with them to friends and other family members.
The tool has two components. The first is a doctor-facing Web interface that allows clinicians like Docktor to recreate in just minutes the exact clinical findings of a procedure like a colonoscopy in a manner reminiscent of Microsoft Paint. "I can drag-and-drop a polyp, or an ulcer, or bleeding to the right anatomical position," he explains. "If there are more diffuse findings, like inflammation, we can add diffuse elements like a paint brush would."
The system then generates a personalized QR code that kids can then scan using the app on their phone, which then pops up a VR-viewable and explorable 3D rendering of their gastrointestinal system that's presented on a cartoon-like avatar of their body.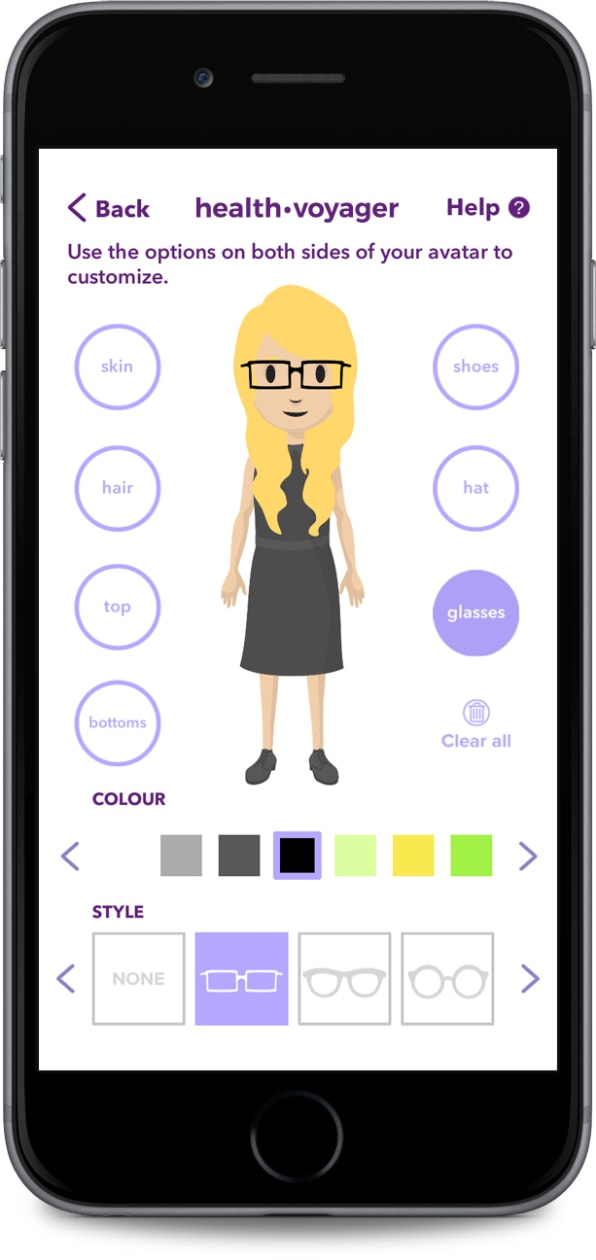 Once the personalized 3D model of a kid's insides is created, they can look at it in VR using a special clip on Google Cardboard viewer. And at that point, they can spend as much time as they want examining it, rather than get a rushed explanation from a harried doctor.
"It's really simple and makes them feel some emotional tie to the program," says Yan Fossat, the vice president of Klick Labs, a division of Klick Health. "It engages them and gets them used to using it….It's a cartoony representation of their own gastrointestinal tract. It's less medical looking. But it's their precise anatomy. If they have a polyp…the 3D version" shows the exact location.
"The interface is really based on level design in video games…or kitchen design" software, says Fossat. "There's a lot of logic in software to make sure things go where they should. [Here], items snap where they should" onto a digital map of the gastrointestinal tract.
Although the new tool, which is now in trials at Boston Children's, is aimed at kids, Fossat says it likely has some applications for adults as well. That's because cartoon-like illustrations can make it easier to understand a complex medical situation than photographs, Fossat says.
Still, for now, it's likely to be used for kids over 7 who are suffering from GI diseases like Crohn's or colitis. In the future, says Docktor, it could be extended to a wide range of diseases, procedures, and age ranges.
And while there's no data yet to demonstrate a clinical benefit, Docktor is confident there soon will be. At a minimum, though, he's certain the app will help with kids' engagement in and satisfaction about their medical procedures.