Fitbit is important because it helped pioneer the "quantified self" movement that's still alive and, well, somewhat well. While Fitbit has always been strong in wearables, the world has become far more interested in smartwatches, mainly the Apple Watch. Accordingly, Fitbit announced its first full-fledged smartwatch–the Ionic–last year. The company announced its 2017 fourth quarter and full-year results at the bell today.
First the good news:
Fitbit's membership base grew 10% last year to 25.4 million users.
Fitbit sold 5.4 million devices in Q4 and 15.3 million devices in full year 2017. The average sale price of the devices also moved up 8% to $101, the company said, likely due to the introduction of the higher-priced ($300) Ionic.
Now the bad news:
Fitbit's main market is the U.S., where earnings fell 13.4% to $330.2 million.
Analysts were hoping for a break-even quarter, but Fitbit lost $45.5 million.
The company is forecasting a 15%-20% revenue drop to between $240 million and $255 million. Analyst consensus had been $340 million.
Fitbit believes it will show $1.5 billion in revenue for full year 2018, well below analyst expectations of $1.73 billion.
The report led to a sharp drop in the company's stock price in after-hours trading; at one point it was down over 15% from a closing price of $5.54.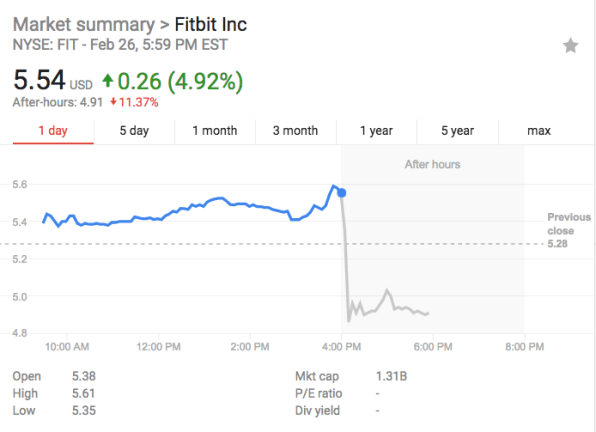 Previously: Can Fitbit Survive Apple In The War For Your Wrist?