Despite the alarming headlines you may have read recently, Kylie Jenner's tweet about not using Snapchat didn't actually cause the company's stock to crumble. It was a fun narrative about a prominent pop culture figure having market-moving effects, but it likely isn't what played out.
sooo does anyone else not open Snapchat anymore? Or is it just me… ugh this is so sad.

— Kylie Jenner (@KylieJenner) February 21, 2018
For one, it's important to note that last week, before Jenner announced her Snapchat betrayal, Wall Street wasn't so hot on the company. Following its redesign, Citi downgraded Snap's stock from "neutral" to "sell" the day before the Jenner tweet, which surely could have influenced the stock price's drop. In fact, the stock price was falling before the reality TV star gave the world her two cents.
While investors look to analysts for guidance (which likely explains Snap's performance of late), a celebrity like Jenner influences public opinion. And it seems Jenner's tweet did not impact Snapchat usage at all. According to numbers from SimilarWeb, the app has maintained a steady install rate on U.S. Android devices. What's more, Android downloads increased from February 22 (when Jenner sent the tweet) to February 22. Additionally, the percentage of active app users increased from 32% on February 21 to 33% on the 24th. Of course, this is from only one set of devices, but it still doesn't indicate that app usage was impacted by the tweet.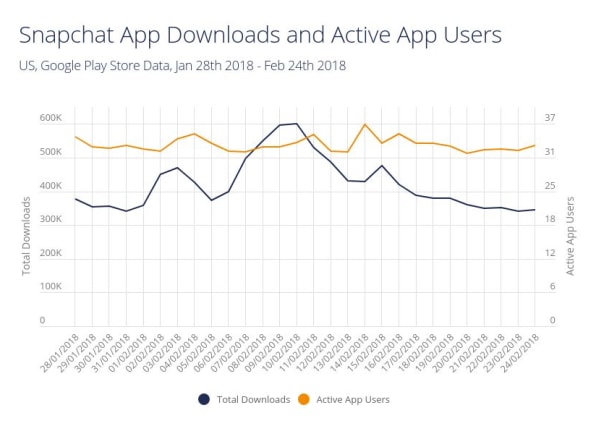 Still, everyone loves a good narrative, and this sure raised eyebrows. Perhaps the next time Kim Kardashian tweets that she prefers Snapchat to Instagram, another analyst will have upgraded the stock and the whole news cycle will begin all over again.