In its own twisted way, the National Rifle Association is one of the most savvy marketers in the U.S. As I've written before, over the last four decades the NRA has managed to completely alter American gun culture and the perception of the Second Amendment. But this past week has been a rough one for the controversial gun lobby, with student survivors of Parkland's shooting tragedy quickly pivoting from victims to gun control activists and not showing any signs of backing down.
The Parkland students have been asking refreshingly frank and honest questions about which politicians have taken money from the NRA and if those politicians plan to do so in the future. Now gun control groups Everytown for Gun Safety and Moms Demand Action for Gun Sense in America took out a two-page ad in The New York Times that simply listed the members of Congress who have accepted donations from the NRA. Simple and gets an incredibly important point across. Onward!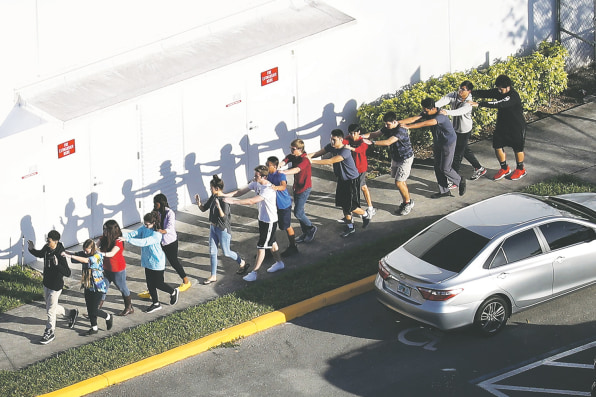 Everytown for Gun Safety/Moms Demand Action for Gun Sense in America "#ThrowThemOut"
What: A two-page ad that lists every member of Congress who has accepted donations from the NRA.
Who: Everytown for Gun Safety/Moms Demand Action for Gun Sense in America, SKDK
Why we care: Pretty much summed it up above, but ultimately this is an ad and campaign that aims to go beyond the usual guilt-trip model and instead turn anger and frustration into direct political action.
Red Stripe "No bobsled, no problem"
No bobsled, no problem. If you need a new ride @Jambobsled, put it on @RedStripe's tab. DM us and we'll be in touch ????????

— Red Stripe USA (@RedStripeUSA) February 15, 2018
What: When the Jamaican women's bobsled team coach abruptly quit the week before the competition, the beer brand reached out to the team over Twitter and ended up providing an honest-to-goodness heartwarming Olympic branded moment.
Who: Red Stripe, Jamaican bobsled team
Why we care: So much of Olympic brand involvement is contrived emotion extracted from a business deal, and rightly so. That's the game. But here we have a legitimate story, a cultural moment. The Jamaican women's bobsled team may have officially finished 17th, but it captured millions of hearts, and the beer brand won a gold medal-winning haul of earned media and good vibes.
New Balance "Culture Codes"
What: A short featurette collaboration between New Balance and High Snobiety that looks at an influential moment in Atlanta's hip-hop underground.
Who: New Balance, High Snobiety
Why we care: Here we have a branded content play that doesn't overly disguise itself (Look at all those 574s!) but is also interesting, engaging and ties itself tight to culture. Basically everything you hope to achieve with a brand content play. Nothing groundbreaking here, but still represents a standard many brands chasing the content dream can aspire to.
Goodyear "Make A Name"
What: A Goodyear ad that celebrates not only the life and career of Dale Earnhardt Jr. through creative use of archival footage but also the brand's place in the legendary racecar driver's journey.
Who: Goodyear, GSD&M
Why we care: Clearly someone at Goodyear and/or GSD&M is a fan of Gatorade's awesome 2015 Serena Williams ad. Which is totally fine because so is everyone else! Who doesn't want to see cool old-timey footage of their heroes? It's a recipe for some pretty major feels (just ask Canadian ice dancing fans) and something any brand would give its left pinky finger to tap into.
Mainland Cheese "The 2,000-piece voucher"
What: Probably the most time-consuming cheese coupon ever created.
Who: Mainland Cheese, Colenso BBDO
Why we care: Puzzle nerds, rejoice! This New Zealand cheese promo is just niche and goofy enough to blow some minds. It all revolves around the tagline "Good things take time," and customers can apply to receive a voucher over Facebook. Since the initial launch late last year, the fastest completion time has been . . . 45 hours.