In 2011, Annelise Orleck, a professor of history at Dartmouth College and a longtime historian of women's and labor movements, traveled to New York City to help organize the commemoration of the 100th anniversary of the devastating Triangle Shirtwaist Fire, which killed 146 garment workers in a factory in lower Manhattan. Activists and labor organizers from around the world also arrived in New York to call for a global reckoning with the persistent, inhumane conditions in sweatshops and factories.
Kalpona Akter, the founder and executive director of the Bangladesh Centre for Worker Solidarity, and a former child worker in her home country's garment factories, was present, and told Orleck something she never forgot: "In Bangladesh, it's not 2011, it's 1911." The Triangle fire was not a horror of the past; it was a present reality for thousands of workers from industries as varied as fast food to hotel upkeep to garment manufacturing, across the world.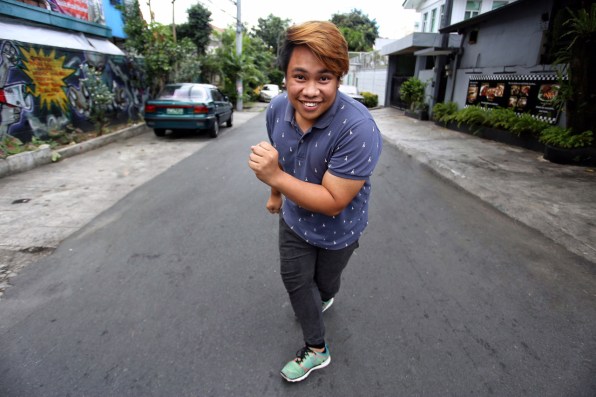 That idea became the basis for Orleck's newest book, "We Are All Fast Food Workers Now": The Global Uprising Against Poverty Wages. The book takes stock of labor conditions around the world under late capitalism, and why and how organizers like Akter and hundreds more are beginning to resist them.
For the book, Orleck traveled to Bangladesh and Cambodia, countries where the production of "fast fashion" comprises the bulk of their exports. In factories across those countries, thousands of people–mostly women–work for minimal wages in unsafe conditions. When the Rana Plaza factory collapsed outside of Dhaka, Bangladesh, in 2013 and killed over 1,000 workers, those who died were taking home paychecks of as little as $38 per month. In Florida, she spoke with workers like Bleu Rainer, a McDonald's employee in his mid-twenties who never made more than $8 per hour and who joined with other Golden Arches workers from Manila, Seoul, and Brasilia–all of whom bore the same hot oil scars on their arms–to protest the company's poverty-level wages and working conditions. In the Philippines, hotel workers told Orleck about their chronic physical pain, and the difficulty of digging through layers of managers and employment agencies to figure out whom they should even be directing their protest against. Migrant farmworkers are organizing across country lines and pushing for citizenship.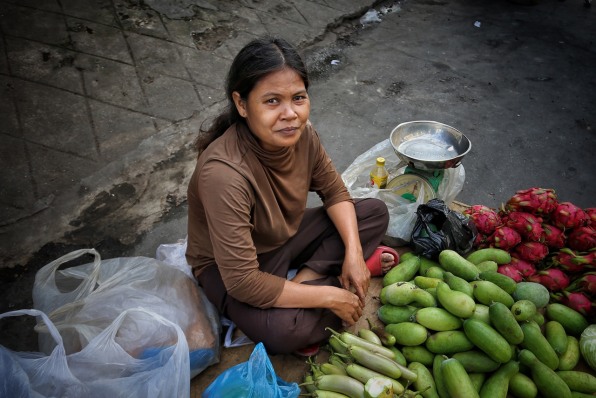 The workers and organizers Orleck spoke to come from different countries, different industries, and different contexts. But their protests met at one central juncture: the excessive concentration of global wealth in the hands of the already-wealthy and the attendant strain on the remaining 99%. That Orleck's concept for "We Are All Fast Food Workers Now" originated in the same year as Occupy Wall Street is no coincidence. That was the year "the 1%" and "the 99%" replaced the rich and the poor in our collective dialect. But by 2016, Orleck writes, "Occupy Wall Street's rallying cry no longer seemed hyperbolic. It had become cold, hard fact." The 62 richest people on Earth collectively control more wealth than 3.8 billion people; since 2010, the poorer half of the world has lost 38% of their wealth.
Unemployment, the traditional metric by which we measure economic stability, has slowed in recent years. But, Orleck writes, poverty wages and poor work conditions are the greater problem. And as the companies that employ these laborers have expanded their reaches across the globe, the fight against them has, by necessity, gone global. "As a result of neoliberalism and this conservative shift away from any sense of workers rights, workers' conditions in the workplace, safety–all of it has degraded back to the place we were a century ago," Orleck says.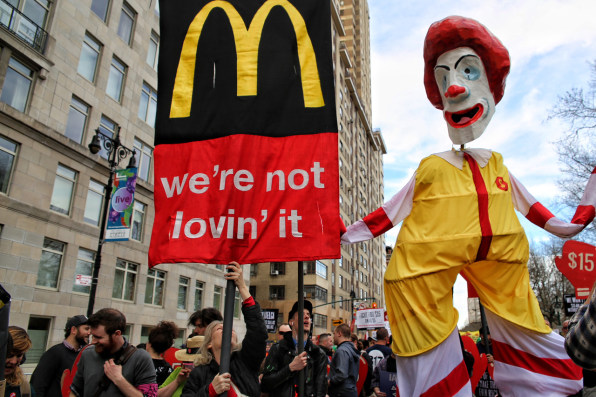 The multinational expansion of corporations like McDonalds and Walmart–and the rise of fast-fashion manufacturing to feed empires like H&M and Gap–has, perhaps unintentionally, created a new base of worker-organizers that are beginning to talk to each other. Rainer, the McDonald's employee from Florida, flew to Brazil in 2015 to testify against McDonald's for driving down wages and eroding safety conditions. Coworkers from the Philippines, Japan, New Zealand, and Denmark joined him. Beyond solidarity, the workers began learning from each other. Rainer spoke to a McDonald's employee from Denmark who earned the equivalent of $21 per hour, received benefits, paid vacations, and subsidies for college.
Tep Saroeung, a young Cambodian beer promoter for Cambrew beer–the top-selling beer in her country and a subsidiary of the Danish brewer Carlsberg–also appealed to Denmark in her fight to raise wages for herself and her coworkers. In 2014, she was earning just around $30 per month. After joining the Cambodian Food and Service Workers' Federation, she helped organize several strikes an increase her monthly wage to $160, with paid time off and maternity leave. Denmark is a highly unionized country; that's how Rainer's Danish coworker was able to earn a real living working for McDonald's. And it's why Cambodian workers were able to appeal to Carlsberg to improve wages and working hours for Cambrew beer promoters in Cambodia.
While unions have lost ground in recent decades, Orleck's book makes the case that organizing groups remain a vital force against capitalist exploitation. They just look very different from the unions of a century ago. Rather than men, it's women who spearhead most labor movements today. One reason for that is sheer volume: The vast majority of the nearly 70 million garment workers around the world today, for instance, are women, and most other low-wage work is female-dominated. And while the unions of the past were strongly membership-based, the present-day unions, Orleck says, are more focused on expanding their reach and representing all workers, regardless of status. "Facing the extinction of the American labor movement," she writes, "a new generation of union leaders had decided to devote organizers, resources, and political capital to help low-wage workers who were not, and might never become, union members." This decision, Orleck said, arose from an understanding that the conditions under which workers around the world suffer are not specific to any industry or employer, but rather, symptomatic of capitalism stretched too far. Wide-scale organizing had to strengthen and grow to combat the system.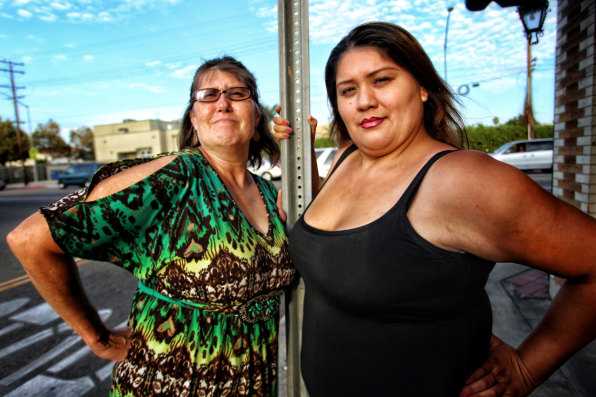 There's perhaps no better way to illustrate the coalescing of global labor movements than the annual Walmart shareholders meeting in Arkansas in 2013. Walmart claims 11,500 stores on five continents, staffed by 2.2 million employees, In 2012, employees at a Walmart in Pico Rivera, California, organized the first strike against the conglomerate on U.S. soil. Workers from Italy, Spain, Uruguay, and South Africa arrived to show their support, and they banded together to form a global union alliance that has, since that initial meeting, organized strikes on Black Friday every year. After the collapse of the Rana Plaza factory, that same group of organized Walmart associates chipped in to bring Kalpona Akter–the Bangladeshi garment union leader who inspired Orleck to write the book–to Arkansas for the shareholders meeting.
"They brought her in to face the Walton family and say that it would just take 1% of their annual dividends to fix their factories so the workers who made their clothes wouldn't be at risk of injury and death," Orleck says. Walmart didn't listen, but instead set up an anti-union hotline and hired defense contractor Lockheed Martin to keep an eye on Organization United for Respect at Walmart, the coalition driving the protests. Denise Barlage, one of the organizers, told Orleck she took that as a good sign. "We must be making a difference," she said, "if Walmart is going to all that trouble."