Marketing has historically been one of those industries that runs on putting consumers into neat demographic boxes. As an African-American tech entrepreneur, Dionna McPhatter has spent her professional life stepping out of those prescribed boxes. Now, as cofounder of BLKBOX, a creative agency with clients ranging from Samsung, Marc Jacobs Beauty, The St. James, and Wayfair, she's using data analytics to break brands free from that outdated thinking.
McPhatter understands what it's like to be pigeonholed and stereotyped, as she's often been the only woman of color in the room.  She was raised in a mostly white suburban Ohio town and attended West Point (where she was one of less than 15 African-American female cadets). She then became the youngest vice president at a multinational consumer goods company, and now she's the tech developer behind her own company. Through all of these experiences, McPhatter has learned to encourage people to strip off the labels and see her as an individual. Here are some of her experiences and the lessons she's learned from being the only young black woman in the room.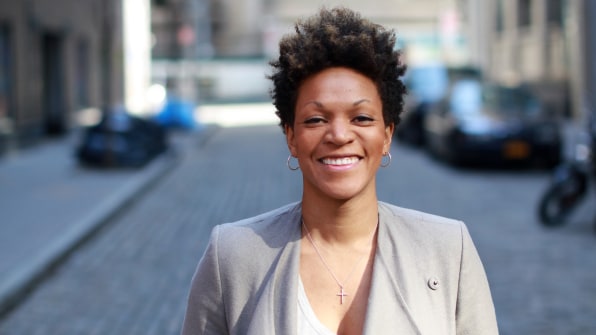 On Having To Represent All Young Black Women
I was fortunate to be promoted quickly to vice president. When I was in the room for meetings, there wouldn't have been anyone [of color and that age group] to discuss why isn't this working, why people aren't responding. I would have to explain motivations and values and try to instill some sort of empathy, [because] they weren't very in touch with that experience.
I felt like I was representing every black and young person from the basics, the way I looked, the way I carried myself–marketing was transforming. There was no one under 40 at that level. In no way did I represent these gigantic groups. This is the flaw. We are individuals. Often, they didn't even want to learn about the details. They weren't even in touch with needing diversity in the company or the value that could bring, that was never even on the target list.
The Challenges Of Being In The Boy's Club
Because of the way I carried myself and the results I made sure I got credit for, I was quickly pulled into the boys' club. It was okay. I was different. I didn't know what the meant, really, but I knew at least I was getting accepted.
I witnessed a lack of respect and at times talking down to women and bias based on [whether the person they were talking to was a] woman. I felt always a little bit stuck because then I knew that part of that acceptance then meant that I had, to some degree, stay quiet or relatively quiet when certain conversations were going on about women who most of the time were nothing but supportive to me. I felt a sense of responsibility, particularly to some of the women in the company that I saw as genuinely trying to help me in my career. That was that rock and a hard place.
There's a consequence of challenging [the bias and status quo],  for me and my own professional career. I had to prioritize myself in lots of those situations. There were times where I might approach [disrespectful behavior] more privately or in a more social setting as opposed to calling it out at that very moment. I had to make calls like that pretty consistently.
Working With A Male Cofounder
Part of what's awesome about our relationship is that I think we're really balanced. Sometimes we can't control who the people in the room drift to and what they expect from each of us. Sometimes we play into that and then kind of plan our conversations to cater to that to be real. Then other times we don't. We just roll with it.
Most of the time, the assumption is the financial questions are something he's going to answer. The reality is, we both know those. Sometimes people don't want to be surprised, the technology's already surprising enough. So we've already thrown them for a loop with a black female walking them through all the technical components, and the data science, and the math behind what we're building. We try to balance it a little bit. We say you've got to get uncomfortable to grow. It's one of our favorite quotes, but you still have to be comfortable to some degree to take a step forward.
On Securing Funding As Entrepreneur of Color
I feel resistance now more than ever, as we're trying to secure funding. [There are a lot of] challenges because my cofounder and I are both African-American, but me especially being the female half of the founding partners. Some of our advisers told me that's going to play a role both positively and negatively, but I feel it more negatively most of the time. I've had numerous people ask, "So, why you?" It feels more like an accusation versus it just being a true question. Literally, that's been said to me with some technology that we're building right now and bringing to market. I try to figure out, but why are you asking that question? I think it's because I don't look or sound like who they expect.
I definitely think it's continually challenging, but I do feel like we're closer. I feel like we're gaining some awesome traction in the marketplace. I don't think it's a quick shift, even with all the media attention that women are getting, and minorities are getting around their aptitude to do different things than what's assumed. I don't think that's something that just flips in a day or even a year. It's going to take time, it's going to take a fundamental shift in the way that we think, and the way that we evaluate value and ideas.
---
This interview was edited and condensed for clarity.