Special Counsel Robert Mueller's office brought an indictment Friday charging the alleged Russian propaganda outfit called the Internet Research Agency, two affiliated groups, and 13 Russian nationals with an elaborate plot to interfere with the 2016 election through metric-driven social media campaigns, using the same techniques as sophisticated, legitimate digital advertising efforts.
Here are some of the key details:
• The Russians allegedly spent millions of dollars on U.S.-targeted propaganda efforts aimed at sowing discord in the country's political system, buying social media ads and creating high-profile Facebook and Instagram groups targeted at different affinity groups, with names like Blacktivist, Secured Borders, United Muslims of America, and Army of Jesus. They didn't comply with Federal Election Commission rules on political ads or registration requirements for foreign agents, prosecutors say.
• The cost of these efforts reached as much as $1.25 million in one month, as of September 2016—as much as some presidential campaigns were spending during the primaries. Last fall, Facebook and other social media companies eventually acknowledged these disinformation campaigns following examinations by lawmakers, researchers, and reporters. As Fast Company reported, for instance, Instagram saw far more propaganda activity than Facebook and others widely acknowledged.
• The St. Petersburg-based organization allegedly used these groups to boost Donald Trump and Bernie Sanders, while attacking other candidates, including Hillary Clinton. "It is imperative to intensify criticizing Hillary Clinton," one operative was allegedly told.
• They allegedly encouraged "minority groups" not to vote, or to vote third-party, in the election, presumably to reduce support for Clinton. "Choose peace and vote for Jill Stein," one post to the Blacktivist Instagram post said, endorsing the Green Party candidate. "Trust me, it's not a wasted vote."
• Two of the Russian nationals allegedly got U.S. visas, and toured parts of the country in 2014, then "exchanged an intelligence report regarding the trip."
• The Russians allegedly used stolen identities to open PayPal accounts and pay for social media ads, and used U.S.-based VPN servers to hide their digital ties to Russia.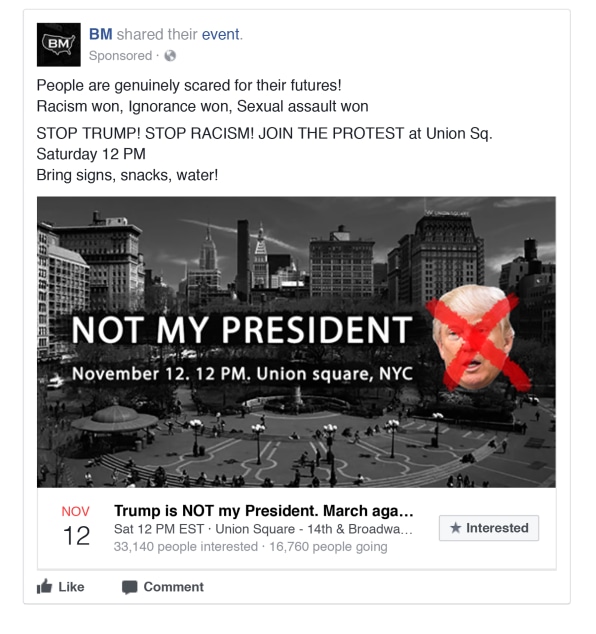 • The Russians allegedly staged real world pro-Trump and anti-Clinton rallies in the U.S., and at least one pro-Clinton rally seemingly designed to link Clinton to Islam. The Russians also promoted these events on social media and recruited U.S. people to participate in and promote them. At a rally in Florida, for example, they allegedly paid an actor to portray Clinton in a prison uniform. The week after the election, the Russians also organized a rally in New York to "show your support for President-Elect Donald Trump" and another rally called "Trump is NOT my President."
• The Russians coordinated with people described as "unwitting individuals associated with the Trump campaign" and pro-Trump activists, posing as U.S. activists, discussing possible sites and plans for rallies; in some cases, they wired money to those people. They also received advice about how to wage their campaigns from a person affiliated with a Texas-based grassroots political organization, including "focus on purple states like Colorado, Virginia & Florida." The Russians also kept a list of over 100 of their U.S. contacts. There's no indication that those people—who are not identified by name in the indictment—realized they were dealing with Russian nationals, not legitimate activists.
The Internet Research Agency was allegedly funded by Yevgeny Prigozhin, a St. Petersburg businessman known as "Putin's chef" because his restaurants and catering businesses once hosted the Russian president's dinners with visiting dignitaries. The company was also funded by companies Prigozhin controlled, the indictment said.
Some Trump supporters and others have said the references to "unwitting" members of the Trump campaign should dispel claims that the campaign intentionally coordinated with Russia. But there's no indication that the indictment is the final word from the special counsel's office, one way or another.
Unanswered Questions
The indictment doesn't address the persistent rumors of intentional coordination between the Trump campaign and Russia, including claims that Russian officials offered information regarding Hillary Clinton to campaign officials. (In 2016, Donald Trump, Jr. was informed in an email from the publicist Rob Goldstone about potentially damaging information on Clinton that the Russian government was waging a wider effort to help the Trump campaign.)
The indictment also does not touch on allegations of Russian hacking, nor other ways Russians may have helped the Trump campaign. And it does link the Russian nationals to anyone previously indicted during the investigation, including Michael Flynn, George Papadopoulos, Paul Manafort, or Richard Gates. Bloomberg reported Friday that the indictments are only part of a larger investigation that is still examining whether the Trump campaign colluded with Moscow.
It's also unclear whether any of the indicted people or organizations will actually face trial in the United States. In prior cases involving digital crimes allegedly committed by government-sponsored groups abroad, including cases of alleged Russian and Chinese hackers, actually extraditing the suspects to the United States has proven difficult.
Read more: Russia's election propaganda weaponized these mainstream news outlets