A year and a half ago, we covered the launch of a fashion startup called Oliver Cabell that set out to disrupt the luxury bag industry. It came out with a range of canvas and leather bags that were made in Italy, and taking a page from Everlane's playbook, it provided a full accounting of how much it cost to make the product.
Founder Scott Gabrielson came up with the idea shortly after the tragedy of the Rana Plaza collapse in Bangladesh, resulting the in death of 1,134 workers. He wanted to create a company that made products ethically, but didn't want to charge the sky-high prices of luxury brands. The concept has taken off. Last October, Oliver Cabell snagged $1.2 million in funding from an undisclosed angel investor. Gabrielson has used this influx of cash to enter a new product category: shoes. The luxury sneaker market has taken the United States by storm over the last few years.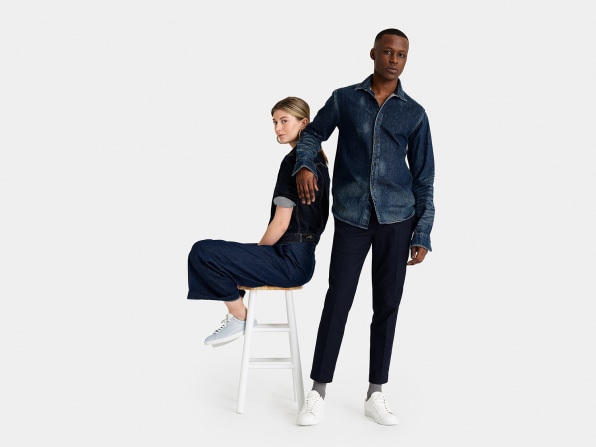 While European luxury brands have been making sneakers using high-end materials for decades now, there has been a spate of startups in recent years–such as Greats, Koio, and M.Gemi–making high-quality kicks available at more affordable prices. Now Oliver Cabell joins the mix, with two new leather unisex sneakers: a low-top and a retro-looking runner, priced at $178 and $188 respectively, which is a smidge cheaper than competing brands. The sneakers are made in Spain and, keeping with the brand's commitment to transparency, there is a price breakdown that explains how much they cost to make.
Oliver Cabell will be dropping new sneakers on a weekly basis starting in March.