Morgan Stanley analysts say in a new research note that Apple grew its iPhone market share in China during the last three months of 2017. But more people upgrading from Android phones are choosing phones from Chinese companies like Oppo and Huawei over older lower-priced iPhones. And that's slowing down overall iPhone growth.
Here are the key numbers from the research:
Apple iPhone grew shipments 12% in China last quarter (over previous quarter) while Android smartphone shipments declined 17%. But . . .
Morgan Stanley believes that in the four-week period ending January 14 the iPhone's market share dropped to 20.6% of active phones from 21.8% in the prior four-week period ending December 31, 2017.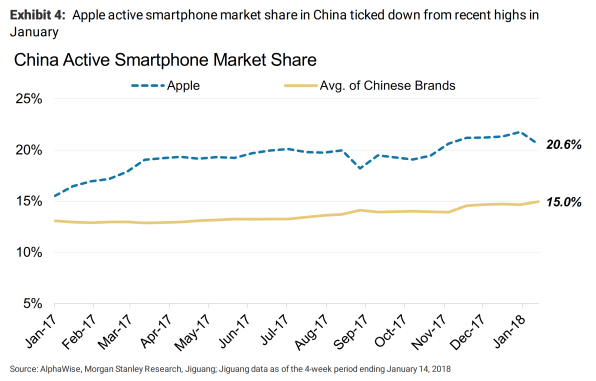 Sales of older models like the iPhone 6 declined in the period ending January 14. The analysts suspect this to be the result of Chinese phone makers discounting their products to "fight back" at the mid-market.
Still . . . "Importantly for Apple, and despite the overall share loss vs. peers, adoption of the iPhone X continued to accelerate in the latest period, accounting for over 3% of the iPhone active installed base in China," the analysts write. That compares to market share of 1.36% and 2.63% for the iPhone 8 and 8 Plus, respectively, they write.