Brett Hurt, CEO and cofounder of data.world, recently decided to take a closer look at what the company was paying its employees. To do this, they used software tools from SameWorks, an Austin-based startup that aims to shine a light on pay gaps that exist within workforces.
The benefits of going through the exercise, says Hurt, was not only that their executive team could easily see and share a snapshot of the compensation of all the employees, but that it put a structure on what had previously been an informal process. The process had another benefit: Employees were reassured of the company's dedication to keeping them engaged and happy.
But data.world is in the minority. At last count, women's salaries were estimated to be about $10,800 less per year than men's. That figure goes up or down depending on the role. There have been some recent efforts to achieve parity, such as companies signing the White House's Equal Pay Pledge, and its #hackthepaygap initiative aimed at improving diversity and gender pay gaps for freelancers, alongside a mostly male Congress voting down an equal pay amendment that would have required mid- to large-size businesses to report pay data. It also comes on the heels of a class action lawsuit against Google for systemic pay discrimination.
This one-step-forward-two-steps-back movement on the pay gap plays into the fact that it's going to take more than 40 years to achieve pay parity, according to a report from the U.S. Congress Joint Economic Committee. This despite the fact that equal pay could add trillions to the economy.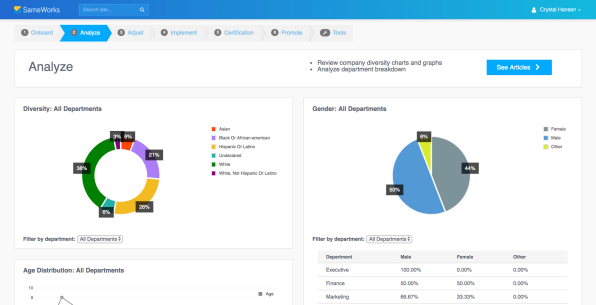 "Because we lack oversight for equal pay at a national level, there is little natural traction to incentivize companies to ensure they pay their workforce fairly," says Crystal Hansen, the founder and CEO of SameWorks. She tells Fast Company that it's been difficult for even the best companies to tackle this issue. "There are consultants you can hire to execute a pay audit, but they work on behalf of the business's interest, and employees are skeptical because they aren't open about their processes and methodologies," she explains. "That leaves the companies who are doing this unable to effectively message their accomplishment to their employees or the public."
Building the software to make it easier to uncover gaps just made sense. And SameWorks also baked in standards for a certification track that are based on EEOC guidelines for fair pay.
"The major difference between a company doing this independently and using SameWorks is that we adhere strictly to these guidelines," says Hansen. "Companies who independently run pay equity audits today, even through outside consultants, have zero oversight and no uniform standards," she adds.
The way it works is simple. Companies input employee pay data, and the system flags instances where two people in the same role are paid differently. Companies then must either correct or justify the reason why the pay difference exists, in all instances. Justifications for pay differences must be valid reasons such as performance, tenure, industry-relevant experience, or industry-relevant education.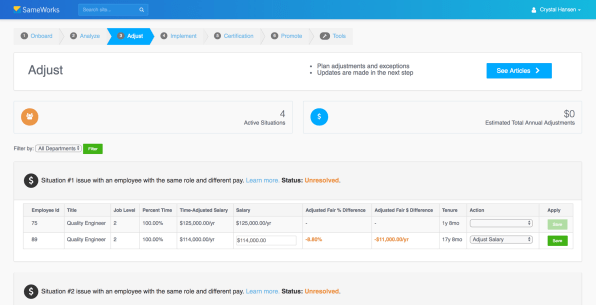 Hansen points out that companies seeking certification must also adhere to best practices regarding equity in the process of hiring and promotions. "When considering how to compensate new hires," she says, "it's critical to take into account the candidate's experience, skills, and job level they will be hired into, rather than open negotiations."
The cost for the certification runs on a sliding scale based on the size of the staff. Startups with fewer than 200 employees pay $2,500 per year, while enterprises with over 1,000 staffers have a $10,000 per year fee. Three companies including data.works have completed the certification process, and another 10 are on track to be done soon. Hansen estimates there will be 100 certified companies by the end of 2018.
Chuck Gordon, CEO of SpareFoot, was another leader who invested in the certification. He says that the company had already done an internal audit of pay at the request of their diversity and inclusion task force. However, he tells Fast Company that it was good to get validation from SameWorks that the best practices they implemented during the update of their compensation system in last year were the same ones recommended to ensure a fair and consistent pay system.
SameWorks is also offering media support for companies pursuing certification so they can get the word out there.
"We will be announcing the certification at our next company meeting, publishing in our weekly newsletter, and updating the jobs page as well," says Gordon.
And this is what Hansen hopes will urge more companies to pursue the certification. She admits that it's natural that the early adopters would be the ones hungry for a simpler and impartial way to handle this. "They were already looking into options, and we were there to solve that need," she says. Other companies were looking to do better and improve in how they've managed pay between employees, while still others want to adopt the right strategy before they grow and scale.
Hansen is banking on the fact that additional publicity for the certification will pressure others to follow suit. She believes those who have will also be more competitive in a tight labor market. Indeed, Megan Oertel, business intelligence manager at SpareFoot and cofounder of Women of SpareFoot and the Austin Diversity and Inclusion Project, says, "Working for an employer that makes pay equality a priority gives me peace of mind that I am not a victim of the dreaded gender pay gap."
Says Hansen, "Being able to say you have pay equity is a huge boost for recruiting, and it makes employees feel valued and respected. Every employer is looking for that edge."