While Facebook is eager to get more people using its social virtual reality initiative Spaces, it has until now limited the people users could connect with to their friends or family members on Facebook.
But even as Facebook has been making moves recently to make the experience of its core service more familiar to users–by doing things like prioritizing posts from friends and family–it is now experimenting with broadening the scope of Spaces, which is available to users of the high-end VR systems Oculus Rift or HTC Vive.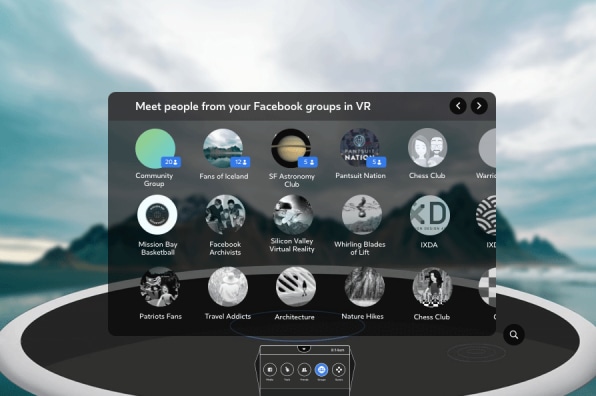 Today, Facebook opened up Spaces–a little. It is now letting users connect in VR to up to three other members of Facebook Groups they're in. For example, members of a "World Travelers" Facebook group could get together in Spaces and share 360-degree photos or videos there. Similarly, four members of a comedy buffs group could hang out in Spaces and watch funny videos or even rehearse their own comedy routines while creating and sharing 3D props–and potentially even live-streaming their practice to others on Facebook.
For now, this is just an experiment, and Facebook says it's going to incorporate feedback into its Spaces development going forward. But if it can generate more social interactions on Facebook's VR platform, expect this to become a permanent feature.
Read more: Don't Hate Facebook Spaces VR, Or Take It Too Seriously