Can a chatbot end workplace harassment and discrimination?
Julia Shaw, a criminal psychologist and memory expert at the University College London, is hoping the newly launched Spot can do the job. The chatbot, developed with cofounders Dylan Marriott and Daniel Nicolae, uses artificial intelligence and memory science.
This isn't the first service aimed at facilitating the reporting of harassment and discrimination. With the STOPit app, employees are able to report incidents such as harassment, intimidation, bullying, discrimination, and workers' comp fraud anonymously. Empower Work offers peer-based text support or web chat-based support for U.S. employees for ethical issues and microaggressions. Others like Jornaler@ helps day laborers report and prevent wage theft.
However, Shaw and her cofounders claim that the AI behind Spot will help it be the first of its kind to do cognitive interviews.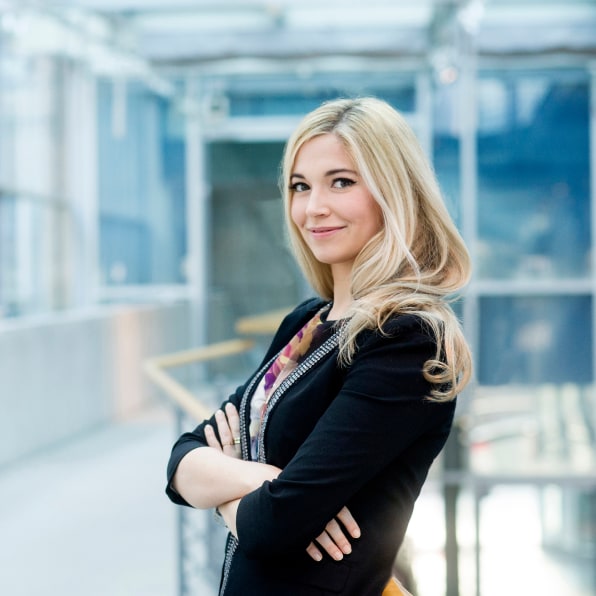 Shaw explains that the cognitive interview first asks the person to freely describe what happened. This is followed by specific questions called "probes" that ask about the things they mentioned. Part of what makes this technique effective is the way in which the questions are asked. "All questions are open-ended rather than leading the person to a certain response. The cognitive interview was developed by scientists to help police reliably extract accounts of important life events," Shaw explains.
She says decades of research that indicate this particular technique increases accuracy and lowers the amount of inaccurate information obtained in an interview. "It is currently considered best practice for interviewing people about negative emotional memories," says Shaw.
Harassment and discrimination are not only fraught with negative emotions, but the prospect of reporting incidents is often so daunting that those who've experienced it won't say anything at all. While the #MeToo movement is encouraging more people to speak out against harassment, the majority of women who experience sexual harassment at work (close to 70%) don't tell a superior about it, according to a report from the Equal Employment Opportunity Commission.
That's likely because it's hard to define exactly what constitutes harassment, the reporting process is often overwhelming, and because employees fear retaliation.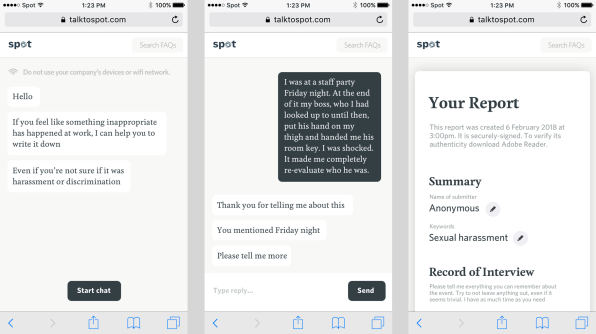 Shaw believes the cognitive interview will translate well to workplace harassment and discrimination, even though, like police reports, workplace complaints often carry severe consequences.
Spot is available to anyone for free online. Users can chat with Spot using its messaging-style interface which is like chatting with a person, without having an actual person on the other end. In this case, they maintain, that is a plus because it takes a degree of discomfort out of the interaction. "Bots don't judge," Shaw observes. "Spot will always keep things private, and will only share what you want it to."
Once the report is completed, Spot creates certified, private PDF reports from the interview. Each entry is time-stamped and constitutes as evidence if it's ever needed. The way it helps those reporting stay anonymous is by sending the PDFs from Spot's email server to a designated email address (such as an trusted colleague, their boss, or their HR manager) provided by the person filing the report.
The chatbot has been in beta test, and those who've used it described highly charged situations ranging from sexual misconduct to discrimination because of pregnancy or religious practices. Shaw also notes that disgruntled former employees can be a great source of knowledge about company culture. "If harassment or discrimination was a reason they left," she says, "it is definitely advised to see whether this type of behavior is continuing."
The potential challenge, says Shaw, is that if the person who sent a report didn't identify themselves, whoever gets the report may not be able to verify whether the sender was an employee. Verification is a feature that is in the works with companies. "We are also working on creating a management system for companies that can improve the receiving and resolving of complaints," she says. Spot does not keep reports, and will never make money from the reports themselves.
Shaw maintains that if someone receives a complaint of harassment or discrimination, they should still investigate, even if they are unsure of the person's identity. Responding is a matter of trust between the employer and the staffers, despite the fact that she acknowledges that reports should never be treated as definitive proof that something has happened. "Companies have legal responsibilities to deal with such allegations," Shaw says.
"We found that when there is a culture of harassment, employees can become habituated," says Shaw. "This means that people get used to everyday harassment and stop seeing it as a problem, opening the door to escalating levels of inappropriate behavior."