Earlier today, an Amtrak train carrying a group of Republican lawmakers hit a garbage truck, resulting in multiple injuries and at least one death. If you go to YouTube, however, and type in "GOP train crash," you may think something much more sinister happened.
The very first result is a live feed from well-known conspiracy theorist Alex Jones and his "Alex Jones Channel." The second is from an account called "Right Wing." The third video is titled "Train Crash ~ Attempted Assassination of GOP Congress Members?" Following that is Fox News.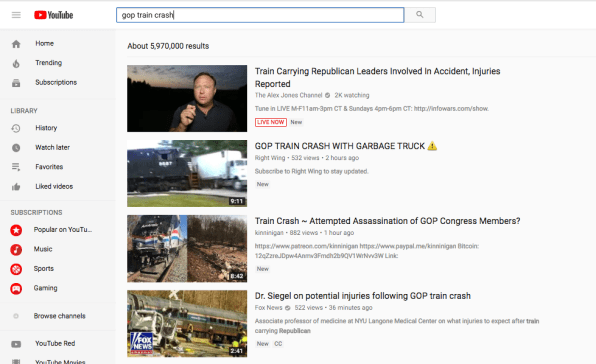 This is the latest example of YouTube's search function surfacing and promoting conspiracy theory videos in the face of tragic breaking news. We saw this happen last year with shootings in both Las Vegas and Sutherland Springs, Texas. Despite YouTube's claim that it plans to fix this problem, the same thing happens every time an accident or tragedy occurs. It's a real problem, one that will require the company to rethink how it prioritizes uploaded videos.
I reached out to YouTube for comment and will update this post when I hear back.
Update: A YouTube spokesperson provided me with this statement:
In October we began rolling out changes to search on YouTube to promote content from more authoritative sources after a major event and we've worked to iterate and improve on these changes since then. In this instance, our systems took longer than they should have to recognize this event as breaking news and we are working to improve that. With several other major events over the past few months we have been pleased with the results, but there is more work to do.