Nearly 40% of people ticketed for minor infractions in New York miss their court dates, which means a warrant is issued for their arrest. That penalty hardly seems proportionate to their original offenses, which include things like littering, biking on the sidewalk, or being in a park after dark.
It's easy to dismiss people who miss their court date as negligent, but the city's traditional summons is fairly inscrutable, leaving many people who might otherwise eagerly attend confused as to when and where they're supposed to appear. There's a generic title ("Complaint/Information") at the top of the form; the court date and time information is buried near the bottom. There's also no obvious explanation of what happens if you fail to appear. But another problem is that the court dates are often months away, so people may forget or decide that something else that day feels more important.
The solution: Redesign the summons. By re-thinking the look of a standard summons alone, the failure-to-appear rate for people who received the redesigned paperwork dropped by 13%.  Many of the tickets also collected cell phone numbers from the defendants, allowing the city to try some text interventions. Together, the new summons and text reminders caused a 36% drop in those skipping court.
These ideas come from Ideas42, a nonprofit behavioral design organization, which experimented with a summons redesign for an 18-month partnership with New York's criminal justice agencies and the University of Chicago Crime Lab, which agreed to track and measure the results. The project started because the Mayor's Office of Criminal Justice realized that its old form was pretty outdated. (There wasn't even a field for the defendant's phone number, for instance.) Rather than patch it up, officials wondered if an overhaul might somehow boost civic action, part of a growing trend in policing that emphasizes making any policy changes clearly identifiable and testable so the impact can be tracked.
Ideas42 has helped the city organize focus groups around various changes before, and is well-known for crafting such subtle interventions to shift who is staying in school, and taking advantage of financial services. Earlier this year, the group collaborated with several other experts to launch a public behavioral evidence hub for sharing more promising results throughout the field.
Alissa Fishbane, a managing director at ideas42, hopes that the group's summons project becomes a blueprint for other cities to copy or build on. The entire methodology is open-sourced in a new study "Using Behavioral Science to Improve Criminal Justice Outcomes."  "This is a pretty strong result," she says. "It's a cost-effective solution that complements existing policies. And on top of that, this is a win-win for every stakeholder involved–the court, the police, and the public itself."
New York City officials agree: Based on early results during testing, the police department began a force-wide switch to the revamped ticket in mid-2016. That design not only makes it clear the citation is a mandate to show up in court, but makes the date and time of your appearance more clear. In October 2017, after viewing data from the text-based reminder add-on, the city adopted the highest scoring practices: A series of texts that encourage folks to plan ahead for that upcoming court date, with a passive-aggressive reminder that if they don't, there will be consequences.
Historically, New York City issues around 320,000 criminal summonses a year. That has changed a bit since mid-2017 because the city gave officers the ability to divert some less onerous infractions–like drinking on your stoop or hosting too loud of a house party–to civil court, where failure to appear typically doesn't result in jail time.
Overall, though, Ideas42 estimates that a better summons and the SMS-reminder program could stay the issuance of 17,000 arrest warrants per year, saving the city time and money in paperwork and processing, while keeping those who might have otherwise unnecessarily ended up behind bars from having their lives disrupted and having to pay steep bail for their release.
To rethink the summons, Ideas42 initially focused on three key actions. First, designers changed the title to something clearer and more informative: "Criminal Court Appearance Ticket." The studio also moved the court date, time, and location information to the top of the form, and it played up the penalty for failing to appear, with a disclaimer set off by asterisks and big bold letters: "**To avoid a warrant for your arrest, you must show up to court**" Here's a look and the revisions: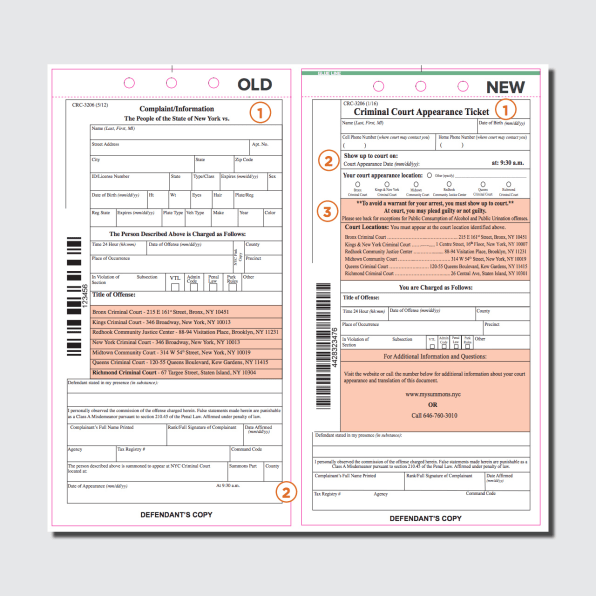 In behavioral-design jargon, these are called helpful nudges–small encouragements that push people toward decisions for the greater good. In this case, making the stakes clearer should trigger the human impulse for "loss aversion," notes the report. When we're warned that something involves a strong penalty, we generally take it more seriously than if a decision is couched in terms of equivalent gains. For that reason, an enticement to make things right or clear your records wouldn't be as appealing.
Ideas42 also tested two different kinds of text reminders. The first read: "Mark the date on your calendar and set an alarm on your phone." The second–"Show up to avoid an arrest warrant"–took a different approach and focused on the consequences for a no-show. The alerts went out three times before the court date–at seven days, three days, and one day away–and became more specific, offering date, time, and location information.
Both formats reduced failure-to-appear rates by more than 20%, but there is actually a third style, which combined both themes, that did even better. Here's how those messages read and escalate, as the court date gets closer.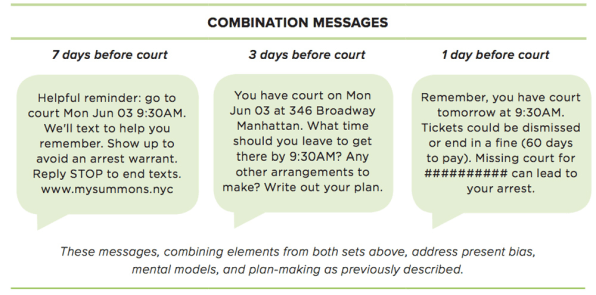 Fishbane thinks the combo message works because it operates on two fronts. "One is what to expect when you show up to court, the other is what to expect if you don't show up to court–i.e. you're going to get an arrest warrant," she says. When people see that by showing up, they may incur a fine (not jail), and that it doesn't have to be paid that same day, they may be less nervous. At the same time, the consequences portion battles "present bias"–the feeling that some more familiar stress in daily life should take precedence. People tend to ignore that the future cost of inaction could be enormous.
For those who do miss court and end up with warrants, Ideas42 designed another kind of communication, also with two options: One focused on the fact that the recipient was now subject to arrest but could resolve things at the courthouse, while another was a soft sell, pointing out that not showing up to court was pretty uncommon, basically a violation of a social norm. That loss aversion approach worked better. In general, 24% of offenders end up with open warrants 30 days after their court dates, either because they haven't cleared them up, or because they haven't yet been arrested. When paired with the more effective text reminders, that proportion dropped to 17%.
The real power of Ideas42's solutions is that they're cheap. The group's efforts were backed by the John and Laura Arnold Foundation, the MacArthur Foundation, and the Abdul Latif Jameel Poverty Action Lab. Fishbane estimates that the ongoing cost to the city will be just the cost of sending texts–about $7,500 annually, given the current rate of citation writing. That's offset by reduced administrative costs, and certainly by lost productivity and wages from those who might otherwise end up arrested. "We'd like to live in a world were ideally no one is deterred by just how a form is built," she adds.