Robinhood is getting into crypto. The mobile-first brokerage app, which boasts over 3 million registered accounts, will begin allowing customers to trade bitcoin and ethereum in February. Starting today, customers will also be able to monitor market data and set alerts for 16 major cryptocurrencies.
The move puts Robinhood into direct competition with Coinbase, the cryptocurrency-focused trading app that has topped app store charts for months. According to Recode, Coinbase booked $1 billion in revenue last year.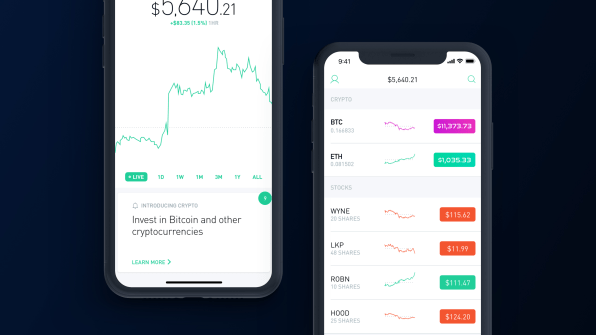 Like Coinbase, Robinhood is making it possible to start trading bitcoin and other cryptocurrencies immediately after creating an account. On Coinbase, users can use a credit card to buy and sell. With Robinhood, they will be able to buy and sell up to $1,000 worth of cryptocurrency with a bank transfer that the company will make instantly available.
In putting cryptocurrencies alongside traditional stocks, Robinhood reinforces the growing consensus that bitcoin and its alternates are most useful as stores of value, rather than means of exchange. Stripe, one of the first payments gateways to enable bitcoin transactions, said on Tuesday that it would phase out its support for bitcoin over the next three months.