Businesses investing in AI now could boost employment by 10% and revenues by 38% over the next five years, according to a new report from Accenture released at the World Economic Forum in Davos.
The report, titled Reworking the Revolution, is the result of economic modeling and extensive research of more than 1,200 business leaders and 14,000 workers. The main finding is that if an S&P 500 company puts money and resources behind AI and upskilling its workers at the same level as the top performing fifth of companies, they could boost revenues by an average of $7.5 billion and create 5,000 jobs by 2022.
Yet while 67% of workers surveyed said it will be important to learn new skills and 45% believe it will help them do their jobs better, only 3% of executives are planning to invest in training, and only 29% of companies have redesigned job roles to reflect human-machine collaboration.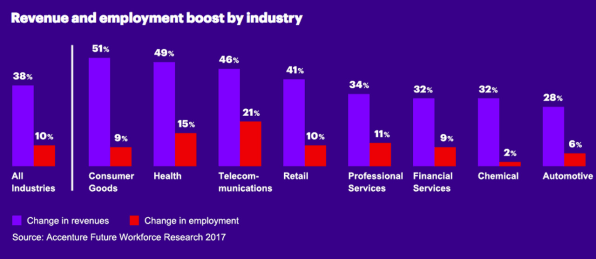 This disconnect may give freelance and contract workers an edge. The recent Upwork/Freelancers Union survey found 65% of independent workers claimed to be staying on top of career prep as jobs and skills evolve and machine learning gets more sophisticated; more than half said they've set aside time to brush up just within the past six months.