On Monday, the brand announced a line of oral care products infused with unlikely health ingredients: superfood extracts, vitamins, magnolia bark, organic aloe leaf juice, and tea tree oil, among them. They are free of controversial chemical ingredients like artificial sweeteners, flavors, and dyes.
Much like the company's popular deodorant line, which comes in unconventional scents like rose vanilla and lavender sage, the toothpaste collection reimagines the flavors we swish and spit. Think activated charcoal with mint, vanilla chai, and coconut with lime in bright, modern tubes that starkly differ from more hippie-esque natural brands.
Schmidt's Naturals cofounder and CPO Jaime Schmidt tells Fast Company she saw a ripe opportunity to translate modern consumer scent preferences for personal care products. While customers adamantly want oral care that leaves them feeling fresh, the company's research found that could also extend into citrus and floral flavors.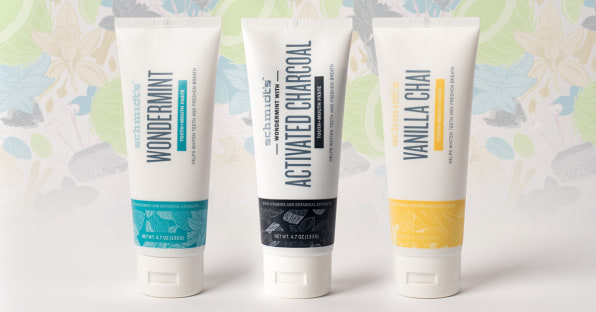 Schmidt's Naturals plans to modernize the category in many ways. That includes embracing trendy health ingredients like coconut oil or charcoal, which has been infused in everything from "detoxifying" water to frozen yogurt.
"With natural products in particular, we found that consumers were tired of bitter, bland flavors and formulas," says Schmidt via email. Schmidt's Naturals cofounder and CEO Michael Cammarata adds, "Our customers confirmed what we already saw to be a massive opportunity in the category–to win not only with a clean and effective formula, but to exceed expectations and create excitement around compelling flavors and ingredient technology."
I'll admit my own hesitation upon venturing outside the distinctive realm of mint. Tropical or sweet flavors are simply not something you associate with the ritual of brushing your teeth. And it is alarming at first: The mildly spicy flavor of vanilla chai tasted like a frothy (albeit tasty) Starbucks drink–it felt wrong. Likewise, as I squirted a dime-size portion of the activated charcoal onto my toothbrush, my husband kindly exclaimed, "That looks like you just phished smudge out of the sink pipes." Spitting out grey liquid didn't make that any less incentivizing.
Those were first reactions. Upon revisiting the flavors a second time, I found myself not only acclimating to the sight and consistency, but also the taste. It was–in an altogether different use of the word–refreshing to try new flavors. I brush my teeth 730 times a year, equalling 1,460 minutes of dull labor. Why can't it be exciting, wide-ranging, and flavorful? It's in much the same way how Cocofloss reinvented tooth flossing by adding a fruity, luxury element to the gunk-pulling process.
It remains to be seen whether consumers will be drawn to the product for its main selling point: Health. Schmidt's Naturals is free of potentially harmful ingredients, and its packaging proudly touts vitamin and superfood extracts. But considering that consumers only absorb toothpaste for two minutes at time, with not even ingesting it, how big of a deal can that be?
"Four minutes a day is a long time to introduce ingredients to your gums, teeth, tongue, and cheeks," counters Schmidt.
Dentists and industry leaders have expressed concerns over toothpaste ingredients, primarily artificial colorings and chemical preservatives like parabens and sodium benzoate. Triclosan, for example, is an antibacterial ingredient that the Food and Drug Administration banned in soap products, yet it still appears in toothpaste brands like Colgate. Studies suggested the ingredient potentially contributes to antibiotic resistance and disrupts hormones and immunity.
The industry, however, has yet to suggest that most chemical-infused toothpastes possess significant health risks. But Schmidt's Naturals is confident that the health-conscious tide is growing, and with that, so will society's view of what they put on and in their body. Indeed, a recent study published in the journal JAMA Internal Medicine found that consumer complaints of adverse health events related to personal care products more than doubled last year.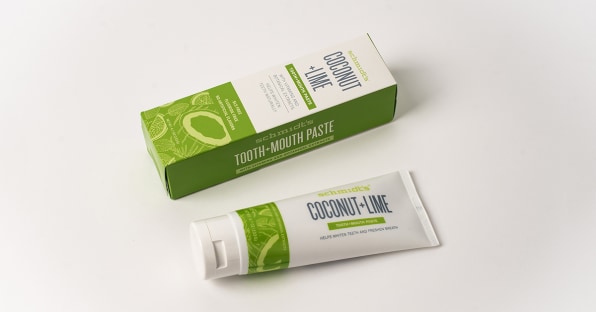 "In high quantities, many of the ingredients in commonplace toothpaste are considered to be a skin irritant or otherwise harmful to one's health," says Schmidt, adding, "if there are healthy options that can compete or outperform more controversial formulas, the choice should be clear."
Meanwhile, Nielsen reports a sharp consumer demand for products vouching chemical-free ingredients, with 51% of households considering "natural" an important aspect. Data shows that personal care products with a natural label claim grew 9.1% in 2017 from the previous year, despite only driving 3% of total sales when compared to conventional products.
Already, Schmidt's Naturals deodorants are carried by 30,000 retailers big and small, including Kroger, Walmart, Whole Foods, and Urban Outfitters. Now, the company wants a piece of global oral care market, which Grand View Research anticipates will reach $40.92 billion by 2025. Armed with flavor novelties and an increasingly popular health label, Schmidt's Naturals thinks it can take over the supermarket aisles in the coming years.
"There's no question our toothpastes are seen as serious competition by the major players, with more and more consumers turning to natural," says Cammarata. "Just as we've been changing consumer expectations in the deodorant category, you can expect us to take on the titans in toothpaste as well."