Baidu's Raven H smart speaker is meant to be noticed. Whereas Amazon and Google chose to dress their speakers in neutral tones and fabric materials, the Raven H resembles a stack of green, blue, red, and orange blocks, with a partially coiled power cord that would look at home on a rotary phone.
But that standout design belies Baidu's actual strategy for winning the virtual assistant wars–first in its home market of China, soon in Japan, and maybe someday in Western markets. As a Google-like web giant that runs the most popular Chinese search engine, Baidu would rather help other companies release their own hardware than sell homegrown products like the Raven H. To that end, the Raven H costs about $250–four times the price of third-party speakers running Baidu's DuerOS AI.
Therein lies the biggest strategic difference between Baidu and U.S. firms in the voice assistant business. Although Amazon and Google also work with third-party hardware makers, their own Echo and Home speakers are among the cheapest and best on the market. They're mainstream products, not aspirational ones like the Raven H.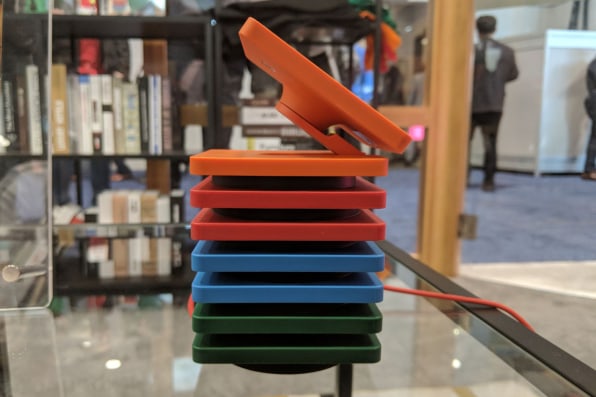 "Echo is actually competing with other smart speakers," says Kun Jing, the head of Baidu's DuerOS platform. "If you get a discount on an Echo, a lot of other smart speakers are hard to sell. For us, we only build one first-party product, and this one is not cheap."
Last week, Baidu set up a booth at the CES trade show in Las Vegas for the first time. Nestled within a section for robotics, far away from the mega-spaces of tech behemoths like Samsung and Sony, Baidu's presence wasn't the splashiest. But by showing up, Baidu was hoping to leave an impression on current and potential partners that operate outside of China.
Even before the show, Baidu had been making progress on those fronts. In December, Qualcomm and Baidu announced a plan to optimize DuerOS for Qualcomm's Snapdragon chips on smartphones and other connected devices. Another tie-in with LinkPlay, which provides Wi-Fi modules for Alexa-enabled devices, will allow vendors to easily convert Alexa products into DuerOS ones. Jing also says that a representative from Disney approached Baidu during CES to discuss bringing U.S. content to China via Baidu's iQiyi streaming service, which of course integrates with DuerOS on connected televisions.
"We want to use this global stage to show international partners how we innovate at China speed, and how we enable our partners to create very innovative products," Jing says.
A Top You Can Take Off
The Raven H is supposed to help attract that international attention. Borne from a startup called Raven Tech, which Baidu acquired in February 2017, the product was created in collaboration with Swedish design firm Teenage Engineering. And beyond its standout appearance, it offers a few clever ideas not found in the Echo and Google Home.
Most notably, the top panel is removable and stores personal information such as music and video preferences, allowing users to slap it onto another base station in another room or at someone else's home. And while the Raven H doesn't have a full-blown display, an array of LED lights can represent things like rain when the user asks about the weather.
The top panel also connects with the Raven R, another device Baidu plans to launch later this year. Although the functionality is similar, the Raven R can turn and look at the user in response to voice commands, using the LED lights to create a pair of eyes. It helps that Baidu's AI acknowledges its wake phrase by voice, with phrases like "I'm listening" or "I'm here."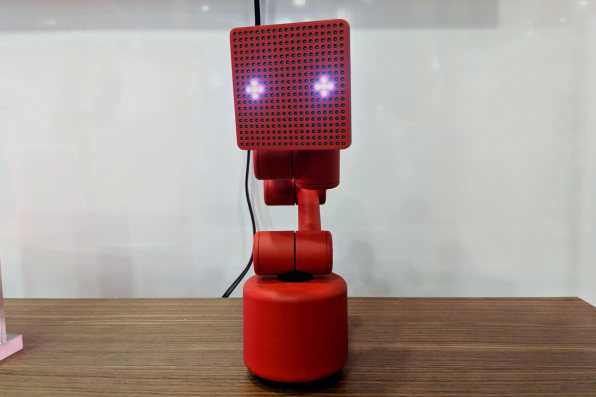 International Moves
Baidu and its fleet of DuerOS devices aren't coming to the United States anytime soon, if ever. But the company is looking to expand outside of China.
The first attempt will be in Japan, where Jing says apartments are similar to Chinese ones in size and occupancy. In addition to the Raven H, Baidu is working with Sengled to sell a smart ceiling lamp with a built-in projector, which should be easier to install than a big-screen TV for renters living in cramped spaces, Jing says. Using Baidu's assistant, users will be able to launch videos using hands-free voice commands. If that goes according to plan, other developing countries such as India and Brazil could be next.
"We will start with the Japan market, and we'll wait and see," says Jing.
In any case, Baidu isn't thinking of Amazon and Google in terms of competition. The voice assistant business is young, Jing says, and right now the most important thing is to expand the market. On that note, he was inspired by the huge presence for Alexa and Google Assistant at CES.
"We still need a lot of education on the market for users, saying 'This is a must-have device,'" Jing says. "So I'm super happy to see that Alexa and Google Assistant are doing a lot of education."
Baidu's work may be rubbing off on its American counterparts as well. Although Amazon and Google have led the way with their own smart speakers, they've started to entrust hardware partners with the work of expanding Alexa and Google Assistant into new categories. Google, for instance, is leaning on Lenovo, JBL, and others for the first Assistant-powered "smart displays," while Amazon is helping outside companies build Alexa earbuds and wearables, for now in lieu of selling its own.
According to Jing, Baidu believes deeply in enabling such partners instead of competing with them. "Look at Android's success," he says. "Google didn't build their phone first. They partnered with HTC and Samsung to make it successful," Jing says. "Really, the openness of the platform is critical for success."