After an HR meltdown last spring at her period-proof underwear company Thinx, Miki Agrawal stepped down as CEO to found Tushy, which makes devices that convert ordinary toilets into bidets. This morning Fast Company's editors received an invitation to a get-together at Agrawal's Williamsburg home later this month "to celebrate and honor that special body part that we tend to ignore"–the anus–with a black box fronted with a photo of a butt, containing:
a small mirror for (as a notecard helpfully explains) inspecting "the spot between your cheeks"
a couple of black tickling feathers
the worst DIY anal beads ever conceived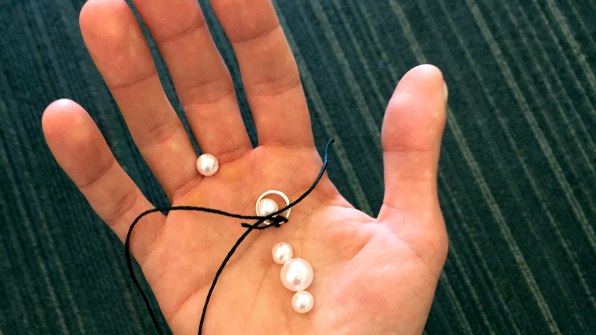 Recipients are meant to string the six tiny beads onto a piece of cheap black twine, then pop it into their butts for a little self-pleasuring. (A packet of lube would sure have been helpful but wasn't included.)
Look, I'm all for introducing more Americans to anal experimentation, but this craft project doesn't belong in anyone's butt. For reasons of experience as well as hygiene, most sex toys designed for bodily insertion are made of semisoft synthetic materials that hold their shape and can be thoroughly washed. As evidenced by this $14 set of beginner anal beads available on Amazon, they aren't hard to come by.
There are loads of real issues holding back innovation in sex products that Agrawal could be helping to address. (By comparison, the world maybe doesn't need an "Anus Spirit Animal Reader," promised to be on premises for the Tushy event.) Sure, there's nothing wrong with irreverent butt humor in the service of expanding access to the bidet. But mailing journalists a few tiny, hard, fake pearls rattling around on a string is almost an insult to the idea of anal pleasure. Worse, it makes Tushy appear to be more excited by silly stunts than serious innovation.
Update: This post has been updated to clarify that Fast Company received only an invitation to the Tushy event, which has not yet taken place; it will be held on January 25.