In recent years, dozens of cities and towns have built their own municipal broadband networks, hoping to drive down prices and boost economic development for residents. And they seem to be succeeding somewhat, according to a new report. Municipal broadband networks generally cost less than private services in the same market, at least when it comes to higher-end fiber-to-the-home (FTTH) offerings.
Researchers at the Berkman Klein Center for Internet & Society at Harvard compared prices for entry-level services in 27 communities, from Lafayette, Louisiana, to Concord, Massachusetts. In 23 cases, prices for the publicly owned networks were between 2.9% and 50% less than those of the equivalent services offered by companies like Comcast, AT&T, and Verizon. (The comparisons are for prices over a four-year period.)
A running total kept by the Institute of Local Self Reliance (ILSR), which campaigns for municipally run networks, lists 95 communities with a publicly owned FTTH reaching all or most of a community. More than 200 places have public fiber networks that reach just part of a community. The end of net neutrality may inspire more places to develop networks, as they look to keep services open to all users.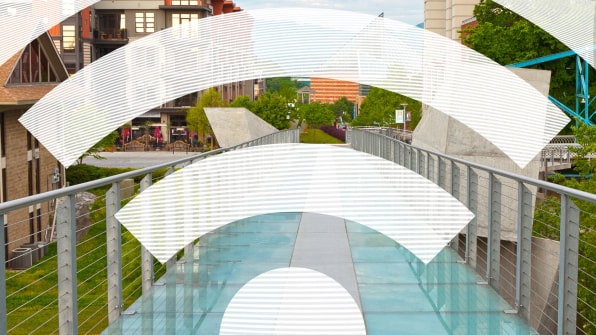 ILSR backs up the new report's conclusions. Tennessee has several municipal networks, for instance, and most of have never raised prices. Chattanooga's, run by the locally owned electric utility, EPB, offers speeds six times faster than when it launched in 2010; a blazingly fast 100 Mbps connection is just $57.99 per month. (The standard definition of a broadband connection is 25 Mbps download and 3 Mbps upload). As a point of comparison, AT&T offers a 50 Mbps connection for $40–well less than half the value of EPB's service.
However, many state legislatures, including North Carolina, Nebraska, Texas, Missouri, and Arkansas, have either outlawed municipalities from building networks or put up serious roadblocks. In other states, telecom companies have lobbied hard against new projects. Fort Collins, Colorado, passed a ballot initiative last November to establish a new utility despite telecom lobby groups spending up to $900,000 to defeat the measure.
"More communities are considering this, but it's politically challenging. Cable and telephone companies try to convince people that the municipalities will go broke if they build new networks," Chris Mitchell, director of ILSR's Community Broadband Networks Initiative, tells Fast Company. (The Obama Administration, which hoped to expand the number of municipal networks, failed in efforts to pre-empt state laws).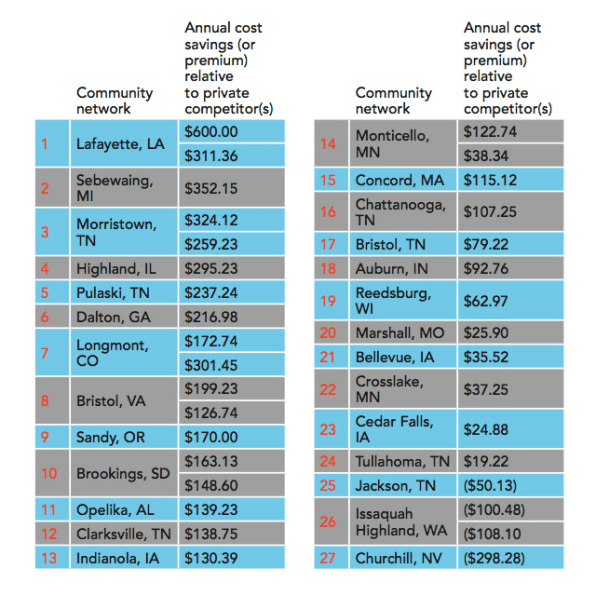 While the new report sheds some light on internet-service pricing, its scope is limited. It doesn't cover ordinary broadband like DSL or cable. Researchers struggled to gather comparable data for a larger number of communities because there are no public pricing databases (the Federal Communications Commission doesn't keep one, for instance). The researchers had to go market to market, provider website to website, trying to work out what companies were charging. Often, internet services were bundled with other services, or they were offered at teaser rates that likely aren't sustained over time.
"To me, the real finding here is that comprehensive data is simply not available about what broadband service actually costs U.S. consumers, or what exactly they get for what they're paying," says David Talbot, a fellow at the Berkman Klein Center, who led the research. "We also don't know what levels of service are actually available by address. We do know, however, that pricing and service plans are all over the map and that promotional rates and gimmicks abound."
The lack of data makes it hard for municipalities to understand the potential benefits of investing in their own networks. "It means we can't precisely and systematically quantify and track the extent to which additional competition, such as from a muni provider, reduces prices or improves service quality overall in a community–information any policymaker or consumer would love to have," Talbot says.
Cheap, reliable broadband is generally considered good for economic development and social equity. The Obama Administration campaigned to allow municipalities to set up their own networks, citing in a statement how "barriers like income and geography keep many Americans from taking advantage of the economic, educational and social benefits of broadband access." Cities like Stockholm point to public fiber networks as key to driving internet innovation and creating the next Silicon Valley-like hotspots.
Surveys of lower-income consumers show that price is a big factor in why households forgo buying internet services. A third of non-users cited cost as their main reason for not buying broadband, according to one survey. About 10% of Americans lack access to wired broadband service.
And price variability is another deterrent for consumers looking to buy internet service. "We can't tell whether companies, especially the private ones who generally use teaser prices that later jump higher, are treating everyone the same when taking the long view," says Talbot, previously a reporter with the MIT Technology Review.
"It stands to reason that some groups of consumers aren't negotiating for better rates and as a result get stuck with higher bills for years," Talbot says. "But exactly which demographic groups are these? Nobody knows. We can't see at what price point lower-income people, who say price is a barrier, dive in and take service, helping advance equity."