President Trump's profanity is making it hard for Google to keep its autocomplete search suggestions rated PG.
While Google's autocomplete searches typically use asterisks to censor the naughty words—or omits them from autocomplete altogether–Trump's recent comments referring to El Salvador, Haiti, and the entire African continent as "shithole countries" seem to have slipped past Google's censors. When you type the word "shithole," Google autocompletes the search with phrases like "Trump hotel" and suggests searching for the entire quote.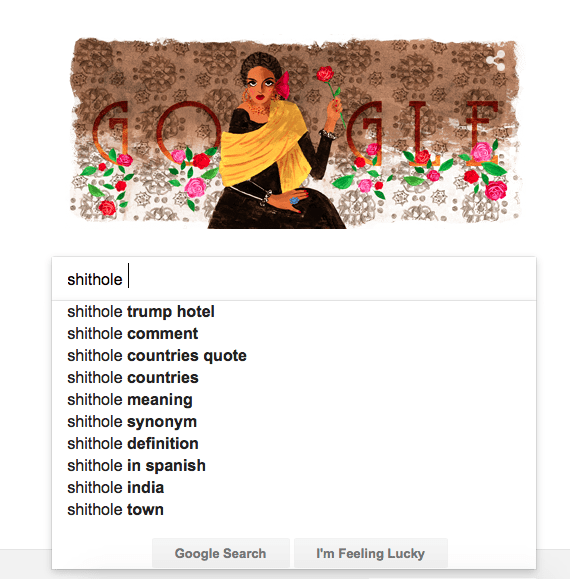 In the past, Google has censored Trump's more profane words. For example, type in "grab them by the p…" and the search engine helpfully suggests phrases like "grab them by the pudding" instead of the actual words that came out of the president's mouth.
We reached out to Google for comment, but a spokesperson seemed, well, confused by our request and asked for screenshots of our searches, as the search engine seemingly had yet to notice the dirty word popping up in autocomplete searches. In short, the shithole loophole may be closing.
UPDATE:
A Google spokesperson responded: "Autocomplete predictions are generated based on search activity and interests. Because of this, terms that appear in autocomplete are constantly changing based on what's being searched around the world. We do our best to prevent offensive terms from appearing, but we don't always get it right. These particular results were in violation of our policies and have been removed."