Last June, Amazon released the Echo Show, which added a touchscreen to the smart-speaker experience established by the original Echo—and therefore made the Alexa digital assistant more useful in new scenarios. Now Alexa's archrival, the Google Assistant, is making its way onto screen-enabled devices. But instead of merely adding a display to its own Google Home speaker, Google is working to integrate the Assistant into gadgets from third-party hardware makers. At CES in Las Vegas, the company is previewing "smart displays" from JBL, Lenovo, LG, and Sony, each a bit different in design and all due later this year at prices TBA. Here, clockwise from top left, are Lenovo, JBL, and LG's models (not to scale):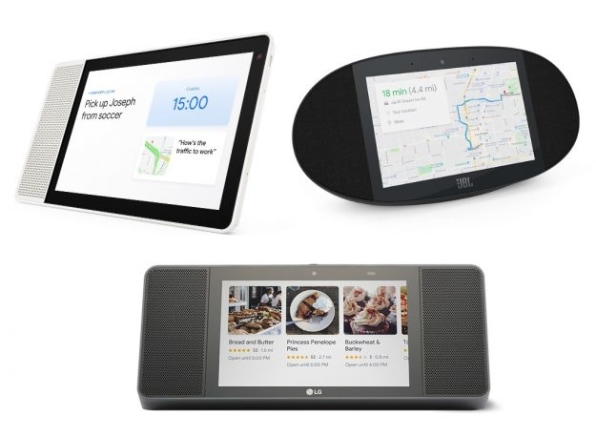 As with the Echo Show (and dinky, spherical Echo Spot), these new gizmos are meant to be more practical in situations where it's tough to interact with a digital helper through audio alone. Using the Google Home in the kitchen like a voice-controlled cookbook "is great, but without a visual indicator of where I am in the recipe or a list of ingredients, it's a little harder to use then we'd like it to be," expains Scott Huffman, Google's VP for the Assistant. The smart displays will also offer video calling (through Google's Duo service) and photos (from Google Photos, natch).
Oh, and YouTube? A tiff between Amazon and Google has led to the video service being deleted from the Echo Show. But it'll be a standard feature on Assistant-ready smart displays, giving them at least one meaningful advantage over their Amazonian competition.