Google and Amazon spend more money on innovation than nearly any other companies. That's for good reason: They're anxious about what's coming next, and they want to create their own futures.
"Tech companies are constantly worried about being disrupted, because technology is moving so fast," says Mathias Herzog, a principal at Strategy&, part of the PwC network. "Disruption is pervasive, cutting across many industries and significantly changing business models."
Disruption comes in many forms, and digital doesn't just mean the latest technology. It extends to new ways of working and using data, and delivering unique experiences. A recent Harvard Business Review survey found that 80% of respondents in 10 major industries—from financial services to nonprofits—believe their industry will be disrupted by digital trends. Forty-seven percent believe their business model will be obsolete by 2020.
To avoid this fate, large companies must use their considerable insights and resources to create their customers' future and get to market faster.
It's easier said than done, of course, but here are three ways to begin.
Start Now, Move Deliberately
Digital disruption is expected to affect virtually every industry over the next 10 to 15 years. Companies that haven't felt much pressure so far, such as banks, commercial transportation, real estate, and grocery stores will need to adapt quickly. The upside? These organizations have an opportunity to rethink their approaches to innovation.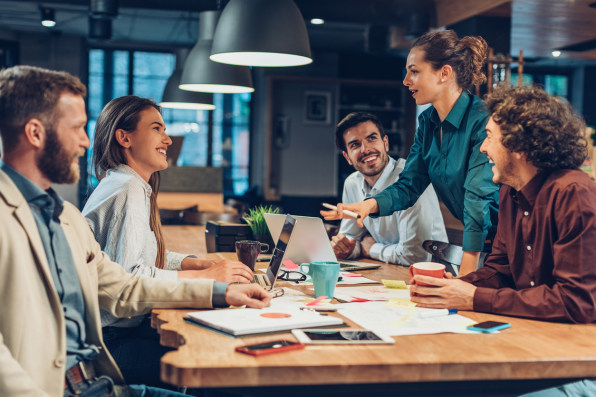 "How can you self-disrupt before you are forced to catch up?" asks Tom Puthiyamadam, global digital services leader at PwC. "You need a destination and time to get there. Create a strategy long before the tipping point and stick with it."
Once a company decides to transform, its people have to learn to work in new ways. It might be uncomfortable initially, but often, changing the status quo produces the best results.
Embrace The New Logic
Most companies feel that they understand what their customers want, but knowing what they will want and need next takes bright people and fresh perspectives. Some organizations try to create their cultures by bringing in inspirational leaders who can cultivate new capabilities and drive the business forward. This frequently means nontraditional hires.
Early last year, for instance, Mattel tapped former Google Americas president Margo Georgiadis to be its new CEO. A tech executive might not seem like the natural choice to run a toy company, but bringing in leaders with different expertise and skill sets can push a company into a new direction. In Mattel's case, Georgiadis was chosen to lead a fast-moving and data-driven business, something the company felt it needed to reimagine decades-old brands such as Barbie and Hot Wheels in the face of declining revenue.
Executives often look to peers in their industry to spot trends and potential disruptions. Herzog and Puthiyamadam encourage them to take a broader view and consider how organizations in different industries than their own are disrupting things. "What can you learn from these businesses?" Herzog asks. "Inspiration may come from the least expected places."
Learn To Play
Having a new vision for a large organization isn't easy, and it can't be rushed. If a company can meet its near-term objectives while leaving room for "play," then voices from across the company—including those of employees, customers, and suppliers—can help leaders discover overlooked assets.
Play requires freedom—the freedom to be curious, to try things, to fail at them, and to dream big. It's what makes startups nimble and disruptive and it's what keeps established companies flexible. Think Google's 20% Time, which allows dedicated time for employees to explore new projects.
One effective way to stoke creativity is to purposefully bring people with different perspectives together. Pair technologists with creatives and marketers to discover solutions to business problems. Create an environment where anyone can suggest a path forward, rather than leaving it all up to the C-suite.
"Many executives fear disruption, but it should be thought of as an opportunity to take charge," says Herzog. "There is always opportunity to succeed if you focus on your company's right to win and aren't afraid to imagine new ways of creating that experience. But you have to be bold, and you have to start now."
__