Thirty minutes from the Hartsfield-Jackson Atlanta International Airport lies a countryside oasis that resembles a fancier, modern-day version of Little House on the Prairie.
Imagine 40,000 acres of forest surrounding newly built Craftsman and Victorian homes–each with sweeping Southern-style wraparound porches sprinkled with lemonade-sipping residents, old and young. Behind each house lie "alleyways" of forest trails–there, athleisure-clad grandmas go on runs while clusters of unaccompanied kids forage for secret treehouses strewn throughout the landscape. Nestled behind a communal organic farm, pigs and chickens roam free beneath pine trees. At the local inn, the concierge offers free bunnies for adoption at check-in.
There are few cars on the premises; most residents prefer to walk to the local yoga class or hike the neighborhood's 15 miles of trails. Young couples amuse themselves at a field-size labyrinth composed of rocks, just beyond the wildflower meadow. The loudest sound is of the breeze brushing up against the oak trees that hover over the lawns. This landscape feels to me like a physical manifestation of the Sabbath.
Welcome to Serenbe, one of the more well-known "wellness communities," planned homes and neighborhoods designed to support residents' physical, emotional, and sometimes even spiritual well-being.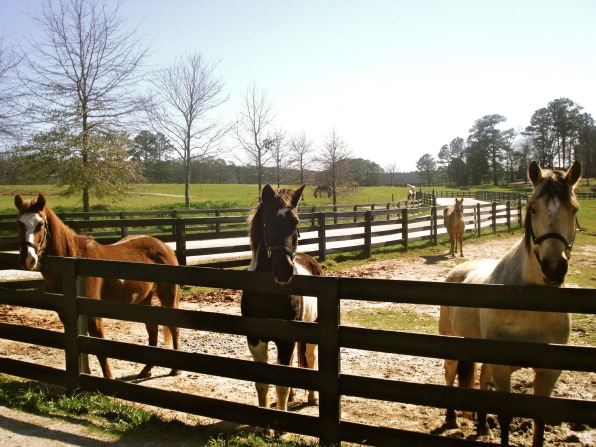 Here, design is as fully integrated into the landscape as nature. Serenbe dictates each home be built in exact accordance to its style (i.e., no mixing your Colonial with your Tudor). A strict "no McMansion" rule means houses are tastefully built, with nary a Roman column or gilded arch to be seen.
There are no driveways, and you won't spot a garbage can or utility wires on these streets; such unseemly items are cleverly hidden a level underground. You'll see residents "taking out the trash" by lifting up discreet manhole covers beside their houses.
"I hate visual pollution," declares Serenbe founder Steve Nygren.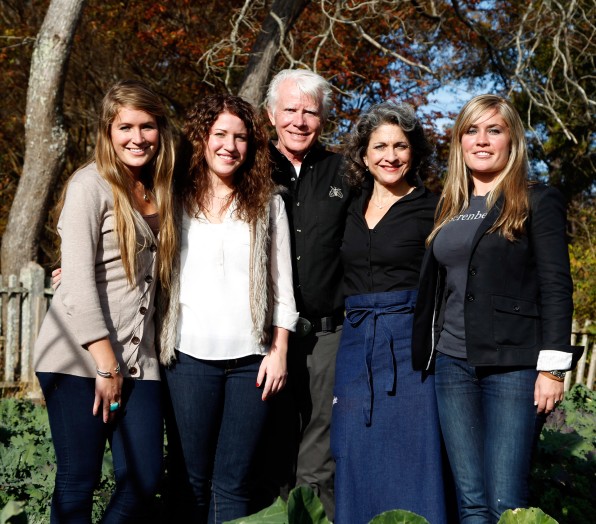 It's like Disneyland released a Pleasantville attraction, or a modern day kibbutz for health enthusiasts. It's fitting that the community's name is Serenbe, a combination of the words "serene" and "being."
Serenbe started with just one family in 2004. Nygren, a retired restaurateur on a mission to save Atlanta forestland from bulldozers, brought his family to the land as its first denizens. Today, his idyllic nature reserve encompasses 300 homes and 600 residents, along with a 25-acre organic farm, three restaurants, a farmer's market, hotel, spa, bookstore, and a progressive playhouse recognized by the New York Times.
Wellness communities like Serenbe increasingly attract homeowners looking for a refuge from modern life. In North America alone, the market is worth $52.5 billion and is growing by 6.4% annually, according to a new report by the Global Wellness Institute titled Build Well to Live Well: Wellness Lifestyle Real Estate and Communities. Wellness real estate was a $134 billion worldwide industry in 2017, and is expected to grow to $180 billion in 2022.
"There's a health benefit coming out of almost every [Serenbe] household," claims Nygren of the anecdotal evidence, "whether it's the kids don't have asthma and have less allergies, or people have gotten rid of their antidepressants . . . We're having [families] and retirees move here even just because of the air quality."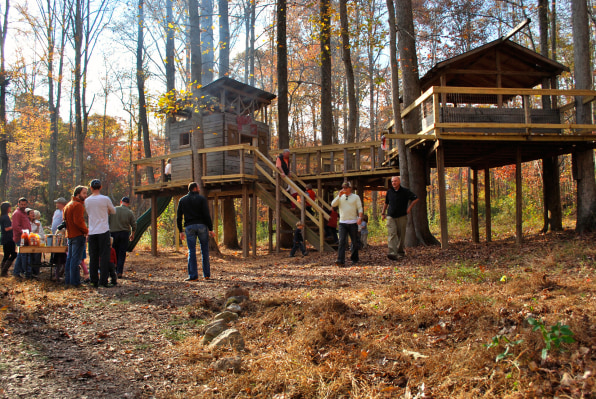 Life Camp
Nygren, 71, is a slight, fit man bursting with an energy rivaling that of a cruise ship director. On a sunny October day, the Serenbe founder guides a group of visitors on a five-hour walking tour of his creation, pointing out the atypical omega-shaped layout of the four hamlets, each focused a different sector: arts, agriculture, health, and education. He thoroughly explains the philosophy behind his various mandates. Each home, for example, must feature an open front porch to facilitate spontaneous conversation with neighbors.
Four hours into the hike, a few of us concede that we are having difficulty keeping up with his pace. Many among us come up with ingenious excuses to rest our legs. Some pretend to tie their shoelaces, others lean against trees or visit a bathroom in an unfinished home or open house.
Nygren, however, seems fine, totally rested. Astounded, I ask him: How does he keep in shape? Does he exercise? Take supplements? The founder laughs and simply responds, "I live."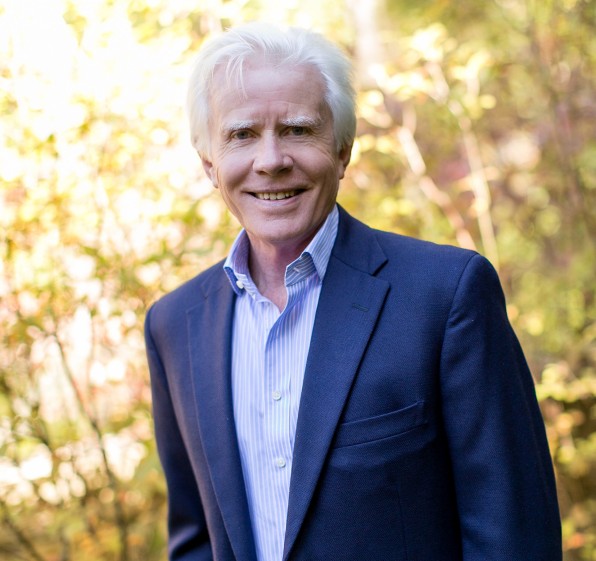 And what a life this is. Serenbe is built for walking; numerous nature trails lead to four sub-communities modeled on English countryside hamlets. Blueberry bushes line roads in case residents need a snack along the way. Medicinal landscaping makes it easy for one to pick up a natural remedy should they feel unwell.
Nygren tells the story of a child recently infected with poison ivy. While one community member rushed to fetch a doctor, the patient was treated with an herb from a nearby garden by another neighbor. "For everything in nature, there is a counter," Nygren calmly explains, adding with smirk, "there is a doctor on hand, but oftentimes that's secondary."
Serenbe's inhabitants are a mix of young families and retirees, including many multigenerational families who appreciate the idea of being able to hop over to grandma and grandpa's house whenever they like.
"Our residents walk tall," says Nygren, who says the forced exercise of living on the property physically transforms Serenbe's denizens.
Children–referred to by local adults as "free-range kids"–independently run all over "town." Serenbe features all kinds of housing: large houses, condos, even tiny $20,000 homes for an artists-in-residence program.
"We're much more than the agrarian movement. . . .This is a real town with people of every age," says Nygren. The dedication to both nature and multi-generational community, he believes, is what truly makes Serenbe a wellness community.
"If you look at all the research coming now about depression . . . there are two things that really improve your attitude–connection to one another and a connection to nature. [Society] has been building places that remove us from both for the last several decades," he argues.
Indeed, Nygren isn't overstating the importance of one's environment. Ophelia Yeung and Katherine Johnston, senior research fellows at the Global Wellness Institute, point to a recent World Health Organization study that found that 80% to 90% of our health outcomes are intimately tied to where and how we live. The report includes a number of various factors, including environmental pollution, air quality, and healthy foods. A recent study by the Urban Land Institute found that 38% of Americans report access to outdoor spaces in their area where they might walk or exercise.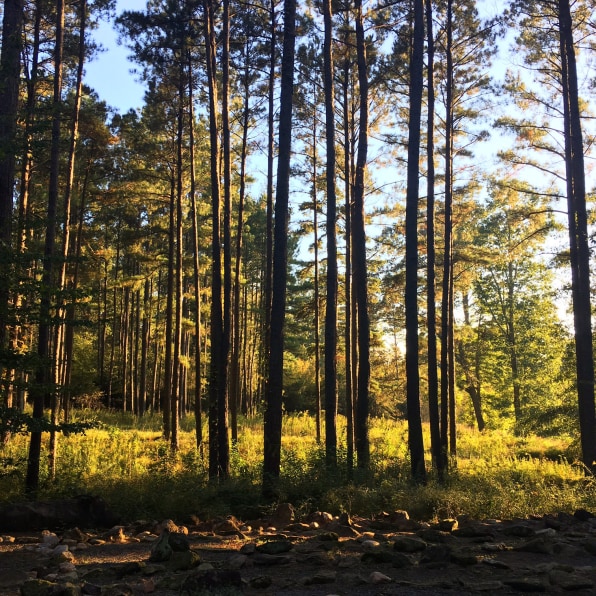 At society's current pace, the outlook doesn't look good: Preventable chronic diseases, which are primarily environmental and behavioral, (i.e., not genetic) are expected to account for almost three-quarters of all deaths worldwide by 2020, reports WHO.
"People feel frustrated with the negative things they feel in their lifestyle," says Johnston, noting obesity, loneliness, and depression, among other conditions. Many Americans feel isolated despite living in cities or in the suburbs with plenty of people living next door. "Millennials, senior citizens, everybody you know is tech connected but missing face-to-face interaction," Johnston believes.
At the same time, dedication to healthy living has skyrocketed in upscale sectors: yoga studios are full; markets overflow with organic produce; and meditation apps are now mainstream. So it makes sense those consumers would want easy, convenient access to all their healthy pursuits. And what's more convenient than your house?
"Because everyone's so busy, you get demand from people wanting to bring those things closer to home and be able to access them more readily," says Johnston.
GWI found that people who once opted for planned neighborhoods or leisure golf centers are veering into wellness communities. "This is the beginning of a whole wave," stresses Yeung. "There's a big shift going on in the way consumers look at real estate."
Already, prospective homeowners are willing to pay an average of a 10% to 25% premium for houses within wellness communities. There are, at the moment, roughly 350 wellness community projects in the pipeline in North America alone.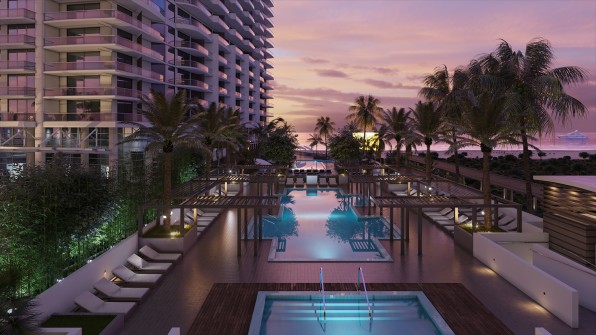 A Home For Every Desire
Wellness communities share the same general commitments–to health, to nature, to environmental sustainability–but each boasts a unique taste and model to appeal to different consumer groups. At first glance, many of these areas would not strike you as a "wellness community"–they look nothing like Serenbe. They can be luxury condos on the beach or urban revitalization projects featuring various, huddled apartment buildings with not a single blueberry bush in sight.
There are wellness communities–often located near mountains, lakes, and parklands–devoted to the outdoors and active lifestyles. GWI highlights Shearwater, a new community near Jacksonville, Florida that offers boating, an aquatic center, and even a man-made lazy river. Those who desire a piece of rural living might opt for agrihoods that push a farming life–complete with CSAs and livestock.
Some wellness community projects focus on the arts. Georgia's Pinewood Forrest connects to Pinewood Atlanta Studios–the largest purpose-built studio complex outside of Hollywood– and targets professionals in the arts, media, and entertainment industries. A few communities center around a biomedical or health organization, such as Destination Medical Center in Rochester, Minnesota, which is connected to the Mayo Clinic.
For health enthusiasts who equate wellness with luxury, there are numerous spa-like communities built in partnership with five-star resorts or upscale developers. The Amrit Ocean Resort & Residences in Palm Beach, Florida is a new condo community that integrates technology with Eastern philosophy and practices. Residences start at $700,000.
At Amrit, homes feature posture-supportive heat reflexology floors, mood-enhancing aromatherapy emanating from remote-controlled walls, and vitamin C-infused showers. The building features a meditation garden, relaxation rooms, indoor and outdoor yoga studios, and daily programming focused on gut health, sleep, and nutritional cooking. A "personal wellness assistant" is available 24/7 to remind residents to exercise, meditate, eat well–or tend to any number of emergency wellness needs.
Dilip Barot, founder of Creative Choice Group and Amrit Ocean Resort & Residences, views such amenities as essential to helping modern mankind live a healthy life. "People are looking for a lifestyle," says Barot, "where they can see balancing themselves."
The Pearl is part of The Blairs District planned community in Silver Spring, Maryland. Amid five interconnected acres of parks, the 14-story resort-like complex tries to create a nature-centered experience in an urban area. It includes a floating two-story wellness center, a yoga and cycling studio, and a juice bar. A demonstration kitchen holds weekly chef tutorials using ingredients from The Pearl's own CSA garden.
"Buildings are sanctuaries," says Jeffrey Abramson, partner of Tower Companies, which built both The Blairs and The Pearl. "It's a place to come home and feel relaxed upon walking through the door. That's where the quality of sleep comes from, where the quality of relationships come from, and where the quality of the community comes from."
The Pearl opened half a year ago and is over 55% leased. "We're getting 20% higher rents than that in the local marketplace," claims Abramson. "We're already designing the next Pearl."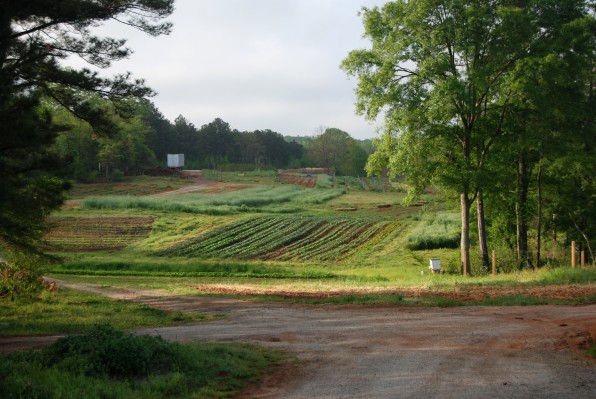 Does A Wellness Community Really Improve Your Life?
Blueberry-lined roads and wellness assistants sound swell, but how much value do they really add to one's overall well-being? How effective are these communities?
It's a recent phenomenon, so studies on the effects of wellness communities are scarce. GWI's Johnston says that while several communities and institutes have commissioned scientific studies, "it will take decades to measure" the impact of these housing initiatives on their residents' well-being.
Still, several findings point to some potential success toward these communities' collective goals. The Gallup Active Living Study found that residents of places that score highest for "active living environment" (walkability, bikeability, parks) experience significantly lower rates of issues such as smoking, obesity, diabetes, high blood pressure, high cholesterol, and depression.
In 2014, Texas A&M University conducted a study on a wellness community called Mueller in Austin, Texas. It assessed 229 residents' levels of activity before and after moving to the neighborhood. The research team concluded that Mueller's design "led not only to more walking and biking by its residents, but also to greater social interaction and neighborhood cohesiveness [i.e., community feeling]."
At Serenbe, meanwhile, not a single child has asthma, reports their director of operations, Garnie Nygren. Currently, 130 children live in the community. Meanwhile, 1 in 10 American children have asthma.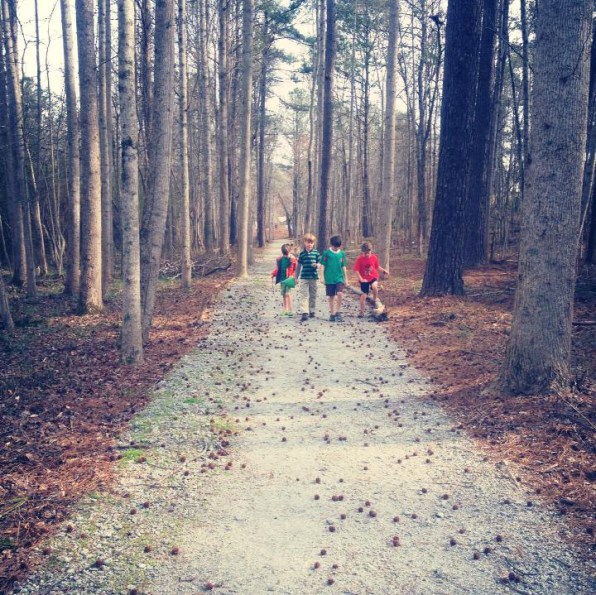 Although the results are still inconclusive, consumers increasingly believe wellness real estate might enable them to take control of their health. The GWI report refers to a recent Health and Wellness Lifestyle Survey conducted by American Lives that found that 25% of respondents were very interested in living in a wellness community either full or part time.
"Investors Are Asking Questions"
Oftentimes, tax initiatives or grants can better entice developers to adopt certain practices, like including communal rooms, gardens, or wide staircases in which passerbys could hold a conversation. GWI's researchers report that developers say efforts to convince the greater financial community to invest remains a challenge. In general, financiers and banks prefer established, already-proven models like banks or golf courses.
"It takes a lot more work," explains Yeung, "but a lot of investors are asking questions now. There's interest."
The GWI report estimates that among the 740 wellness community projects in production, there are an estimated 1.5 million units either already built or planned to be built out over the next several decades, capable of housing more than 4.1 million people. These are not just scenic houses for upper-income individuals and retirees with money to spare, although the majority of the construction tends to sway in that direction. There are 125 apartment and condominium projects, and 90 urban district and mixed-use projects.
In the U.K. and Australia, numerous lower-income communities harness wellness community practices. And New York City's Center for Active Design, in collaboration with Bloomberg's City Initiative, made a big push for developers in lower income areas to build with integrated wellness techniques in mind by working with local health commissioners. It's an example of how public initiatives can affect private investors. GWI also points to Via Verde, a mixed-income community in the South Bronx, New York that incorporates healthy and sustainable features like non-toxic materials to improve indoor air quality, design and aesthetics that encourage walking and stair use, and rooftop community gardens.
At Serenbe, the most affordable home starts at $359,000. Though that's not exactly low-income pricing, Steve Nygren specifically built some smaller cottages and apartments on his land and allocates a percentage of homes for rental to help diversify the Serenbe community. He believes his model can be adopted by any community, no matter the income level.
"The principles that make Serenbe work isn't about the granite curbs or the custom street lights of the fancy housing," says Nygren. Instead, he points to exposure to nature, porches, community events, and other aspects that can be repeated without excessive expense.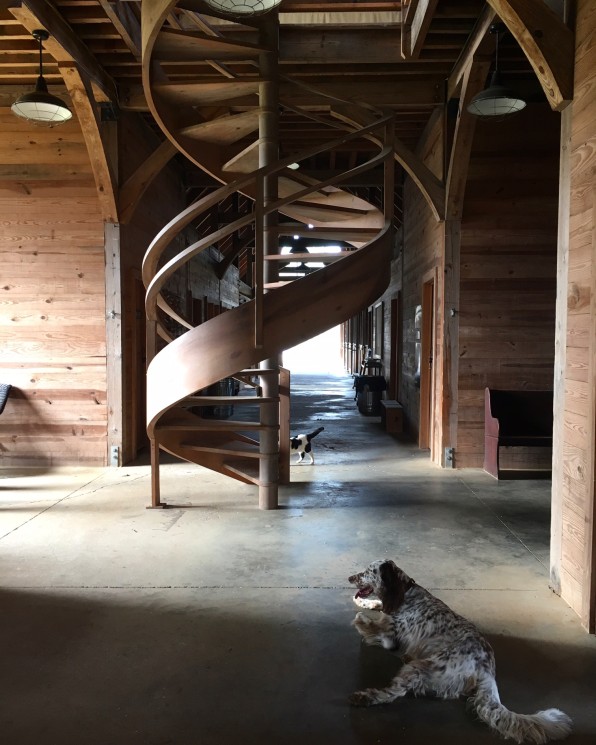 In fact, that's what inspired Nygren to act as a consultant for people curious about creating their own wellness community. Several times a month, Serenbe hosts developers, city commissioners, and their bankers from across the world who want to see how it's done and gather tips from the master.
"Serenbe is now acting as a model for literally communities all around the world," says Nygren. "The demand is high. And with that demand high, we start changing attitudes of bankers and they'll start funding places like this."
In the next few years, Serenbe plans to build a total of 1,200 homes for 3,500 residents.
For Abramson, who began developing wellness communities decades ago, the shifting tide is a hard-won victory. He says the cultural shift didn't happen suddenly; there have "been years and years of buildup." Modern-day life, as he sees it, left Americans overstressed, overworked, and craving escapism. So they look for new ways to relieve stress and take care of their health–and one's home is the most convenient location for the convergence of all these trends.
"It's not sudden," he says. "Millennials value their health like it's a birthright. And the real estate was the last to catch up."
To that end, the real estate developer is adamant that wellness real estate will continue to grow and infiltrate new areas and demographics.
"I think you're going to wake up tomorrow and you're going to hear about more developers doing it," he says. "It will be a niche until it's everywhere."