Ever get the creeping feeling that those people in Washington you elected to represent you aren't really doing it? Well, C-SPAN has the numbers to prove it. Every year the network tallies data about what Congress did over the previous 12 months, and let's just say a trend has started to appear.
For example, the number of hours both the House of Representatives and the Senate were in session has seen a decline over the last two decades. This year, the House and Senate were in session for 787 hours and 1,045 hours, respectively. In 2015, that was at 846 hours and 1,077 hours. And in 2005 the sessions hit 1,491 hours and 1,396 hours.
Which is to say that congresspeople are spending less time in session and more time doing God knows what.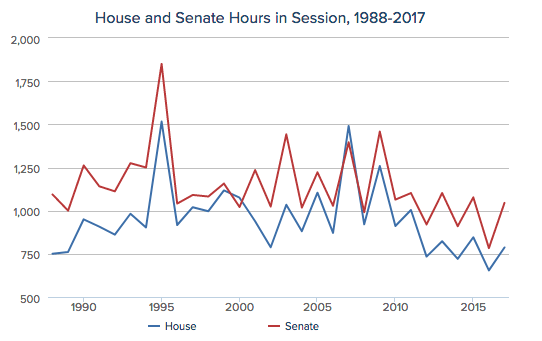 The statistics also track the number of presidential nominees: President Donald Trump has had the fewest nominees confirmed than the preceding four presidents.
You can check out the statistics here. And let's hope we can get better congressional productivity in the years to come.