Back then, the digital ad market was much more diversified, with a number of tech players making up the market share. Today, things are very different than those projections implied they would be. Recent eMarketer numbers show that Google and Facebook make up more than 60% of the U.S. digital advertising market. They brought in $35 billion and $17.37 billion, respectively.
Yet in a March 2015 report on digital display ad revenue, Google was poised to make only $3.52 billion and Facebook a mere $6.82 billion. Meanwhile, other players–Twitter, Yahoo, and Amazon–were thought to be growing their ad market share, too.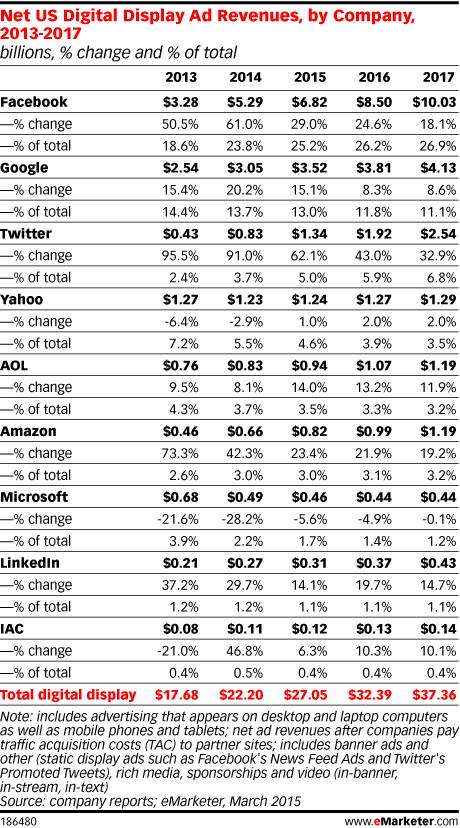 That didn't happen. In fact, Yahoo and AOL merged, as did Microsoft and LinkedIn, as a way to continue to fight the growing duopoly of Facebook and Google. Even after the mergers, the companies still represent a tiny portion of the digital ad market compared to the Facebook/Google juggernauts. As for Twitter, its market dominance has dwindled.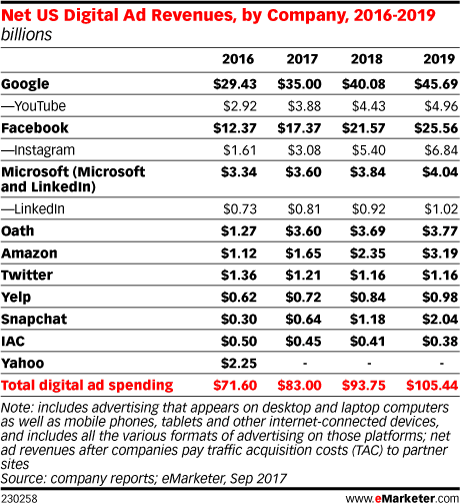 The question remains: Will the market continue to consolidate or will there be a breaking point?