It was heralded as a "big attack on TV" that "could chip away at broadcasters' revenue" when Facebook announced its plan to launch a TV-centric platform called Watch last summer. Reports surfaced that the social giant would shell out as much as $1 billion to develop new shows, putting it in the company of Netflix, Amazon, and Hulu that are spending $6 billion, $4.5 billion, and $2.5 billion, respectively, on content.
Four months later, Facebook Watch is still trying to figure out what it wants to be, and find its place in the congested landscape of digital programming.
Given Facebook's 1.37 billion daily active users, it should have been able to scale its Watch programs quickly. The trouble is that the News Feed–which has become prime real estate for short-form video viewing–defeats the purpose of Watch.
"A lot of publishers and creators still have this mental model of the News Feed where only short-form, viral videos work, not realizing that something a little longer can find success on Watch," says Fidji Simo, vice president of product at Facebook. "That's really the perception shift that we need to address in the next year, that publishers and creators will feel totally comfortable and excited in switching to this type of content on Facebook instead of just focusing on what works in News Feed."
But Simo isn't looking for a buzzy breakout hit like House of Cards or The Handmaid's Tale. And the kind of shows people are willing to discuss ad nauseum on social–think Scandal or Game of Thrones–aren't what Facebook's after, either. "The goal is not to fund more and more content," says Simo. What she's primarily focused on is servicing more niche communities.
"When we look at the content that's really building these engaged communities, it's content from creators that are vlogging for 15 minutes," Simo says. "What we think is very unique online is that you can actually build communities that are much more niche and give distribution to content that a small group of people will be interested in. We see incredibly engaged communities around knitting. That's something that won't build a massive community like a big TV show, but if you do that for everyone's passion projects and you can connect everyone to the creator, it can be extremely powerful."
That means you can expect Watch to double down on programming like Make Up or Break Up, a live show with 80,000 followers where couples in crisis ask the Facebook community whether they should stay together or not. That baked-in level of engagement is a good supplement to the more character-driven programming on Watch, like Nicole Byer's scripted comedy Loosely Exactly Nicole (251,000 followers), or Ball in the Family, where more than 1 million followers are tuning in to the hijinks and everyday lives of patriarch LaVar Ball and his star athlete sons.
"We are fundamentally a social network, and as a result, when we think about video, we think about it in the context of how video can help to build social connections between people," she says. "The content that we want to prioritize is content that builds engaged communities around them. It's a very different angle than getting people to passively consume a lot of content. Our entire business model is based around people engaging around the content and feeling a part of the community."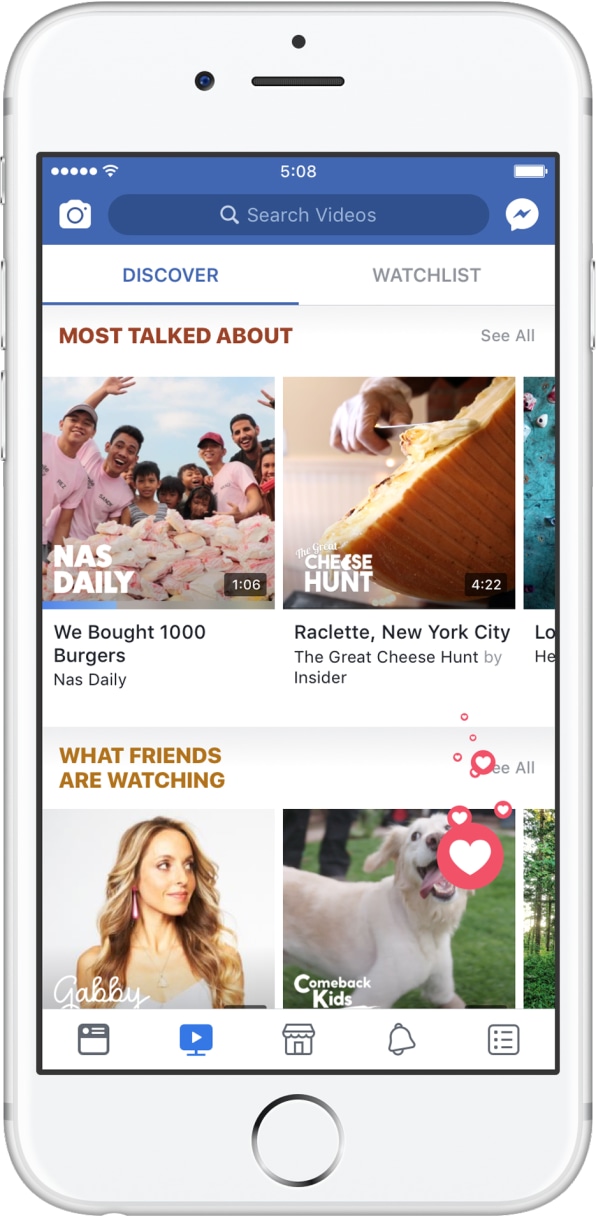 But the majority of the shows on Watch right now don't offer anything special when it comes to community engagement–nor do they seem to be holding much attention from viewers. An early analysis found that videos on Watch were being viewed for only 23 seconds on average.
At the time this was written, the second most-viewed video in the Popular Now section was a two-month old halloween costume how-to. The most-watched video in the Top Episodes category was from the "Got Talent" franchise, which is neither unique to Facebook or hard to find elsewhere. Several of the shows being promoted on Watch are, in fact, copycats of popular TV tropes such as dating shows.
What Watch resembles most right now is YouTube, with a mix of homegrown and branded content from partners including BuzzFeed, Major League Baseball, and A&E. But YouTube has a 12-year head start, as well as a stock of million-dollar vloggers-turned-celebrities. Given Watch's strategy to zero in on creator communities, one measure of success in 2018 would be to launch its own homegrown celebrity into mainstream pop culture. Or at least to lure an established YouTube star onto the platform for an exclusive deal.
To do that, Facebook will first have to scale its advertising model. "The goal is actually to transition over to a revenue-sharing model so that partners can find success on their own on Facebook," Simo says. "We know we have a lot of work to do on that."
On YouTube, creators have become multimillionaires as a result of the platform's 45%/55% ad revenue split. Watch also offers its partners the same deal. That said, for a revenue-sharing model to work, a lot of viewership is required. And to get that viewership, creating buzzy shows at scale is imperative.
Watch can only play the new-kid-on-the-block card for so long. This is Facebook, after all—a company worth half a trillion dollars that has ample resources at the ready. In order to be taken seriously, it needs to offer both viewers and creators something they can't get on YouTube. What that something is, we'll just have to wait and, uh, watch.