Netflix is dropping its biggest film to date: Bright, a $90 million, special-effects extravaganza directed by David Ayer (Suicide Squad) and starring Will Smith as an L.A. cop whose buddy-partner is a blue-skinned orc (Joel Edgerton). The unlikely duo fight crime in a quasi-mystical city populated by winged faeries, urban gangsters, and mafioso-style elves in search of magic wands. Despite abysmal reviews, the film has garnered huge buzz ever since it was acquired by Netflix in a bidding war earlier this year, as it signals the company's entrée into major-studio-level moviemaking.
That said, if Bright was indeed being released by a major studio such as Warner Bros. or Disney, you'd be so inundated with trailers, billboards, and other marketing by now, that you'd either be chomping at the bit to finally see the film, or totally sick of it. Either way, you'd be highly aware that Bright was here.
But this is Netflix we're talking about, which means all the rules of traditional Hollywood have been tossed aside. In this case, that means that while you may have seen a Bright billboard strategically positioned in certain L.A. neighborhoods (the ones that people like Will Smith drive through) or a TV spot, it's safe to assume you haven't been throttled by traditional marketing. No Bright McDonald's tie-ins. No orc bobble-heads.
To which Netflix says: Exactly the point.
"We've found the most effective way to drive viewing is on the service," Chris Jaffe, Netflix's vice president of product innovation, told a group of journalists at the company's gleaming, glass-walled L.A. office tower earlier this month.
Jaffe went on to explain that while Netflix has invested in things like TV trailers–the first for Bright debuted during the 2017 Oscar telecast–the majority of its focus is on selling the film to Netflix users, particularly users whom Netflix's algorithms determine would be most likely to enjoy the film.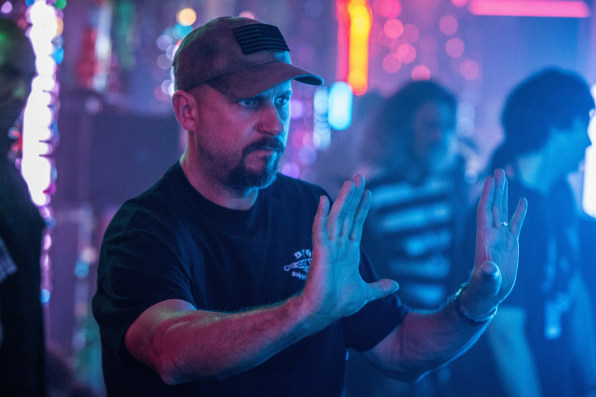 To wit: Ever since the trailer debuted, Netflix has been analyzing all of its 109 million users, crunching data such as what movies and TV shows they most recently watched, what genres they tend to over-index on, which ones are fans of Smith, etc. to determine which members should be shown clips and imagery of Bright. In all, Netflix's algorithms take more than 100 factors into consideration when analyzing its individual members, recomputing the data at least every 24 hours–in some cases as often as every four to eight hours. In other words, if you're someone who watches a lot of action or sci-fi movies on Netflix, you're going to be seeing Bright featured in various places on the service: in the originals row, as a recommendation after you finish watching something, on the top of the homepage. You might even receive an email from Netflix telling you about the film.
But if you're more into art house films or romantic comedies, you may not see Bright on the service at all. This highly strategic approach flies in the face of the volume strategy pursued by most studios when it comes to big-budget, commercial movies, wherein the name of the game is more imagery and noise in more places as a means of building a cultural moment and consciousness around a film.
To Netflix, that simply creates waste. As Jaffe said, "It's not effective to tell every one of our members."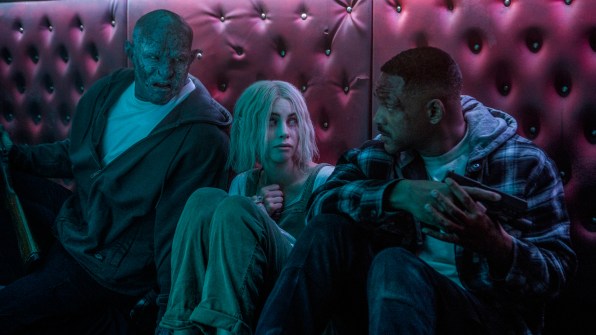 Netflix also does not roll out a thunderous marketing push leading up to a film's release and then lessen up the way studios typically do in the hopes of making the most of an opening weekend. As Netflix sees it, every night is opening night. Although Netflix began pushing Bright aggressively to members a few weeks ago in advance of its late December release, Jaffe said that the marketing would not abate.
"Promotion continues for life," Jaffe said. "Our notion is that every night is premiere night. If a member joins in a year and likes action films, they're going to get the same promotion. It doesn't matter that Bright is launching in 2017. That premiere experience will happen for years."
The artwork that Netflix uses to promote Bright is similarly fluid and continues to evolve based on user data. The more feedback Netflix gets once people start actually watching the movie, the more it can figure out new audiences to target (who knows, maybe fans of teen vampire movies will love Bright), and which poster art and videos are most effective for specific members.
"We're always testing new images to see which will drive greater engagement," Jaffe said. "All of the imagery is 100% personalized. Nothing is editorially selected."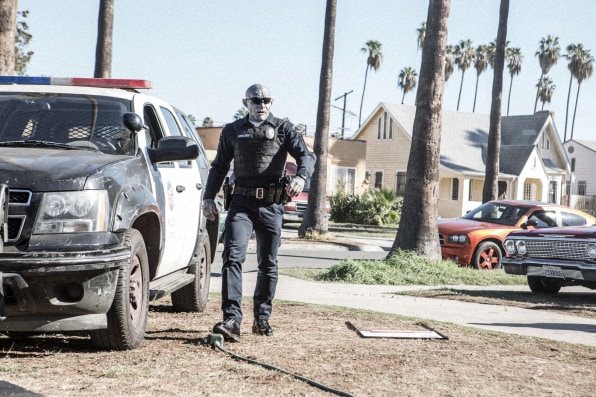 Seeing marketing as a steady, long-tail game, as opposed to one that explodes ferociously and then quickly fizzles out is just the latest way that Netflix is rewriting the Hollywood playbook. Though it's still a largely untested experiment, particularly on big-budget, highly commercial films like Bright. And given the critical reception to the film, Bright may not be the best test case for this model.
Netflix admits as much and readily employs the word "experimenting" when it talks about its movie strategy. And for now, at least, producers are willing to take a chance on a company that spends as aggressively as the major studios and has a massive audience.
"Netflix now has 110 million viewers around the world–the global scope is a huge plus for us," said Bryan Unkeless, a producer on Bright. "Their enthusiasm and willingness to support us, their resources, far surpasses that of competitors. It's a place that feels like the future."
Bright hits Netflix this Friday.