It's not often that one tweet can shut down an entire factory. But last August, when MoonPie trolled Hostess for claiming to be the "official snack cake of the eclipse," demand for its chocolate cookie and marshmallow product skyrocketed to the point where its Chattanooga Bakery factory ran out of supplies and had to halt production.
Lol ok https://t.co/lobyuNOkee

— MoonPie (@MoonPie) August 21, 2017
It was the pinnacle of an already impressive run. MoonPie had been building up to the eclipse on social media for the month of August, which helped give the century-old brand its best sales month ever. And as more and more people discover its funny, engaging, zero-effs-giving Twitter voice, it looks like December will once again break that record.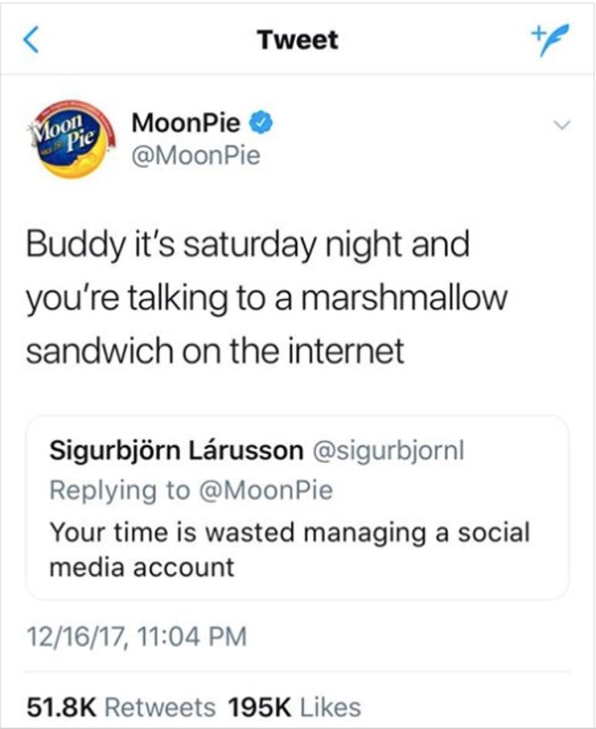 The brains behind MoonPie's online personality is Knoxville, TN-based agency The Tombras Group. "MoonPie's sales are up 17%," says executive vice-president Dooley Tombras. "And this is a brand that's had no new product innovation, no significant distribution increase, and no discounting going on. And there's no TV advertising. So all of these increases can be attributed to what we've been doing on social media."
Not really just stuff em up there I guess https://t.co/WaAVaOI02a

— MoonPie (@MoonPie) November 20, 2017
Tombras says the brand's Twitter voice came about out of the good ol' fashioned necessity to stand out and get millennials to take notice. "Moon Pie is an iconic heritage brand, but had been really sleepy for a while," Tombras says. "The business challenge was, while they run a healthy, profitable business, their sales had plateaued. Their research showed they had much higher awareness and sales among older consumers, baby boomers, but as you went younger, that number got lower, and it really dropped off at millennials."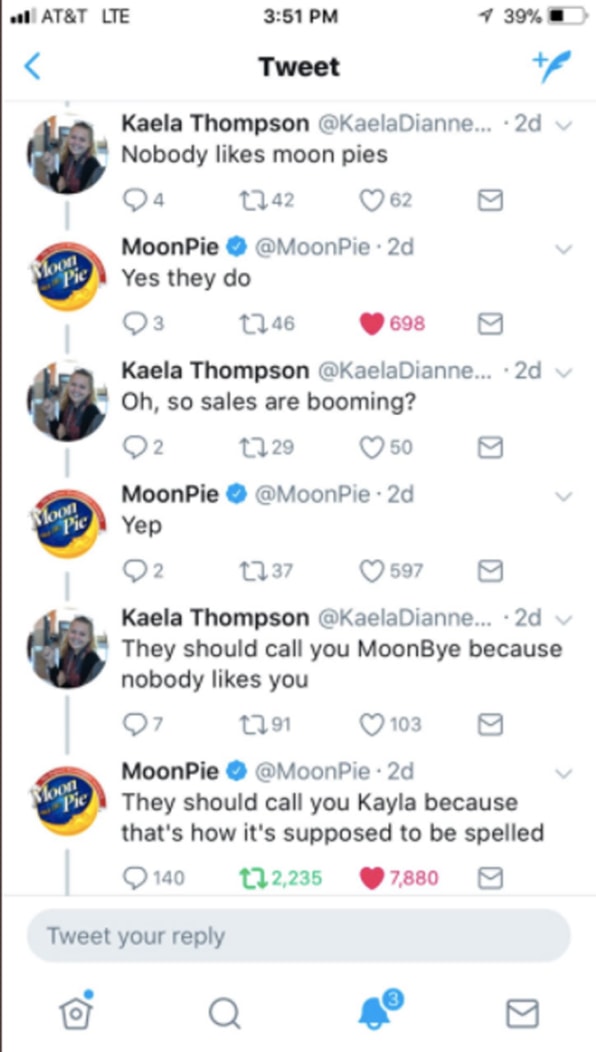 A third-generation family business founded by Tombras's grandfather in 1946, the agency works with clients like McDonald's, Coke, and Orangetheory. And thanks in large part to its work on MoonPie and being one of the first agencies with a dedicated Amazon practice, it's expected to grow to more than 300 employees by early 2018.
Beyond the sales numbers, the agency's success with MoonPie holds special significance. More than 40 years ago, Tombras's grandfather and father pitched MoonPie but didn't get the account. "Four decades later, my dad and I went and pitched them again, this time meeting with the son of the guy who my granddad had pitched," says Tombras. "And we won the business. So it was a long time coming."