Facebook unveiled new privacy settings today that make it easier for users to find photos of themselves, and to stop people from impersonating them.
The new tools govern facial recognition and give users a simple "on/off" setting that can disable Facebook's ability to automatically recognize them.
And though this is an early attempt at helping users better control their identity on Facebook, some privacy experts think the company is on the right track–and, importantly, trying to do the right thing for its users.
The changes, which will affect all Facebook users globally, except those in Europe and Canada, fall into three main areas, and apply only to newly uploaded photos going forward.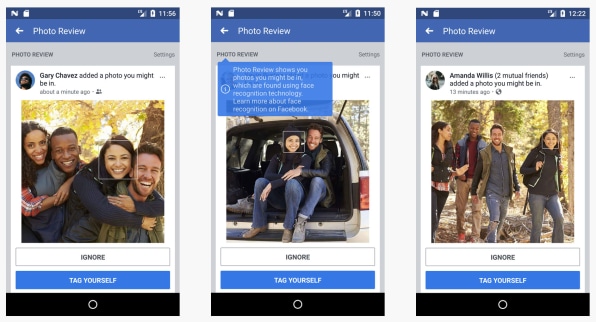 First, Facebook uses facial recognition technology to notify users if they're in a photo and are part of the audience for the post that includes the image. You'll now have the ability to tag yourself in the photo if you like. As well, you'll be given the opportunity to contact the person who posted the image if there's something about it that worries you.
You won't receive notifications about photos you're in if you're not part of a post's intended audience.
Second, Facebook will now alert users when someone uploads a photo of them as a profile image. The idea here is to circumvent the problem of impersonation on Facebook.
Finally, the company is also applying facial recognition to the photos that the vision-impaired received. Those with screen readers will be alerted to which people appear in photos in posts in their feed, even when those people aren't tagged.
Three Alerts
Befitting a significant modification to the way Facebook handles a privacy setting, the company plans on alerting users to the change. According to Rob Sherman, Facebook's deputy chief privacy officer, it plans on notifying people in their news feeds three times.
The idea behind the initiative is to increase people's awareness of when their image is posted on Facebook. Frequently, he says, users upload photos of friends or family, and those people may not even know it happened. "With this functionality," says Nipun Mathur, a project manager on Facebook's Applied Machine Learning team, "we tell you about these photos."
At that point, you'll be able to tag yourself, or potentially tell Facebook a photo it thinks is you really isn't.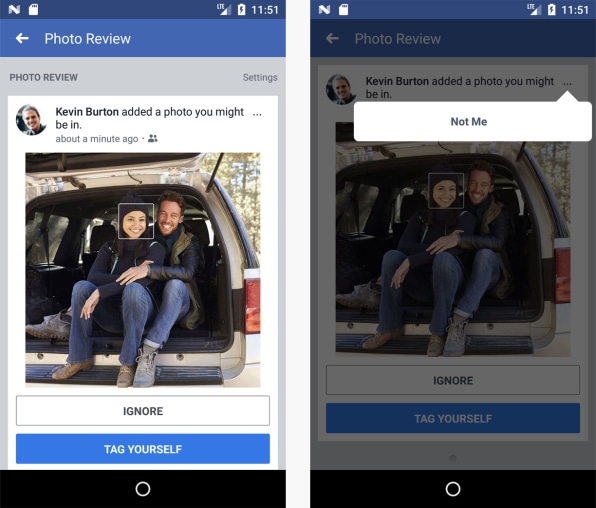 Independent third-party privacy experts who consulted with Facebook on the new settings seem to think that the company is on the right track.
"I'm happy to see that Facebook has given users choice when it comes to this," says Eduard Bartholme, the executive director of Call for Action. "I wouldn't say it surprised me. I think it's a [privacy] best practice to offer choice when you're making this kind of significant change. I think they've done a decent job of explaining what this means, how it's going to be used, and the possible benefits and protections that might come from opting in."
Bartholme does say he would like to see Facebook extend the new functionality to give users more "granular" choice, rather than all or nothing.
Another expert familiar with the new plans, John Breyault, the vice president of public policy telecommunications and fraud at the National Consumers League, says he believes the new approach to facial recognition is "important for consumers' privacy."
Facial recognition, Breyault says, "is an area where consumers tend to be rightfully leery….As with so many areas, we think it's important that consumers have the proper controls over how it's used."