At an event in San Francisco, Microsoft just unveiled a bunch of AI-related enhancements for its Bing search engine. Research honcho Harry Shum also welcomed Reddit cofounder Alexis Ohanian onstage to introduce a deal between the two companies which will integrate material from Reddit's communities into Bing results. Among the new features:
Better top-of-the-results answers to precise queries such as "movies directed by spielberg starring tom hanks," as well as more open-ended ones such as "is kale good for you?" (The latter sort may present opposing viewpoints and footnote where it got its information.)
A new search feature called "Bing for Business," which puts items from your company's intranet, such as org charts and information from employee manuals, at the top of results.
Improved image search that lets you perform tasks such as searching for a dress, which gets you similar ones with links to buy them—and lets you then crop the original dress image down to the necklace being worn with it, for necklace-related results.
Additional context with answers, such as not just informing you that Costa Rica is 19,730 square miles big but also noting that this makes it twice the size of Massachusetts.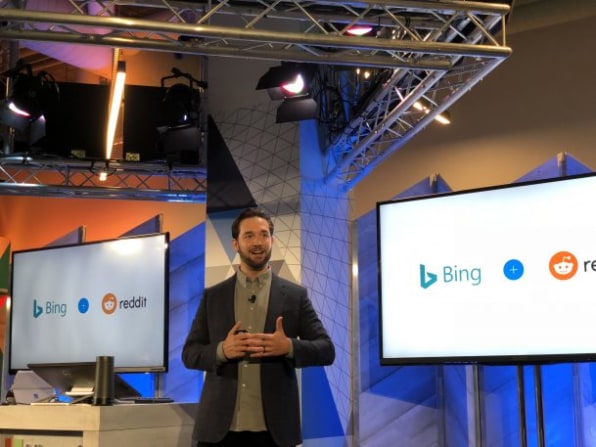 As for the Reddit relationship, it will bring discussions from specialized subreddits and Ask Me Anything sessions directly into Bing results—with the aim of buttressing areas where human understanding and opinion is crucial and answers can't be ground down to a binary fact or two. Ohanian showed the results for "How accurate is Band of Brothers?" and said "As humans we love this, especially if you like history—this is what we relish…but robots don't work so well with the nuance, unless they have the data."