With Facebook and Google controlling the vast majority of digital ad revenue, all industry eyes are on which media companies perform best on those platforms. For Facebook, the rankings are always a yo-yo, with publishers' engagement waxing and waning along with the frenetic news cycle and ever-changing algorithm.
According to new data from NewsWhip, in November Fox News and the New York Times were, respectively, the top two most engaged publishers on the platform. In fact, legacy media companies performed especially well, with NBC, Daily Mail, and CNN rounding out the top five.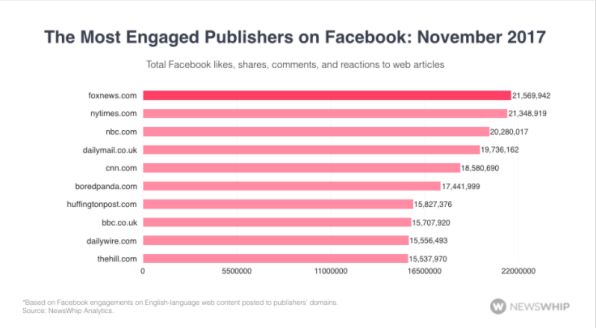 Another interesting tidbit is that BuzzFeed did not hit the top 10. Over the last few months, the site has seen a decline in its NewsWhip Facebook rankings. Last March it was sixth; in September it fell to eight; and in November it hit 13th, behind Breitbart. As I wrote last month, after the BuzzFeed announced it would lay off 8% of its staff, its current shortcomings may be a bellwether for the digital media industry.