Those choices, and their urgency, are the subject of photos by French-American photographer Anne de Carbuccia. Since 2013, de Carbuccia has traveled to three dozen countries, covering more than 150,000 miles. At every location (often at the edge of human civilization), de Carbuccia creates and captures what she calls "time shrines." Featuring an hourglass and a skull–a collection of objects known as a vanity–they're modern takes on a classical, medieval vanitas scene.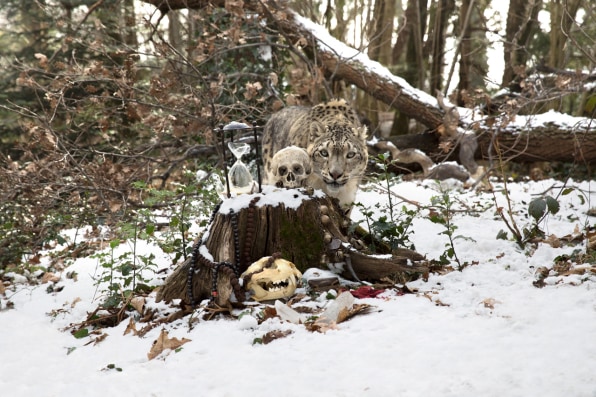 "The vanity, the symbolism behind it, has been lost, even though it's been used for hundreds of years," de Carbuccia tells Fast Company. "It reminds us that we are mortal. It's not a symbol of death, it's a symbol of choice. We have the choice to make a productive and positive life, or one that's vain."
While shimmering glaciers and lush forests often serve as backdrops to de Carbuccia's shrines, she's adamant that her work is about much more than aesthetics. It centers on four principle themes: water, endangered species, endangered environments, and endangered cultures.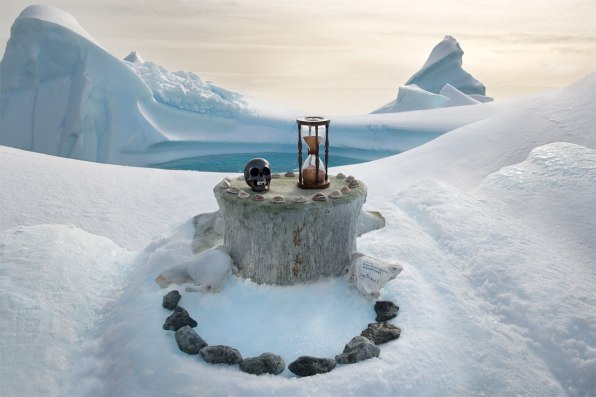 "My art is not meant to please. It's not something that's pleasurable, necessarily. It's to point out something," de Carbuccia says. "The generation of photographers before me was able to photograph the beauty of nature just the way it is. My generation? We need the time shrine in front of nature, because we still have it. Hopefully, the generation after me will be able to go back and photograph nature, instead of only desolation. That's the fundamental message in my work."
De Carbuccia built her first time shrine along the shores of Lake Powell, an ancient Navajo site in Arizona. In the foreground, red stones and dry wooden branches circle the shrine, upon which the vanity and hourglass rest near the skull of a cow. In the background, along the canyon walls, you can plainly see the impact of drought on Lake Powell: "The light part, with the lines, is where [the water line] used to be."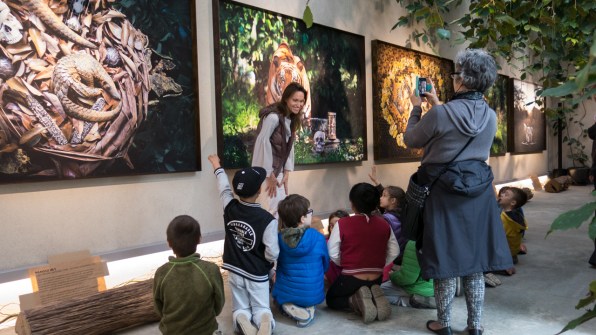 In Laos, de Carbuccia intended to dedicate a time shrine to the wildlife along the Mekong River, but when she "discovered that Laos was the most bombed country in the history of humankind," she changed her perspective. Eight bombs a minute were dropped on Laos during the Vietnam War, and the time shrine there reflects that devastating history.
Unexploded ordnance, improvised explosives, a claymore, grenades, and a U.S. military helmet camouflage the vanity and broken hourglass, all of which are stacked inside a rusted machine gun bandolier. Directly behind the shrine sits a giant, mysterious 2,000-year-old urn (one of many in the field), as well as two pythons. "This would clearly be a UNESCO site, if it weren't for the fact that 30% of all those bombs haven't exploded," says de Carbuccia. "Kids are still losing their arms and legs."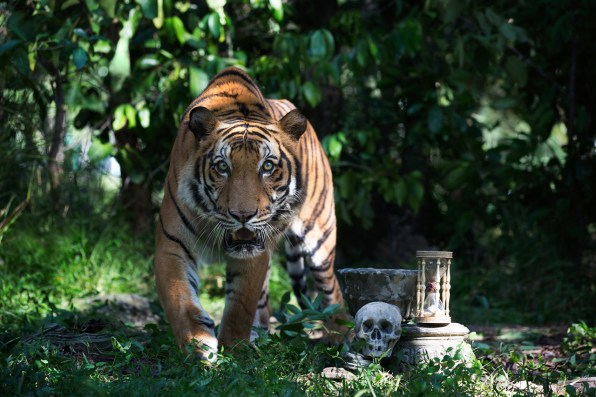 In Cambodia, the artist made a point to capture a tiger, since every tiger species is in decline. Bees were her subjects off the western coast of Italy, on the island of Corsica (bees are endangered, too, and without bees, plants go un-pollinated, and eventually, we starve). In Thailand, it was elephants–another species of large animal that's close to disappearing.
Other times, like when she visited the Oceti Sakowin Camp in North Dakota, her focus is on human rights. "I was invited to Standing Rock by the Cheyenne River Sioux tribe last Thanksgiving," de Carbuccia said. "We did the shrine together," which features a bison pelt, burning sage, deer antlers, and more–with police and armed militia positioned on a hill above water protectors on the banks of the Missouri River.
De Carbuccia has increasingly looked to collaborate directly with First Peoples and indigenous communities.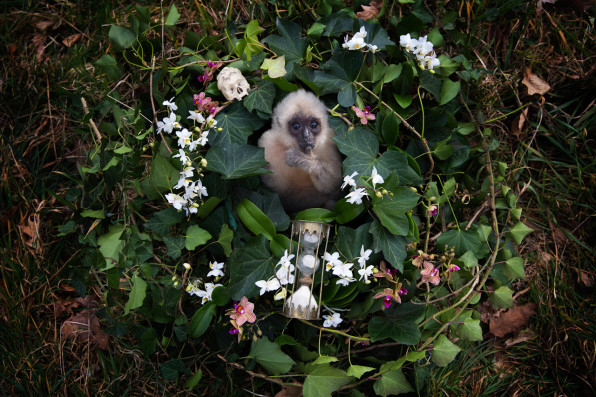 "I've noticed that, around the world, they all have the same message. Their message is something we need to go back to to get to a higher consciousness, to go forward in a positive and productive way for this planet," she says. "The values, the respect of nature, the way they treat the planet is fundamental. They hold ancient values, but they have to be put into a modern context, now, and reappropriate by all of us."
If art is a mirror to society, it's no surprise, then, that in the past year alone, artists have painted watercolors from hard climate data, created posters in memoriam of extinct species, and even had NASA temperature recordings tattooed on their bodies. The next wave, de Carbuccia says, will be even more provocative–and artistic creations will be darker, if things continue unchanged.
"Scientists at one point tried to convince us climate change was real. Today, they don't even go there–they're talking about adaptation. I try to communicate resilience. I've chosen to believe that we're not an invasive species, that we can also be a race of dreamers–we can fix things and have power as individually," she says.
"But practically speaking, we don't have any more time. It's over, we're done. I'm not pointing fingers at anyone, just showing what I've seen and illustrating the consequences of our actions as people."
You can see de Carbuccia's work in person at permanent art spaces in Milan and New York City.