In this first year in the Age Of Trump, favorable public opinion about the news media has (hearteningly) gone up. According to a new report from Poynter, 49% of the public has at least a "fair amount" of trust and confidence in the U.S. media, which is an uptick from the year before.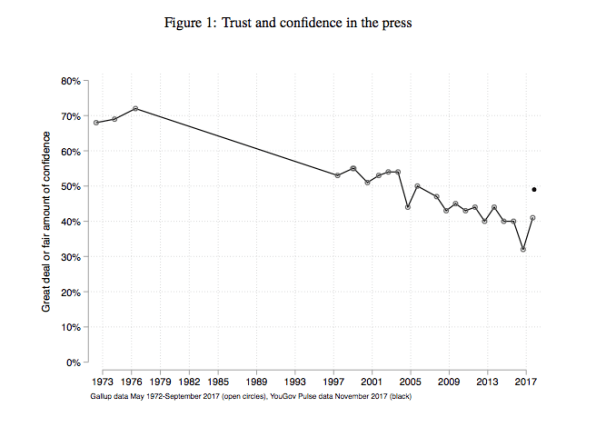 Though this sounds good, when Poynter analyzed this data further, it showed some alarming trends. Specifically, this uptick in trust is very polarized, and represents a resurgence of media trust from people on the left, while those on the right continue to show little confidence in the press.
Poynter writes, "trust and confidence in media reporting varies dramatically by party identification and approval of President Trump's job performance. For example, 74% of Democrats, including respondents who lean Democratic, express "a great deal" (19%) or "a fair amount" (55%) of confidence in media reporting compared to just 19% of Republicans."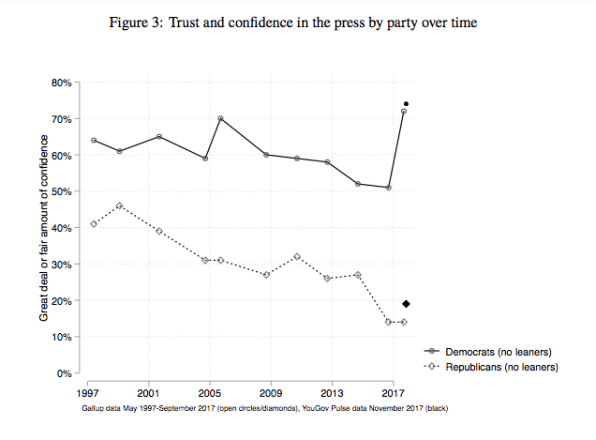 The data was revealed as part of Poynter's annual Media Trust Survey, which analyzed recent YouGov data that surveyed the media consumption patterns of over 2,000 respondents and compared it to past Gallup reports.
Overall, the findings are at once encouraging and cautionary. "[O]verall trust and confidence in the media has increased since Trump took office," Poynter writes. "However, his attacks on the press have seemingly exacerbated partisan divisions in attitudes toward the press."