If you were the kind of person who got into it with friends during the 2016 election–either during the Democratic primary battle between Hillary Clinton and Bernie Sanders or the general election between Clinton and Donald Trump–you very likely based some of your arguments on fake content promoted by Russia.
Recently Facebook has come under fire for allowing Russian trolls from the shadowy Internet Research Agency to post false content in a bid to throw a wrench in our elections. The latest estimate is that 150 million people saw at least some of that content on Facebook or Instagram. (The tally on Instagram is still growing, according to an analysis of some of the data.) Yet, while there has been an outcry for Facebook to pay a price for allowing this activity in the first place, real consequences are unlikely to happen once the dust settles.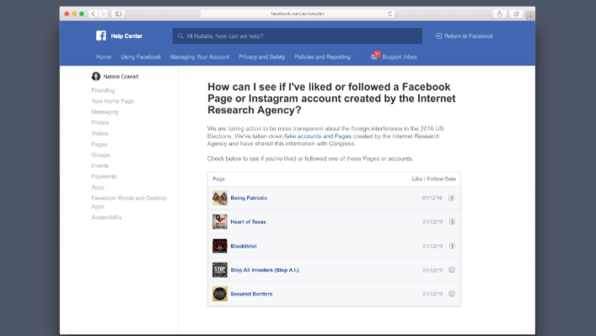 Still, under pressure from lawmakers and the public, the company announced today it will launch a portal that will tell users if they liked or followed Russian-sponsored accounts between January 2015 and August 2017. The portal, however, will not detail what posts those users saw. Because of the way that content spreads on Facebook, many more users saw the Russian posts than followed or liked the pages that made them. 
"It is important that people understand how foreign actors tried to sow division and mistrust using Facebook before and after the 2016 U.S. election," Facebook wrote in an un-bylined blog post. "This tool will be available for use by the end of the year in the Facebook Help Center."
Today was also the deadline Sen. Richard Blumenthal (D-Connecticut) gave chief executives of Facebook, Google, and Twitter to respond to demands that the companies provide more disclosure to individual users. "Consumer service entities like yours have long understood their duty to inform their users after mistakes are uncovered," Blumenthal wrote to Zuckerberg in a letter earlier this month. Meanwhile, a petition launched on Change.org last month calling on Facebook to notify American Facebook users if they were exposed to Russian propaganda has received over 88,000 signatures.
This is a start. It would also be great if Facebook would proactively alert you if you've seen–or especially if you've shared–individual Russian-sponsored posts, and what they said. At a Senate hearing last month, Facebook's general counsel indicated there would be substantial "technical challenges associated" with notifying users that they've been subjected to disinformation. But generally speaking, "it's absolutely not technically difficult," Krishna Bharat, a former research scientist at Google who led the search giant's early News product efforts, told Fast Company recently. Facebook, Twitter, and Google, after all, have built their businesses around tracking exactly what their users click.