Last month, consummate car guy Bob Lutz—a former vice chairman of General Motors and champion of the game-changing Chevy Volt—shared his vision of fully automated vehicles (AVs) in Automotive News. In less than two decades, he claimed, interchangeable "modules" would provide trips on demand, humans would be banned from highway driving, and "everyone will have five years to get their car off the road or sell it for scrap."
Lutz isn't the first to argue that automakers are doomed. But he and others place too much faith in technology and too little in our relationship with cars and the brands behind them. A few weeks before that particular screed, Audi of America president Scott Keogh and former U.S. Secretary of Transportation Anthony Foxx took the stage at the Fast Company Innovation Festival in New York City, offering a more nuanced view of the future. As they see it, the transition to autonomy will be more gradual—responsive to existing social commitments as well as consumer demand and the value people place on their cars will only increase.
Opportunities And Challenges
"There's a myth that automakers don't want to embrace new technology," Keogh told the packed audience. "Autonomy, connectivity, and electrification will only enhance our experiences and memories of our cars. It's going to be different, but it's still going to be cool. We fundamentally believe in the magic of mobility."
He offered three reasons why AVs are both an inevitability and opportunity for a luxury automaker like Audi. Number one was safety. "There's no reason why 50,000 people need to die each year on U.S. roads," Keogh said. "This can be avoided." Second was accessibility, with the elderly, persons with disabilities, and underage passengers poised to be some of the biggest beneficiaries of AVs. And third was productivity. "Traffic jams are terrible for GDP," he said.
Secretary Foxx offered his own list of the biggest roadblocks to autonomy: insufficient security against malware and hacking; inadequate protections for passengers' data; and, ironically enough, safety. Though fully automated vehicle technology is years away, some automakers have begun selling partially automated systems as "hands-free," which has the potential to create confusion and lead to misuse. "If an automaker says, "You don't need to keep your hand on the wheel under these circumstances, but under different ones you do,' the consequences could be life or death," Foxx said.
Risks like these drove his department's determination to get ahead on AV regulation. "We started outlining what a safety regime around this technology would look like—which, sooner or later, every government in the world will have to do." But even then, he was frustrated by the Department of Transportation's glacial pace. "There are technologies on the second or third generations before the first rule was published," he said. "I think government's got to be a little faster –a lot faster, actually."
Future Cities
Meanwhile, an uneven deployment of automated vehicle technologies could potentially create uneven opportunities for cities. A recent report by McKinsey and Bloomberg New Energy Finance estimates that nearly two-thirds of worldwide AV sales will be concentrated in dense cities and high-incomes suburbs through 2030.
"I think the best hope for AVs will be cities, where they can reduce congestion, boost productivity, and lessen the need for parking," said Keogh.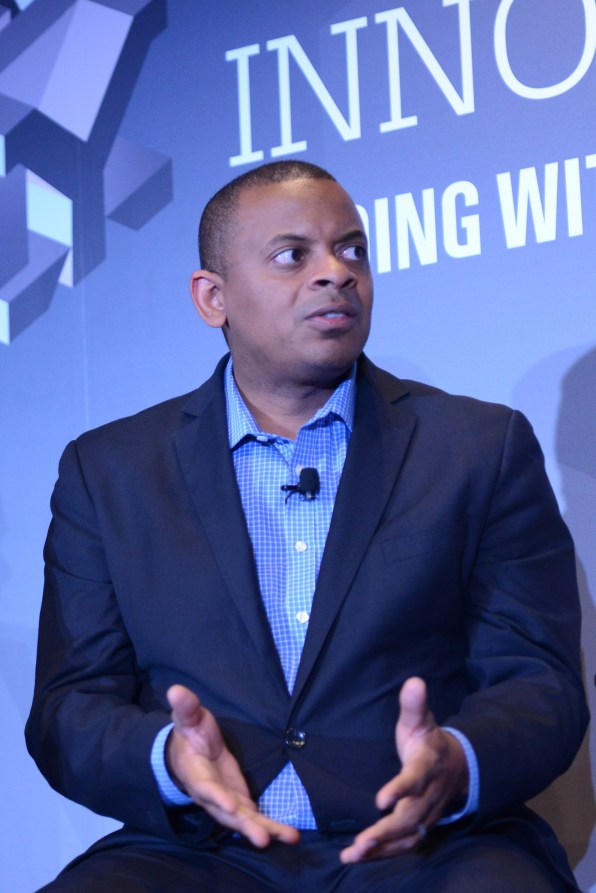 Foxx, who was previously the mayor of Charlotte, also underscored that AVs coupled with ride-hailing and ride-sharing could reshape both sprawling cities and suburbs. "For example, a city like Charlotte has lots of parking—surface lots, vertical lots, and much of it is city-owned," he said. "Maybe you can redevelop some of those lots for development, or for parks. It's not just going to be a change in mobility—it's going to change the lives of many cities."
Subscribe Here
Perhaps an even bigger shift awaits the automakers, as attitudes toward car ownership combine with the changes wrought by ride-hailing and an industry-wide obsession with data. Moreover, as the industry continues to develop "mobility as a service" models, automakers will need to build even stronger relationships with their customers.
"At the end of the day, it's all about access," said Keogh. "You're definitely going to see more subscription and access-based models across the board because they offer flexibility. It's a big opportunity." Instead of owning or leasing an Audi A4, a customer might just choose to subscribe to Audi instead, accessing a range of mobility options on a regular basis. This type of access and connectivity—akin to what we've achieved with mobile devices—has significant potential to enhance customer service and experience.
Looking Ahead
As they debated the scope and scale of AVs' impacts on Audi and the U.S. alike, Keogh and Foxx reminded the audience just how long it could take to make the change. "If AVs were on the market tomorrow, and we achieved 100 percent adoption over time, that would take, what, 25 years?" Foxx asked.
In other words, no one's headed to the scrap yard just yet.
__
This story was created for and commissioned by Audi.
---
Related: