Apple is leaning heavily toward Intel's flavor of 5G for a future iPhone, a source with knowledge tells Fast Company.
The iPhone maker's engineers have been engaged with Intel counterparts for early work on 5G, the upcoming technology for next-generation wireless broadband, our source says, while dialog between Apple and the dominant modem supplier in the industry, Qualcomm, has been limited.
Qualcomm's 5G modem chips offer more specialized carrier features (like "Uplink Carrier Aggregation"), but our source says that many will not be widely adopted by carriers. Apple engineers believe that Intel's 5G modem will fit its requirements for a future iPhone.
Intel has lagged far behind Qualcomm in the modem market, but has a small army working on 5G, numbering in the "multiple thousands," the source estimates. The initiative to provide the 5G modem for the iPhone is now considered a "must-win" for Intel.
Intel announced its 5G Modem at CES 2017, and said today in a press release that it has "successfully completed a full end-to-end 5G call based on its early 5G silicon … a key milestone in its development." The completion of the modem aligns with Apple's plans for a 5G iPhone in 2019 or 2020.
A 5G iPhone will be capable of connection speeds of a gigabit per second and beyond, which could radically change the way we compute, communicate, and consume content using the device. The move to 5G is technically complex, requiring lots of coordination between the phone maker and potential vendors far in advance of official vendor selection.
The Battle For The iPhone
Qualcomm has been supplying modems for the iPhone since 2011, and has a more mature and full-featured 5G modem. After a big R&D investment, the company announced the world's first 5G modem–the Snapdragon X50–in October 2016.
Intel–after its own gargantuan effort–won a share of the Apple modem business starting with 2016's iPhone 7. The company has been willing to customize its products for Apple in ways Qualcomm likely would not. Apple has used the Intel modems in its iPhones for the T-Mobile and AT&T GSM/LTE networks, and, because the Qualcomm modems are especially well suited to CDMA networks, has put them in iPhones for Verizon and Sprint.
That dynamic may change as the carriers transition their networks to 5G. Verizon, for one, has said it plans to no longer require that new devices connect to older CDMA networks starting in late 2018 or early 2019. When Verizon does that, our source says, Sprint, US Cellular, and a few overseas operators will still support CDMA, but the CDMA ecosystem will begin to collapse. Without a CDMA requirement, Apple has one less reason to stick with Qualcomm, which invented the widely used version of the technology.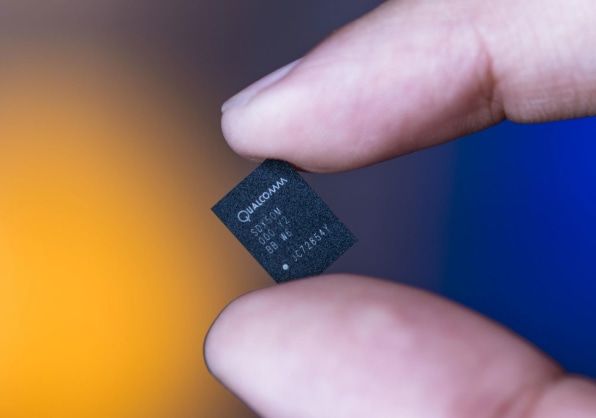 Strained Relationship
Meanwhile, Apple's relationship with Qualcomm has soured over the past year amid an increasingly serious legal dispute over the patent licensing fees paid to Qualcomm by Apple suppliers. Also, Qualcomm is now the subject of an acquisition attempt by rival chipmaker Broadcom, but has already rejected a $103 billon bid, which it said undervalues its business.
All of this seems to point toward the possibility of Apple looking to Intel as the sole provider of 5G modems for the iPhone. The end game, multiple sources have said, is to build the Intel modem onto an integrated system-on-a-chip (SoC) that would also contain the CPU, GPU, and other iPhone components. The SoC would be co-designed by Intel and Apple and would be fabricated at an Intel facility.
Some believe Apple's full embrace of Intel could happen even sooner. The Wall Street Journal recently cited unnamed sources saying Apple is already building iPhone prototypes that use Intel 3G/4G modems only. The report named a smaller chipmaker, Taiwan-based MediaTek, as a possible (if somewhat unlikely) second supplier.
Qualcomm would not go on record for this story. (Suppliers are required to sign non-disclosure agreements that prohibit talking publicly about their business with Apple.) Apple didn't respond to a request for comment.
Intel provided a statement: "While we do not comment on customer products, as evidenced by our news today Intel is making great momentum on our 5G roadmap to accelerate the adoption of 5G."