By 2019, Volvo says that every new car model that  it sells will either be electric or a hybrid. By 2023, Ford plans to have 13 new electric or hybrid cars and GM will introduce 20 new electric cars. By 2025, Volkswagen plans to have launched around 30 new electric cars, and five years later, it will offer an electric version of every model it sells. But all of the manufacturers are also part of an auto industry trade group in the U.S. that is lobbying to weaken fuel economy standards.
In a new report, the organization InfluenceMap, which analyzes lobbying related to climate change, found that anti-climate auto trade group lobbying has accelerated since Trump took office.
"What we found was that [auto industry trade groups] made contact with the Trump transition team even before he took office . . . when he won the election and it was apparent who was going to be appointed to the EPA, and what their policy was on regulations and climate in particular," says Dylan Tanner, executive director of InfluenceMap. "They made contact quickly, and stated in no uncertain terms that they would welcome a repeal of the revisions to the efficiency standards and greenhouse gas standards that they nominally agreed under the previous administration."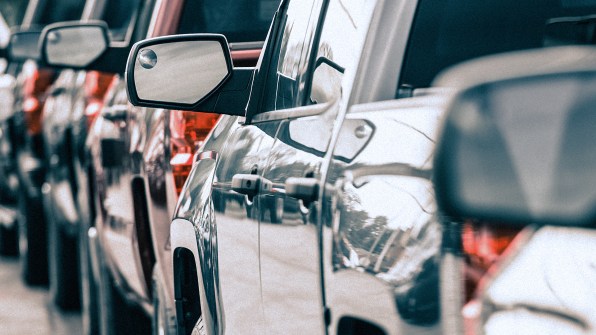 Under federal CAFE (Corporate Average Fuel Economy) standards, automakers have to meet mile-per-gallon targets across their fleets and within vehicle categories. The Obama administration issued a version of the rules in 2012 that would reduce emissions around 6 billion tons by 2025. By 2016, after three years in place, the latest standards had increased average fuel economy by two miles per gallon. The EPA said that car manufacturers were easily meeting the requirement.
But automakers have argued since the regulations were put in place that the standards should get a midterm reevaluation to reconsider what should happen for cars in model years 2022-2025. After the 2016 presidential election, the Alliance of Automobile Manufacturers, the most powerful auto trade group, argued that the reevaluation should wait until the new administration took office. But in the last days of the Obama administration, the EPA said that the standard shouldn't change.
After inauguration, CEOs from GM, Ford, and Fiat Chrysler met with Trump and reportedly discussed the standards; on February 10, CEOs from 18 global car companies sent a letter to Trump opposing the standards. Later in February, the Alliance of Automobile Manufacturers and Global Automakers, another trade group, wrote to the new EPA head Scott Pruitt asking him to repeal finalization of the standards. Shortly after that–and a legal petition from the groups–the EPA announced that it would withdraw finalization of the standards. The trade groups also pushed for California to "harmonize" its more stringent standards with federal standards, and advocated against Obama-era emissions standards for light-duty vehicles.
Some automakers have also individually advocated for weaker fuel economy standards, at the same time that they voice public support for climate action. Ford argued that the standards would reduce the affordability of new vehicles. But at the same time, after Trump announced his intent to withdraw from the Paris agreement on climate change, Ford chairman Bill Ford said that the company believes "climate change is real, and remains deeply committed to reducing greenhouse gas emissions in our vehicles and our facilities."
Ford also has a new dedicated electric vehicle team, and has committed to reduce spending on internal combustion engine cars by one third and redirect that money into developing electric cars. In a statement to Fast Company, Ford reiterated its commitment to reducing emissions and said, at the same time, that the auto industry's "collective support for tough fuel economy rules that were 13 years into the future was predicated on a sensible notion–check halfway through to make sure the data and targets matched up."
The trade group lobbying is "really counter to what a lot of these companies, like Toyota and Volkswagen, have been kind of posturing on their websites," says Tanner. "Toyota Prius really benefited from California's electric vehicle regulations a decade ago, and enabled it, really. To now stand by while their two key trade groups push this agenda is startling."
Toyota tells Fast Company that it "believes deeply in the benefits of improvements in fuel economy and the reduction of greenhouse gases" but that fuel economy standards should be reviewed to "help ensure they help grow our economy, reduce the impact on the environment and serve the best interest of our customers."
Like Ford, Toyota argues that the standards need to protect affordability for customers, though a Consumers Union report found that as cars have become more efficient over the past two decades, they haven't become much more expensive. And with better fuel economy, consumers ultimately save money on gas.
Toyota didn't respond before publication when asked why stronger fuel economy standards wouldn't be to its advantage, given that it already makes more efficient cars than some competitors. Volkswagen and Volvo also didn't respond to a request for comment. But it's somewhat surprising that as the companies shift to more electric cars they wouldn't also support regulations that could increase sales of those cars.
"If [Volkswagen] wants to go all-electric, it should push for the regulations in order to make itself more competitive when it does so," says Tanner. "Silence while your trade groups are taking the opposite position–or stay within the trade group–is something that needs to be called out."