Based on how consumers have been talking about Walmart and Amazon on social media, it's going to be a busy Thanksgiving weekend for both companies. That's according to data from Crimson Hexagon, a social media analytics firm, which studied Black Friday and Cyber Monday conversation from October to November 2017.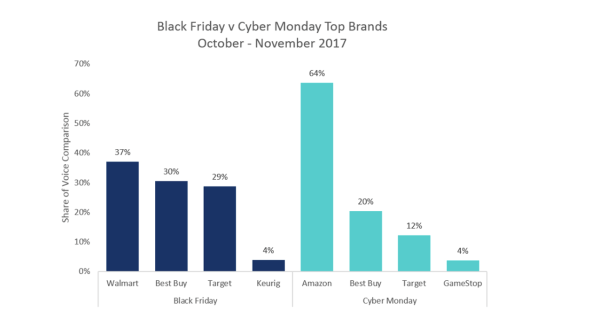 Walmart leads the pack when it comes to Black Friday, owning a 37% share of voice. Many people tweeted excitedly about the retailer's Black Friday ad, which lists upcoming deals. Best Buy came in second with 30% share of voice, followed by Target and Keurig.
But when it comes to Cyber Monday, Amazon is the clear winner by a large margin: It owns a 64% share of voice. People also seem to think of Best Buy when it comes to Cyber Monday, but it only captures 20%, with Target and Gamestop trailing behind.
That said, another report by GPShopper reveals that consumers are generally less enthusiastic about the entire Black Friday/Cyber Monday phenomenon, particularly since the internet makes it easy to find deals throughout the holiday season. The idea of having to do all your Christmas shopping in a small window of time stresses many consumers out. So while these brands are still associated with post-Thanksgiving shopping, they may still see decreasing sales on these days compared to previous years.ES