In the same way people generally agree that heroin is bad but has done some good for Spotify playlists, a lot of people thought President Donald Trump would usher in an artistic renaissance. But anyone who predicted as much had no idea what it would be like to make or consume art during a Trump presidency.
Some movies and TV series created before this year felt oddly prescient. The Handmaid's Tale, for instance, which aired back in April, couldn't have better reflected the fears expressed during the Women's March in January: that women's very autonomy was in danger. Over the summer, a Pepe the Frog acid tab appeared in the film Good Time, leaving viewers to search for a message, but it had actually been put in the movie before Pepe became an alt-right symbol. Basically, Trump is like the alien from The Thing: He consumes all he touches and makes it about him. But a lot of entertainment from this year was indeed a direct response to him.
Trump influenced pop culture by making audiences more eager than ever to escape into it as often as possible. If you're disappearing into a dark theater to watch a mute lady fall in love with a fishman, for instance, that's two hours where you don't hear what Trump just called Kim Jong Un. But if audiences felt the burden of constantly being forced to pay attention to the game show host suddenly at the forefront of world politics, so did creators. Comedians Sarah Silverman, Patton Oswalt, and Marc Maron all have bits in their 2017 specials about the difficulty of living life in the spaces between perpetually breaking news. And these are the people who are supposed to be reaping the "benefits" of endless material under an authoritarian clown in chief.
Standup comedy wasn't the only medium that preserved in amber the anxiety, uncertainty, and overall trauma of this era. Liz Meriwether, creator and show-runner of New Girl, put together a live show last December called A Safe and Special Place. (The title refers to the way Donald Trump described theater last fall when he tweeted at the cast of Hamilton and demanded that they apologize to Mike Pence for addressing him directly at the end of a performance.) Meriwether put the charity show together with New York theater luminaries like Laura Benanti, as well as comedians Nick Kroll and John Mulaney, because she felt she needed to channel all her fear and anger into making something, rather than just hate-scrolling through her news feed. The feeling was apparently contagious.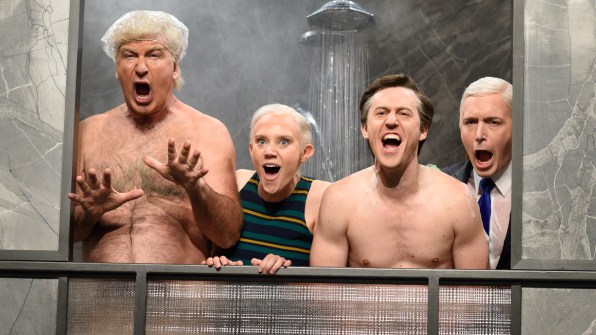 Saturday Night Live went all in on Trump this year, which helped the show hit a ratings high and touch some cultural nerves—not to mention that it gave Melissa McCarthy a hysterical new character. The only problem with the show's frequent Trump coverage is that when the real person is already impossibly ridiculous, having Alec Baldwin merely reenact his weekly highlights–which is what seems to happen sometimes–can become tedious. Comedy Central's The President Show, on the other hand, seemed to find more inventive ways to handle Trump. The show often felt more predictive than reactive, culminating in the perfectly titled holiday special "I Came Up with Christmas," whose Magnolia-inspired closing singalong almost moved me to tears.
Elsewhere on late-night TV, hosts like Stephen Colbert and Seth Meyers saw their ratings soar the more critically they zeroed in on Trump. (Meanwhile, the largely apolitical Jimmy Fallon sank in both dominance and relevance.) Jimmy Kimmel became perhaps the most radicalized of the bunch when a personal health crisis made him realize how consequential Trump's proposed healthcare bill would be for others around the country. His efforts to activate his viewers on the subject may not have yielded much humor, but they revealed a deeply human side of Kimmel and made him more popular than ever.
The topic of Trump also showed up on narrative shows throughout the year. Unbreakable Kimmy Schmidt had already wrapped shooting just before the election, but still managed to slip in Trump jokes wherever possible. (Jane Krakowski's Jacqueline reveals she went to Trump University; "Go, Pricks!"). Even though Black Mirror is set in the not-too-distant-future, the British dystopian series remains tuned into the moment. The soon-to-be-released fourth season begins with an episode that mentions constant protests, virtue signaling, and, of course, "fake news." Back on this side of the pond, Black-ish addressed the current state of affairs head-on with an episode in January that grappled with just how divided the election has left the country.
Other shows devoted entire story lines to Donald Trump. American Horror Story set its season in the aftermath of the election, during which a white woman (Sarah Paulson) who voted for Jill Stein slowly embraces the worldview of an unhinged, Trump-supporting cult leader (Evan Peters). BoJack Horseman, meanwhile, gave one of its characters a season-length election subplot that allowed the creators to say some interesting things about unqualified populist candidates and shady Svengalis like Steve Bannon.
In music, there were more scattered mentions of Trump. Kendrick Lamar makes peripheral references to the 45th president on his album Damn and alludes to the Russia investigation on "The Heart, Part 4." The charity compilation Our First 100 Days features fresh Trump-inspired songs from indie artists like Angel Olsen alongside unreleased gems from others, including Tim Heidecker, of Tim and Eric fame, who went on to make his own album of songs inspired by the real estate mogul.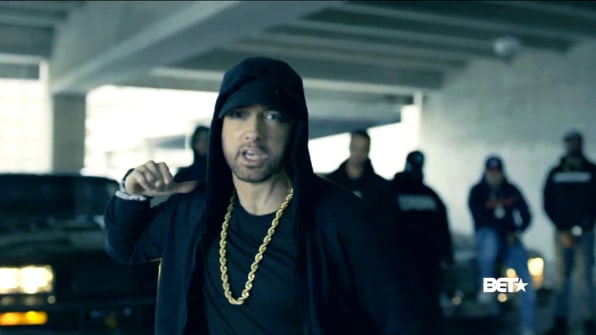 Snoop Dogg appeared eager as ever to court controversy. In March, he made a video in which a Trump figure is shot, which yielded a response-tweet from the president. (Though, it should be noted, it caused less nationwide ire than Kathy Griffin's photo of a bloody Trump mask that looked like his head had been decapitated.) By the time Snoop entitled an EP Make America Crip Again, with what appeared to be a dead Donald Trump on the cover, he signaled that this was perhaps a deeply personal issue for him and not just a matter of shock value. Eminem expressed a similar message with his BET Awards freestyle performance, which included a personal plea for Trump-supporting Eminem fans to find a new bandwagon. It was the most fired up and in tune with the times he's sounded in years. (His just-released album apparently keeps the anti-Trump vibe alive, although perhaps not the quality.)
Some of the other music Trump inspired left people scratching their heads or even wincing. Amanda Palmer really went for it with her video for "Mother," which featured a Trump surrogate literally suckling her breast. The most generous way to describe that image is to say it was a refreshing deviation from fantasy Trump assassinations.
Joe Scarborough responded to being a favorite Trump Twitter target by recording an EP called A Very Drumpf Christmas, which is so out of touch and exudes such pre-election vibes, it feels like a companion piece to Lena Dunham's much-derided "Sensual Pantsuit Anthem." 
Because of their shorter lead times, music and television proved far more politically reactive than film in 2017. The lone movie that appears to have gone in production as a direct response to Trump's reign is The Post, which was announced in March, shot over the summer, and edited by people who apparently require very little sleep (Sarah Broshar and Michael Kahn). The Steven Spielberg film, which stars Meryl Streep and Tom Hanks, is set during the Nixon presidency, when Daniel Ellsberg leaked the Pentagon Papers. Its themes couldn't be more relevant to the present, with lines like "We can't have an administration dictating our news coverage just because they don't like the tone of our news coverage."
If Sundance is any indication, though, Trump's impact on cinema will become inescapable next year. The festival's recently announced lineup includes films about powerful men committing sexual assault (Seeing Allred), the KKK (Burden), gay conversion therapy (The Miseducation of Cameron Post), race (TYREL), campaign finance reform (Dark Money), and the criminal justice system (Monster). There's also Our New President, a Russian film that tells the story of Donald Trump's election entirely through Russian propaganda.
Perhaps the most pervasive way Trump has affected pop culture, ultimately, is by making farfetched storylines way more believable. If this cartoonishly unqualified oaf can become leader of the free world, writers everywhere must be thinking, just imagine what else is possible.