Some good news for employees: Employers are starting to cover in vitro fertilization costs, including medication, consultation, and IVF. Typically, IVF's total costs can often top $23,000 per patient per round, according to FertilityIQ, a website that crowdsources and verifies data on fertility treatment options. Since many patients need multiple rounds of IVF to get pregnant, the costs quickly add up.
But according to a new report from FertilityIQ, more companies are covering IVF for employees, including, in the case of Starbucks, even part-time baristas. The companies with the best IVF coverage include many tech firms, like Pinterest, Spotify, Slack, Facebook, and even Uber, according to the report. Consulting and auditing firms like Bain and BCG were ranked second, followed by media and publishing, which included NewsCorp. Rounding out the list were city government, law firms, and nonprofit organizations, many of which simply may not be able to afford covering the procedure for their employees.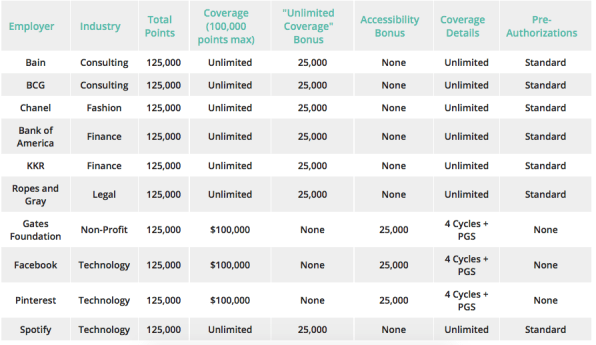 While more IVF coverage is great news for anyone trying to start a family, covering IVF can have benefits for the companies, too. When FertilityIQ asked the 10,000 verified IVF patients in its database who had complete IVF coverage in 2017, they reported being more likely to remain in their job for a longer period (62%), were more willing to overlook shortcomings of their employer (53%) and were more likely to work harder (22%).
In case you're wondering, the vast majority (88%) of women who had their IVF fully paid by their own employer returned to work after maternity leave.
Check out the full list here.