Looking back at Pixar's first 18 films, one thing is certain, whether you're talking about masterpieces of storytelling like Toy Story 3 or Ratatouille, or more ho-hum efforts like Cars 3 or Monsters University: The art was beautiful.
Since it doesn't open until November 22, it's hard to say if Coco, the Disney-owned studio's latest, will be any good. But once again, you can be 100% sure it's gorgeous. And the best way to dive into the film's deep, rich, Dia de los Muertos-styled art is with Coco VR, Pixar's first-ever virtual reality project.
Launching for free today for the Oculus Rift and on November 22 for Samsung Gear VR, Coco VR gives only a hint of the full film's story–that it's centered around a world of fun skeletons that come alive, with lots of Mexican music and artistry. If you want the story, well, it will soon be in theaters everywhere. But if you want to explore the film's art at your own pace, this is the project for you.
The result of a partnership between Pixar, Oculus, Disney, and the VR production studio Magnopus, Coco VR is a social experience for up to four people. In it, each person takes on the role of a well-dressed skeleton and embarks on a journey through a series of experiences–an art studio packed with concept art from the many years of the film's production; a cinema showing test footage that wasn't used in the final move; a photography booth where you can shoot silly selfies of your stylized skeleton; and others. The most fantastical, and most beautiful is a ride on a gondola high above a stunning floating cityscape of rich colors and endless lights.
Simply put, there has never been a better way to immerse yourself in the art of a Pixar film.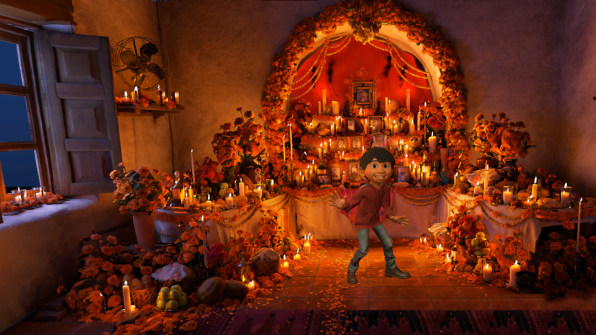 Taking Advantage Of The Assets
One reason you see a lot of virtual reality projects tied to Hollywood films is that the VR producers have access to all the 3D models and art assets created by their motion picture counterparts.
This is used to varying degrees of success. With Coco VR, the producers hit upon the exact right way to take advantage of the countless assets Pixar has developed over several years of making the film.
"It's both a way to experience the film and step into the world of our film," said Pixar's Marc Sondheimer, a producer on the VR project. "We got to utilize a lot of…the artwork that most people will never get to see."
That's a treat, best evidenced by visiting the art studio inside the VR experience where you can wander around, looking closely at dozens of pieces of concept art, paintings, designs, and other artworks that were crafted over the years as Coco's producers perfected their movie. In many cases, you're able to push a button and listen to a short audio history of the artwork. This is both fun and highly entertaining.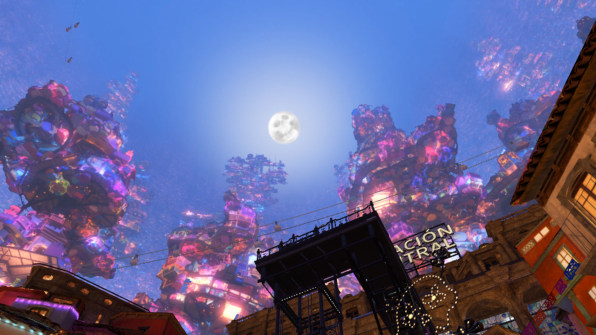 At the center of Coco VR is a large open social space that would seem somewhat familiar to anyone who's ever been to Caesar's Palace or The Venetian in Las Vegas–highly stylized and meant to make it feel like you're wandering around inside a fantasy.
For those at Pixar, setting VR users free inside this space meant surrendering the kind of control they've had over many years of making hit computer-animated movies.
"We're used to directing the eye of our audience completely," Sondheimer says, "and we have to kind of let that go and lean all the way in to [letting] the viewer go on their own adventure and experience."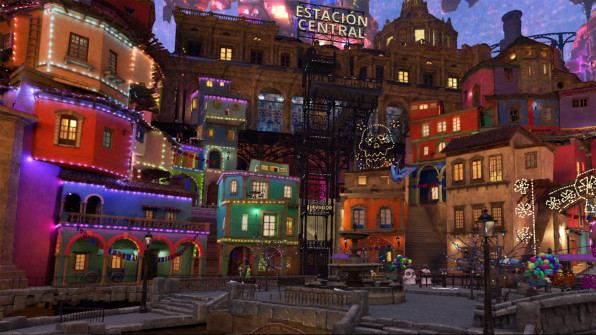 Eating Their Own Dog Food
At the same time, the project's creators were able to take advantage of the social aspects of the experience they were crafting. It's built to allow multiple users to explore the project together, and during production, that's exactly what the producers did.
When in the creation stages of a film, Pixar's producers will go into a screening room where they watch shots together and collectively comment on what they're seeing. With Coco VR, they utilized the project's social features to wander around on joint scouting trips where they could look for things that were broken or not working the way they were intended.
"Literally, that's how we made it," Sondheimer says. "Without the social aspect, it would have been hard to understand what the other person was seeing."
For the team at Facebook-owned Oculus, being part of Pixar's first VR project was exciting, explains Oculus head of experiences Colum Slevin.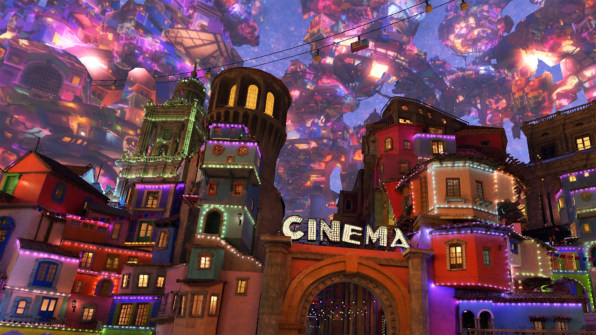 "The promise of VR is to transport you to places and worlds you couldn't otherwise go," Slevin says. "This felt like a really natural physical narrative environmental fit. Everything about it clicks in terms of why it works in VR."
From here, it's hard to argue with that perspective. Sometimes it's hard to understand why movie studios make VR projects tied to the films other than because someone in marketing told them that's the thing to do these days. But with Coco VR, you quickly understand that the point is to feel like you're getting a taste of the universe around which Coco was made, and that the producers were entirely focused on making that taste as enjoyable as possible in its own right.
"We always want to find the right project, and to work with storytellers to express their narrative the best way in VR," Slevin says. "We never want [them to] regret. We want them to come out the other side interested and hungry to do more.
And if the folks at Pixar want to do more with VR?
"We'll do anything Pixar wants to do next," Slevin says. "But Coco was a great first project."