Ostensibly, Windows and Android are rival operating systems.
While they're primarily used on different kinds of hardware–laptops and desktop PCs for Windows, and phones and tablets for Android–they both use their respective platforms to establish their own web services. Microsoft pushes Office, the Edge web browser, OneDrive, and the Cortana virtual assistant, while Google pushes Docs, Chrome, Drive, and its Google Assistant AI.
But now that the mobile version of Windows is on life support, Microsoft is leaning on Android for phone-to-PC synergy, offering the kinds of features you'd normally expect from a single, unified platform. With the Windows 10 Fall Creators update, which Microsoft released last month, Windows and Android are starting to make an unusually good team.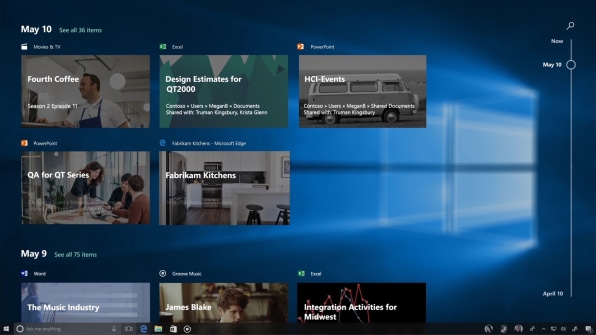 Building Links
To connect Windows 10 to an Android phone, you have to install the Android version of Cortana and sign into the same Microsoft account that your PC is tied to. Within the Cortana settings menu, you'll find a "cross-device" section that covers all interactions between the phone and PC.
Most notably, Cortana can relay text messages and missed calls from your phone, showing them as notifications in the Windows 10 Action Center. You can even type out SMS replies on a PC, which then pushes them back out through the phone.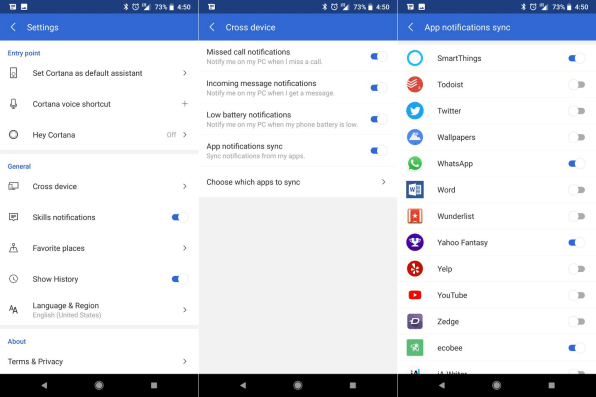 Cortana can also synchronize notifications from any Android app. This comes in handy for viewing activity alerts from a smart home service like SmartThings, receiving score updates from Yahoo Fantasy Sports, or getting reminded of live TV airings on a streaming app like YouTube TV.
Some of Windows 10's mobile tie-ins also work with an iPhone. Start using a Microsoft app like Word, for instance, and a notification on your PC will offer to pick up where you left off. You can also share web links from the phone and have them open in Edge on the PC (though this requires installing a separate app instead of Cortana on iOS), and any reminders or tasks you set with Cortana on one device will automatically appear on others.
Still, Windows 10's text and notification syncing shows how Microsoft can create even deeper links into Android, due to the open nature of Google's operating system. Microsoft syncs notifications over the internet, but Apple will only allow other devices (such as fitness trackers and smartwatches) to mirror notifications over Bluetooth, and it doesn't support routing text messages through non-Apple devices at all. Those are defensible policies from a privacy and security standpoint, but they do preclude the kind of tie-ins Microsoft is trying to create.
Baby Steps
That's not to say Microsoft's work is done. Windows 10's ties to Android are still rudimentary, and they're even less capable than what some third-party services offer today.
With the exception of SMS, Android notifications rerouted to Windows are currently read-only, so you can't delete emails, react to social media mentions, or take any other action directly from the notification tray. Some apps, such as WhatsApp, do show a text reply field, but my attempts to respond only resulted in error messages. Actionable notifications on Windows should be possible; a third-party service called Pushbullet already offers them for a monthly fee.
And while Windows 10 will alert you to missed calls, you can't answer phone calls directly through the PC, like Apple's iPhone allows through an iPad or Mac. You also can't initiate text messages, and Windows doesn't even offer a way to look up previous notifications after you've dismissed them.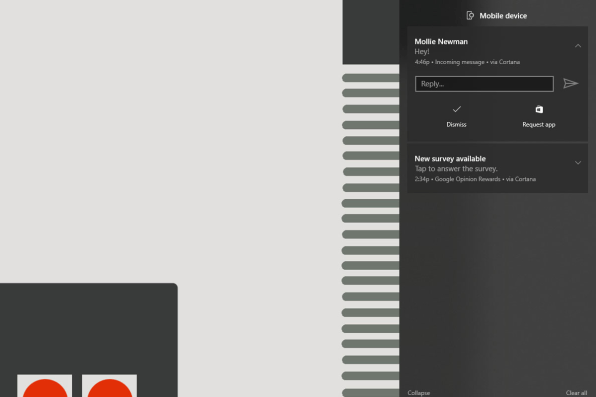 Stranger still, every notification from Android displays a "Request App" button, which leads to a website with guidelines on how to pressure developers into creating Windows Store apps. A disclaimer at the bottom of the page says the site is "not owned, operated, or moderated by any Microsoft employees and is in no way affiliated with Microsoft or the Windows team." So why is this page linked from an official feature built into Windows 10?
Microsoft, for its part, has acknowledged that its mobile tie-ins are a work in progress. In May, the company announced an ambitious concept called Timeline, which would provide snapshots of your activity over time across Windows, iOS, and Android devices, all for the purpose of picking up where you left off. This feature would not only work with Microsoft apps, but with third-party apps that tied into Microsoft's Graph data service. However, Microsoft ended up delaying this feature beyond the Fall Creators Update, along with a cloud clipboard feature that was supposed to enable universal copy and paste across devices.
Future Ties
Even if Microsoft completes these features, its plan to link the PC with mobile devices–and Android in particular–will have limits. It's hard to imagine Google embracing concepts like Timeline, especially as it pushes its own desktop computing platform in Chrome OS. In general, Google hasn't been enthusiastic about creating Windows programs beyond the Chrome browser and its sync tools for Google Drive and Google Photos.
And if you prefer Cortana as your do-it-all virtual assistant, you may face hardware roadblocks on the mobile side. Case in point: the excellent Active Edge feature on Google's Pixel 2 phones, which lets you squeeze the sides of the phone to bring up the Google Assistant. Setting Cortana or another assistant as the phone's default disables Active Edge entirely.
Still, Microsoft can go a long way toward replicating the kind of phone-to-PC continuity that owners of iPhones and Macs have enjoyed for the past few years. All it will take is a bit more refinement–and a willingness to lean on one of its competitors.